The 2015 Falcons started off hot under new head coach Dan Quinn, posting a 5-0 record and looking like a playoff contender as late as November. But a six-game losing streak exposed the club on both offense and defense, forcing Atlanta to make changes on both sides of the ball this offseason.
Notable signings:
Atlanta's offensive line responded exceptionally well to offensive coordinator Kyle Shanahan's implementation of a zone-blocking scheme, with nearly every player up front earning positive grades from Pro Football Focus. The one exception was center Michael Person, who started 14 games at the pivot after having spent most of his career at guard, so the Falcons turned to a veteran who had some prior experience in Shanahan's system — former Browns center Alex Mack.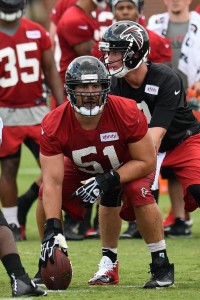 Mack, 30, only played in five games during Shanahan's year as Cleveland's play-caller, but he spent the entire summer of 2014 preparing to enter a zone-blocking scheme, and his athleticism and ability to move in the running game makes him a perfect fit for the zone approach. The Falcons made Mack the highest-paid center in the league, handing him $9MM per year after the Browns, Chargers, and Rams all expressed varying levels of interest once Mack opted out of his deal with Cleveland.
After being designated as the Browns' transition player during the 2014 offseason, Mack played the free agent game correctly, inking an offer sheet with the Jaguars that paid him $8.5MM annually, $18MM guaranteed over the first two years of the deal, and contained that aforementioned opt-out clause. Cleveland matched that offer, and when Mack withdrew two years later, he was able to land a contract that will pay him even more per year and includes another $20MM in guarantees. Like Darrelle Revis, Mack has worked the free agent system to his benefit in order to secure every dollar he's worth.
Chris Chester, meanwhile, will return to Atlanta after playing every offensive snap for the club last year, but he'll be expected to compete for his starting job, with Person, rookie Wes Schweizter, and free agent addition Tom Compton serving as Chester's main obstacles to playing time at right guard. Chester is now 33 years old and coming off January shoulder surgery, but he played so well in 2015 that he should be the favorite to handle the majority of snaps. Right tackle Ryan Schraeder, a revelation last year (PFF's No. 5 tackle), will also return after signing his second-round restricted free agent tender, and the Falcons could look to sign him to an extension over the next few months.
While Atlanta's pass-blocking was tremendous, the Falcons' passing offense as a whole was not, as the club ranked 23rd in passing DVOA, with Julio Jones and his 136/1,871/8 receiving line essentially acting as a one-man passing offense. Tight end Jacob Tamme posted a nice season, racking up 59 passes for nearly 700 yards, but the rest of Atlanta's pass-catchers — including Roddy White, Leonard Hankerson, and Justin Hardy — left a lot to be desired. But instead of finding an affordable complement to play opposite Jones, the Falcons overspent in a weak free agent market, signing former Bengals wideout Mohamed Sanu to a five-year deal.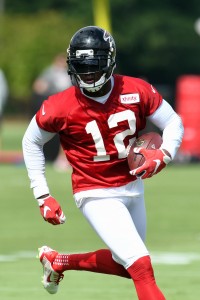 Even among an uninspiring crop of free agent pass-catchers, Sanu only placed seventh among his position in PFR's free agent rankings, but the 26-year-old will be earning more annually than every other free agent receiver except former Bengals teammate Marvin Jones. Travis Benjamin, Rishard Matthews, Rueben Randle, Anquan Boldin, and Jermaine Kearse will earn $6MM or less on their new contracts, and the Eagles and Lions were able to land Randle and Boldin, respectively, on one-year pacts.
Sanu, who failed top 400 yards receiving last year, somehow managed to score a better deal than Golden Tate received from the Lions during the 2014 offseason. Cincinnati didn't trust Sanu enough to allow him to play a larger role in their offense, and he struggled when asked to step up amid a rash of injuries during the 2014 campaign. Clearly, the Falcons needed to add another complementary weapon to their offense, but Sanu is unlikely to live up to his contract.
Atlanta's only other notable addition on offense was at quarterback, and like Mack, Matt Schaub has a history with Shanahan, having spent time with the play-caller in Houston. Schaub, of course, also has a past with the Falcons (he was a former third-round pick of the club), and though his career has fallen apart in the past few seasons, he probably won't be asked to play much in Atlanta. Starter Matt Ryan hasn't missed a game since 2009, having started 99 straight contests since his last missed game.
On the defensive side of the ball, the Falcons surprisingly didn't target any high-profile pass-rushers after failing to get after opposing quarterbacks with any level of consistency in 2016. Not only did the club rank dead last in sacks with only 19 (the lowest total for any team in the league since 2009), but it also finished 32nd in adjusted sack rate. Atlanta decided to play in the middle of the market, however, inking former Dolphins defensive end Derrick Shelby and re-signing their own Adrian Clayborn.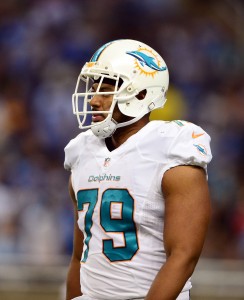 Shelby, 27, is an interesting case of scouting the stat line versus watching the tape. While he's only posted nine sacks in his career, Shelby graded out as the league's No. 23 edge defender last season, according to PFF. It's fair to wonder if Shelby's increased production was partly a result of playing next to All Pro defensive tackle Ndamukong Suh, and it could be concerning that Miami didn't seriously attempt to retain Shelby, instead opting for external options such as Mario Williams, Andre Branch, and Jason Jones.
While Shelby landed a four-year contract, the Falcons were able to bring back Clayborn on a shorter pact, locking up the edge defender for two more seasons. Clayborn isn't much of a run defender, so after seeing some time at tackle in 2015, he figures to play exclusively at end during the upcoming season, and given the makeup of Atlanta's front seven, it's possible Clayborn is used primarily in sub packages.
Earlier today, the Falcons finally consummated a long-rumored deal with free agent pass rusher Dwight Freeney, inking the veteran after he also drew interest from the Bengals. Now 36 years old, Freeney was still productive last season, managing eight sacks for the Cardinals in only 255 defensive snaps. And though he didn't get to the quarterback as much in the year prior, Freeney was still solid for the Chargers in 2014, forcing 40 quarterback hurries and posting nine QB hits. He'll play as rotational end for Atlanta, and shouldn't be asked to play more than 30 snaps per game.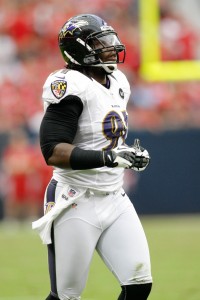 Clayborn and Freeney will see competition for snaps from free agent addition Courtney Upshaw, the former Ravens second-round pick that only netted a one-year deal from the Falcons. The 26-year-old Upshaw never became the edge rushing force in Baltimore that many had projected, but he's very solid against the run, and could conceivably be used in a variety of roles in Dan Quinn's defense. Upshaw will likely see snaps at both defensive end and linebacker in Atlanta, with his duty being heavily influenced by the situation.
While Upshaw could shift between multiple positions, Sean Weatherspoon and Philip Wheeler are linebackers in the most strict sense, and both could see a hefty amount of snaps next seeason. Weatherspoon returns to the Falcons after a one-year stint with the Cardinals, and given his history of injuries, Atlanta will probably try to specify his role in the defense. Given his movement and coverage skills, Weatherspoon will likely be on the field in the Falcons' nickel defense. Wheeler, meanwhile, will have to compete with fourth-round rookie De'Vondre Campbell for playing time at outside 'backer.
Read more about the Falcons' offseason…
Notable losses:
While the Falcons may have lost more important players in terms of production, no defection will hit the club harder from a sentimental perspective than that of Roddy White, who was released after the season. White posted a truly great six-year run from 2007-12 during which he averaged 94 receptions for nearly 1,300 yards and eight touchdowns, earning Pro Bowl honors four times and being named an All Pro once. But those totals have slipped in the last three seasons, as White has averaged a 62/713/4 line while seeing his yards per reception drop significantly.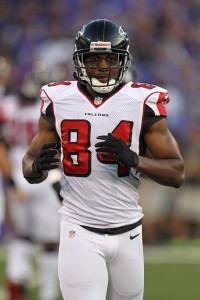 White has since lashed out at the Falcons after receiving his walking papers, intimating on multiple occasions that his release was due to his relationship with offensive coordinator Kyle Shanahan. But while the two may have had disagreements, it's clear that a 34-year-old White wasn't worth the $6MM+ cap charge he was due in 2016. At this point, White remains a free agent, and he's indicated that he plans to continue his career.
Fellow wide receiver Devin Hester was also cut, though it's hard to consider him a loss given that he missed the entire 2015 season with injury. Hester posted a few solid games during his first season with Atlanta in 2014, but for the most part is still known primarily as a return man, so much so that his return statistics appear before his receiving numbers on Pro Football Reference. Like White, Hester wants to play in 2016 (and has said this season will be his last in the NFL), and claims that as many as seven clubs have already reached out to him
None of Atlanta's other offensive losses will make much of a dent, as none of Jake Long, Gino Gradkowski, and Tony Moeaki played more than 90 offensive snaps. That's not the case on defense, however, as the Falcons will be without several players who had a large role last season. Atlanta's linebacking unit, in particular, will look vastly different in 2016, as Justin Durant, O'Brien Schofield, and Nathan Stupar are all off the roster.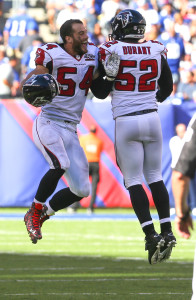 Durant, 30, started 12 games for the Falcons last season, playing a jack-of-all-trades role that he's grown accustomed to during an NFL tenure that's see him spend time with five clubs. But with Atlanta adding two young linebackers via the draft, signing Courtney Upshaw and Sean Weatherspoon, and looking to play Vic Beasley at 'backer in base packages, there simply wasn't a spot for Durant. He's found a new home, though, heading back to the Cowboys to help make up for the 10-game loss of Rolando McClain.
While Durant played about 150 more snaps, Schofield was arguably the more impactful defender, as he gave the Falcons a good effort in against the run game and is still viewed as an above-average rusher. Schofield, 29, is still sitting on the open market, and Atlanta has not ruled out a reunion. Stupar, meanwhile, started three games last season but was primarily an effective special-teamer, a role he'll now play for the division-rival Saints.
Elsewhere in the front seven, the Falcons released defensive tackle Paul Soliai and opted not to re-sign defensive end/linebacker Kroy Biermann, the latter of whom had been with the team since 2008. Biermann had several productive seasons as a run-stuffer who offered some pass-rush skills early in his Atlanta tenure, but he dealt with a major injury in 2013 and never seemed to adapt well to new defensive schemes introduced by Falcons coaches. Soliai, meanwhile, was a misguided signing from the get-go, and Atlanta will now carry $1.4MM in dead money in 2016 and $2.8MM in 2017 as a result of that mistake.
In the back end, safety William Moore was also cut after many years with Atlanta (he was a second-round pick in 2009) after dealing with injuries for much of the past two seasons. Moore, 31, missed 14 games from 2014-15, and wasn't particularly effective when he was on the field. The Falcons absorbed $3.3MM in dead money by releasing Moore, although they did free up $3.2MM in cap space.
Soliai and Moore are just a few of the contractual mistakes that GM Thomas Dimitroff & Co. have made recently, and though the Falcons don't have the bad financial rap that a club like the Saints does, Atlanta has not managed its cap well over the past few years. The Falcons will carry the second-largest amount o dead money in the NFL in 2016 (behind only the Saints), using cap space for departed players like Sam Baker, Jon Asamoah, White, Moore, and Soliai. Every club hands out a few bad deals, but the the Falcons are beginning to make the practice look like a trend, not a blip.
Trades:
Acquired a 2016 second-round pick (No. 52) and a 2016 sixth-round pick (No. 195) from the Texans in exchange for a 2016 second-round pick (No. 50).
Draft picks:
Keanu Neal was perhaps the most surprising pick of the first round, as the Falcons passed up defensive line options like Shaq Lawson, Robert Nkemdiche, and Vernon Butler to add a player to their secondary that many considered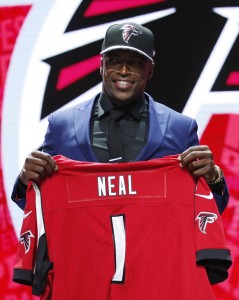 a second-round talent. At 6'1″, 210 pounds, Neal has the size (and speed) to become Dan Quinn's new version of Kam Chancellor, but simply being a physical specimen doesn't mean Neal is a sure thing. Expect a lot of highlight reel hits to go along with some lapses in coverage.
If Atlanta's selection of Neal didn't make it clear that the club wanted to add speed to its defense, then the choice of linebacker Deion Jones in the second round surely did. Jones can run like the wind, as evidenced by his 40-yard dash time of 4.38 seconds, but as Pro Football Focus noted when handing out its draft grades, Jones can get eaten up in the run game and missed a tackle on one of every 6.5 attempts. Fourth-rounder De'Vondre Campbell is a linebacker in a similar mold, and both he and Jones will have every opportunity to earn snaps as rookies.
Tight end Austin Hooper also has a pretty clear line to playing time, as veterans Jacob Tamme and Levine Toilolo don't present the most fearsome competition. Hooper is a solid blocker, and should easily overtake Toilolo as the No. 2 tight end, lining up on the line in two-tight end packages, and it wouldn't be surprising if he's Atlanta's No. 1 option at the position by season's end.
Other:
The Falcons had already restructured their front office in January 2015, with assistant general manager Scott Pioli taking on college and pro scouting responsibilities in addition to managing the draft, while GM Thomas Dimitroff retained final say over free agency and draft choices. No matter how the announcement was parsed, it looked like Dimitroff has lost at least some power, even though he and Pioli are longtime friends and colleagues.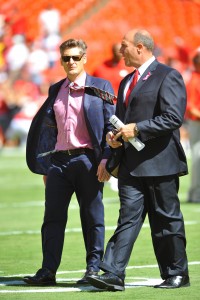 This offseason, Atlanta added one of Pioli's guys, former Chiefs assistant GM Joel Collier, as director of pro personnel. Bringing in new voices to a front office is typically a positive, but Dimitroff has to be wondering if Pioli is the next man in line for the general manager job if the 2016 season doesn't go as planned. The Falcons also hired former GMs Phil Emery (Bears) and Ruston Webster (Titans), meaning the club now employs four former general mangers in its front office.
The loss of Jalen Collins for four games is more important than it may appear on the surface given that Colins started only two games during his rookie season, as the former LSU tiger was set to play outside corner in Atlanta's sub packages, allowing Robert Alford to move to the slot. With Collins suspended, Alford is still likely to make the move inside in nickel packages, but 2015 seventh-rounder Akeem King will now be counted on to play a more impactful role. The Falcons clearly aren't comfortable with that alignment, leading to their dalliances with free agent slot corners Leon Hall and Brandon Boykin.
Top 10 cap hits for 2016:
From a 30,000-foot view, it's difficult to see how the Falcons will vastly improve on last year's 8-8 record. Atlanta will heavily rely on the running game once again, hoping that Devonta Freeman can build upon his impressive season behind a solid offensive line while Matt Ryan continues to feed Julio Jones though the air. On defense, the Falcons are counting on a mix of young players and mediocre veterans to step up, which doesn't figure to be a winning strategy. Overall, a .500 season still looks like the most likely outcome.
Information from Over the Cap, Spotrac, and Roster Resource was used in the creation of this post. Photos courtesy of USA Today Sports Images.
Follow @PFRumors