The 2015 Seahawks won the fewest regular-season games of the four-year Russell Wilson era (10) and were unable to extend their streak of consecutive Super Bowl appearances to three, but they still made the playoffs for the fourth straight time and were among the the final four NFC teams standing. They also racked up top-five finishes in total offense, defense and point differential, and ranked first in Football Outsiders' regular-season DVOA metric. All things considered, then, general manager John Schneider didn't need to do anything drastic during the offseason to keep the Seahawks' window of contention open.
Notable signings:
As has been typical in recent years, the Seahawks were stingy versus opposing quarterbacks last season, finishing first in the league in touchdown tosses allowed (14), second in aerial yardage surrendered, and third in both QB rating against (78.1) and Football Outsiders' pass defense rankings. Seattle was especially strong down the stretch, which was thanks in part to the return of cornerback Jeremy Lane. After missing the first 10 games of the year because of a broken arm and torn ACL he sustained on an interception return in the Seahawks' Super Bowl XLIX loss to the Patriots the previous February, Lane recorded the first two regular-season INTs of his career. Overall, Lane's performance earned him a respectable 51st-place ranking out of 111 qualifying corners at Pro Football Focus.
Since the Seahawks selected him in the sixth round of the 2012 draft, Lane has missed 23 of 64 regular-season games and made just six starts, but the club saw enough positives when he played to bet on the 26-year-old going forward. Lane was the Seahawks' largest expenditure in free agency, receiving a four-year, $23MM commitment and $11MM in guarantees, and figures to start opposite Richard Sherman on the outside this season. Given his experience as a nickelback, Lane is also likely to spend time inside defending the slot.
Helping Lane and the rest of the Seahawks' defensive backs could be free agent pickup Brandon Browner, who thrived in Seattle from 2011-13 as a member of the Legion of Boom before spending the previous two seasons in New England and New Orleans. Last year was unexpectedly ugly for Browner, who rated as PFF's worst qualifying corner (113th overall) and set the league's single-season penalty record. That led the Saints to release Browner less than a year after signing him to a $15MM contract that was supposed to last through the 2017 campaign. The Seahawks then took an ultra-cheap flyer on Browner for $760K and will try to revitalize the 32-year-old, though he'll play safety instead of corner. The Seahawks have arguably the preeminent safety tandem in the league in Earl Thomas and Kam Chancellor, but that won't necessarily limit Browner's impact. In fact, head coach Pete Carroll said in May that Browner will have a "really unique role."
If Browner makes the Seahawks' roster, they'll deploy him in a run-stopping capacity on rushing downs and match him up against opposing tight ends in passing situations. Football Outsiders ranked the Seahawks' pass defense a bottom-of-the-barrel 26th versus tight ends in 2015, so having the 6-foot-4, 220-pound Browner in the fold could serve the club well this year.
Continue reading about the Seahawks' offseason…
Aside from Browner, the only notable outside veteran Seattle acquired via free agency is J'Marcus Webb, who's slated to start at right tackle. The 335-pounder spent the first six years of his career in Chicago, Minnesota and Oakland, starting in 44 of 46 appearances at various O-line spots. In 2015 – his lone season with the Raiders – Webb saw time at guard and tackle, started each of their 16 games and took the field for all 1,056 of their offensive snaps. Despite the remarkable durability he showed last year, PFF wasn't enamored of Webb's performance, ranking him 48th among 77 qualifying tackles. Nevertheless, the Seahawks believe Webb is "physically perfect for" right tackle, per Carroll, and are confident their relatively modest investment in him (two years, $5.75MM and $2.45MM guaranteed) will pay dividends.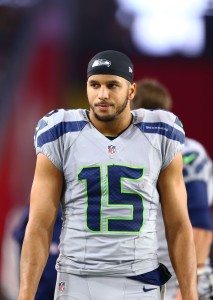 The Seahawks stayed within the organization for the remainder of their most sizable financial commitments, inking receiver Jermaine Kearse, defensive tackle Ahtyba Rubin and punter Jon Ryan to mid-range deals.
At $4.5MM per annum over three years, including $6.3MM guaranteed, Kearse ended up with the richest payday of the trio and will continue playing football in his native Evergreen State. Kearse – who spent his college career at the University of Washington and then signed with the Seahawks as an undrafted free agent in 2012 – has increased his production in each pro season, notching personal bests in catches (49), targets (68), yards (685) and touchdowns (five) in 2015. He parlayed that into a respectable contract and will continue acting as a solid complement to Doug Baldwin and Tyler Lockett.
The 30-year-old Rubin received a tad less than Kearse, and, thanks to the departure of Brandon Mebane, is now the oldest D-tackle on Seattle's roster. PFF ranked Rubin's output just 80th among 123 qualifying D-linemen last season, though it's worth noting that the longtime Brown played mostly run snaps and the Seahawks' defense surrendered the fewest rushing yards in the league. Seattle clearly believes Rubin had a major hand in its 2015 success against opposing rushers – the franchise otherwise wouldn't have kept him around on a multiyear deal worth $1.5MM more annually than he raked in last season.
With Mebane gone and Ryan back, the punter is now the Seahawks' longest-tenured player, having joined the organization in 2008. Ryan has been mediocre to below average in yards per punt, net average, touchbacks and punts inside the 20 in recent seasons, but that didn't stop Seattle from paying the 34-year-old like one of the league's 10 best players at his position. From a statistical standpoint, it's fair to wonder if Seattle would've been better off going in a cheaper direction.
Notable losses: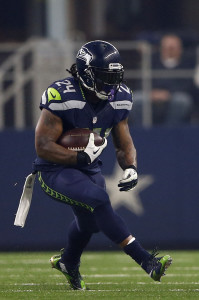 The Seahawks saw a handful of key contributors, including franchise icon Marshawn Lynch, depart over the winter. Lynch retired at 30, thus ending a memorable tenure in Seattle that began when the team stole him from Buffalo in 2010 for two late-round picks. Lynch made four Pro Bowls as a Seahawk and was the driving force behind their offense for most of his five-plus years there. In each of his four 16-game seasons as a Seahawk, Lynch finished with at least 280 carries, 1,200 yards and 11 rushing touchdowns. Lynch went out in less-than-sensational fashion last year, though, as injuries limited his effectiveness. All told, "Beast Mode" accrued career lows in games (seven), carries (111), ground yards (417) and per-rush average (3.8).
In hindsight, it's possible Lynch's anticlimactic swan song was a blessing in disguise for the Seahawks, who are now accustomed to life without him and may have found an excellent successor in Thomas Rawls. As a rookie last season, the undrafted free agent from Central Michigan burst on the scene with 830 rushing yards on a stellar 5.6 YPC average. While Rawls succumbed to a fractured ankle in December and is currently on the physically unable to perform list as he continues recovering from it, the Seahawks expect him back for Week 1. If he isn't ready, Seattle has depth in the competent Christine Michael and three rookies – third-rounder C.J. Prosise, fifth-rounder Alex Collins, and seventh-rounder Zac Brooks – as Roster Resource shows.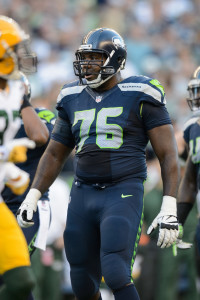 Left tackle Russell Okung and right guard J.R. Sweezy joined Lynch out the door, though their exits came via free agency.
Okung, whom the Seahawks drafted sixth overall in 2010, was always a quality piece for the club when on the field. Unfortunately, a lack of durability was consistently a problem for Okung, who failed to register a 16-game campaign in Seattle and sat out 24 of a possible 96 regular-season contests. Thanks to his injury troubles, Seattle is used to going without Okung, but that doesn't mean life will be easier for the team now that he's in Denver.
Technically, Webb is replacing Okung on the roster as a starting tackle, but it's Garry Gilliam who will man the blind side. Gilliam, a 2014 undrafted free agent from Penn State whose NFL career began on the left side, started all of Seattle's games on the right last year. PFF gave his 2015 performance a poor assessment, grading him 63rd out of 77 qualifying tackles (Okung was 31st). It seems like an especially tall order for Gilliam to replace Okung as Wilson's most prominent protector, but the Seahawks are "really not" concerned about it, Carroll said in March.
Unlike Okung, Sweezy was durable during his run in Seattle, where he appeared in and started 46 games from 2013-15. Fifteen of those starts came at right guard last year for Sweezy, whom PFF ranked just 66th out of 81 qualifiers. The site was bearish on his work as both as a pass and run blocker, and the Seahawks let him head to Tampa Bay for a significant raise. Seattle now appears likely to plug in first-round pick Germain Ifedi as Sweezy's replacement, but decorated free agent Jahri Evans is visiting the team Friday and could end up manning right guard if he signs.
Even with Okung and Sweezy in their lineup for the lion's share of last season, the Seahawks' offensive line still had major trouble with pass blocking for a good portion of the campaign. The unit yielded the sixth-most sacks in the league (46) and ranked 30th in Football Outsiders' adjusted sack rate metric. Those numbers are somewhat deceiving overall, however, as the group fared well during the second half of the season. Amid their 6-2 post-bye week run, the Seahawks gave up a paltry 13 sacks. But it's up in the air whether the unit will be able to continue at such a pace without Okung and Sweezy. If not, the mobile Wilson might find himself on the run even more often than usual.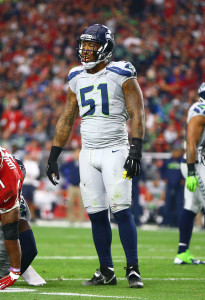 As was the case with their O-line, the front seven of the Seahawks' defense also lost a pair of integral components. Linebacker Bruce Irvin, who recorded 22 sacks with the Seahawks from 2012-15, cashed in with the Raiders, while the aforementioned Mebane went to San Diego.
The bigger loss of the two is Irvin, who partook in 71.4 percent of the Seahawks' defensive snaps last season and acquitted himself well on rushing downs and in coverage against the pass, all while adding an edge-rushing element (which second-year defensive end Frank Clark could help replace with a breakout season). Seattle doesn't have an obvious strongside successor lined up for Irvin, with Mike Morgan, Eric Pinkins and Cassius Marsh competing for the No. 1 job in training camp. They could also deploy Browner there in a hybrid role, much like the NFC West rival Cardinals and Rams do with Deone Bucannon and Mark Barron, respectively. For at least the time being, nobody is going to confuse any of the Seahawks' current options with Irvin, but they simply couldn't afford to keep the 28-year-old.
Mebane, meanwhile, led Seahawks interior D-linemen in snaps last season (489) and teamed with Rubin to keep opposing running games at bay. PFF wasn't particularly impressed with Mebane's work, though, and Seattle let him go after he spent the first nine years of his career there. Rookie Jarran Reed, whom we'll touch on later, is on track to take over for him alongside Rubin.
Trades:
Draft picks: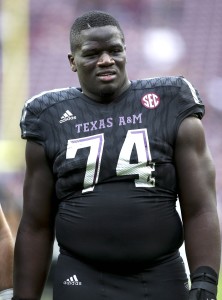 Before drafting the 324-pound Ifedi 31st overall, the Seahawks moved down five spots in a deal with Denver and secured an extra third-round pick (No. 94) in the process. That trade drew praise from FiveThirtyEight's Chase Stuart, who lauded the Seahawks for receiving 132 cents on the dollar from the Broncos. As mentioned earlier, the athletic, long-armed Ifedi will probably step in at guard in place of Sweezy. If that happens, Ifedi and Webb will form a mammoth right side as they look to open up lanes for the Seahawks' rushers and keep Wilson upright. However, Ifedi had consistency issues at Texas A&M, so offensive line coach Tom Cable will have his work cut out for him in developing the 22-year-old into a capable NFLer. Cable, for what it's worth, has already expressed supreme confidence in Ifedi.
The Seahawks reversed course in the second round by moving up seven places and losing a fourth-rounder in a swap with the Bears, but as Stuart wrote, fourths aren't as valuable to Super Bowl contenders as they are to lesser teams. Plus, Seattle landed Reed, whom many regarded as a potential first-rounder entering the draft. The Seahawks expect the former Alabama standout to ably take over for Mebane and provide them with a run-stuffing force.
After picking up Ifedi and Reed, Seattle made use of three third-round choices – the second of which came as a result of its trade with Denver. The Seahawks spent all three picks on offensive players, first nabbing Prosise, a former receiver who broke out as a runner last season with Notre Dame. The 6-0, 220-pound Prosise rushed for 1,029 yards on 157 attempts (6.6 YPC) and totaled 12 touchdowns in 2015. A speedster who can break tackles (he had an impressive 40 last season), Prosise could go down as a mid-round steal for the Seahawks and form an enviable one-two punch with Rawls.
Like Prosise, tight end Nick Vannett is also behind an injured player on Seattle's depth chart. In Vannett's case, it's tight end Jimmy Graham. The three-time Pro Bowler underwhelmed season (48 catches and two touchdowns in 11 games) before suffering a torn patellar tendon in November. Graham is currently on the PUP list, but the Seahawks expect him back for the regular season. Considering the severity of his injury, it's an open question how effective Graham will be from hereon, as VICE Sports' Rivers McCown detailed last month. Thus, if the former Saint isn't able to bounce back this season, it could open the door to playing time for Vannett. However, the 6-6, 257-pound Vannett won't remind anyone of the athletic Graham. He's instead primarily a sure-handed safety valve with excellent blocking skills, the latter of which could be useful to a Seahawks team with a questionable-looking offensive line. Combining Graham's easy-to-escape contract with Luke Willson's status as a free agent-to-be, it seems Vannett is a year at most from seeing consistent NFL action.
Three picks after drafting Vannett, the Seahawks added ex-Boise State O-tackle Rees Odhiambo, who will play guard in Seattle because "he really fits the formula" for the position, Schneider told Stephen Cohen of seattlepi.com in April. Ifedi and the 314-pound Odhiambo were the two strongest O-linemen Cable worked with before the draft, according to Schneider. Unlike Ifedi, Odhiambo will not start immediately.
Extensions and Restructures:
In late June (months after this year's most expensive free agents came off the board), the Seahawks handed out their priciest contract of the offseason, inking Baldwin to a four-year, $46MM extension featuring $12MM in guarantees. The 27-year-old has been an enormous success story for the Seahawks, who signed him in 2011 as an undrafted free agent from Stanford, and will remain in Seattle as Wilson's go-to target for the foreseeable future.
After combining for 130 receptions on 14.9 yards per catch and 12 touchdowns in 46 regular-season games during his first three years, Baldwin accumulated 144 grabs on 13.2 YPC and 17 scores in 32 straight appearances over the previous two campaigns. The 5-10, 189-pounder set career marks in 2015 in catches (78), yards (1,069) and TDs (14, which also tied for the league lead) for the playoff-bound Seahawks, with whom he has appeared in the postseason in four consecutive years. Baldwin's 1,000-yard season last year was just the fourth by a slot receiver over the past half-decade. He's also the only receiver since 1992 – when targets were first tracked – to amass 1,000-plus yards while hauling in at least 80 percent of the passes intended for him. As a result of his work last season, Baldwin finished in a second-place tie with A.J. Green in Football Outsiders' wideout rankings.
Other: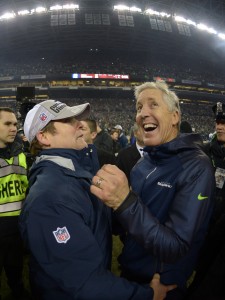 A few weeks after he awarded Baldwin an extension, Schneider received a new deal that's set to keep him atop the Seahawks' front office through 2021. The ex-Green Bay underling is now tied with the Ravens' Ozzie Newsome as the highest-paid GM in the league ($3.75MM per year), which is a well-deserved honor. Since Schneider's hiring in 2010, the Seahawks have collected five playoff trips, two Super Bowl appearances and a Super Bowl title. They couldn't have done it without the players acquired under Schneider's watch – namely Wilson, Lynch, Baldwin, Okung, Irvin, Bobby Wagner, K.J. Wright, Sherman, Thomas and Chancellor, among others.
Shortly after they locked up Schneider, the Seahawks extended one of the GM's closest confidants, Carroll. The former national championship-winning coach at USC has transferred his excellence with the Trojans to Seattle, where he has helped the Seahawks to a 60-36 regular-season record and a terrific 8-4 playoff mark. Considering his reputation as a defensive backs guru, it's fair to posit that Carroll's an important reason for the dominance the Seahawks' secondary has exhibited throughout his tenure with the club.
One player Carroll won't coach this season is defensive end Chris Clemons, who retired last week after accepting a one-year offer from Schneider in April. Schneider actually picked up the 34-year-old twice – his first stint in Seattle lasted from 2010-13 after the GM acquired him and a fourth-rounder from Philadelphia for Darryl Tapp. Clemons went on to log 38 sacks during that four-year span, totaling at least 11 in each individual season from 2010-12. He was also a member of the Seahawks' only Super Bowl-winning team, though they released him during the ensuing offseason. Clemons would've had to fight to make the Seahawks' roster this summer, which the 12-year veteran obviously wasn't up to.
Top 10 cap hits for 2016:
Despite having to wave goodbye to some high-end contributors during the offseason, Seattle still has a championship-level core and an elite coaching staff in place. On paper, then, the Seahawks once again look capable of breaking the double-digit-win barrier and making another playoff trip. First things first, they have a tall task ahead in trying to take back the NFC West crown from the Cardinals, who coasted to a division title last season.
Contract information from Over the Cap and Spotrac was used in the creation of this post. Photos courtesy of USA Today Sports Images.

Follow @PFRumors