With the season fast approaching, we're chatting with beat writers from around the league to gain insight on each team's offseason and how those moves will impact the season ahead.
Now, we continue the series by discussing the Lions with Justin Rogers of the Detroit News. You can follow Justin on Twitter @Justin_Rogers and check out his stories here.
Zach Links: Marvin Jones was the best available wide receiver this year and the Lions pounced quickly to sign him. Do you think he'll be targeted almost as much as Golden Tate this year? Will his five-year, $40MM contract be a good deal in the long run for the Lions?
It could be close, but I still expect Tate to be targeted at a higher rate, simply because he's a bit more lethal on throws close to the line of scrimmage. That said, Matthew Stafford and Jones have developed chemistry rapidly, and the former Bengals wide receiver is truly a good fit in the Lions offense, offering a skill set that makes him a threat at all levels, including the deepest parts of the field.
A lot of people scoffed at $8MM per year for Jones, but it felt right at the time and seems like an even better value when you see the potential he has in the offense. Obviously time will tell, but I could see Jones catching 80 balls for close to 1,000 yards this year, and we all understand his potential in the red zone.
Zach Links: The Lions added some notable names at WR late in the offseason by signing Anquan Boldin and Andre Roberts. What does Boldin have left in the tank? Do you think that Roberts can get back to his old form?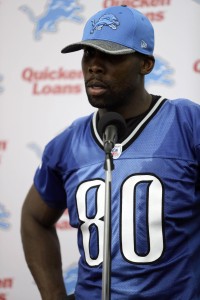 Justin Rogers: Based on the fact that he caught nearly 70 balls in San Fran last season, Boldin obviously isn't running on fumes. He's looked like a nice fit in the slot, giving the Lions' nickel corners fits with the way he uses his thicker frame to box out the defender and create extra separation on routes across the middle.
The Lions have a lot of weapons, so they don't need Boldin to be a focal point of the offense. Depending on the health of Eric Ebron, Boldin will be the fourth or fifth option in the passing game and catching 40-50 balls would be an upgrade from what the team has recently been working with at WR3.
Zach Links: Many expected the Lions to use their first-round pick on Taylor Decker and they did not disappoint when it was their turn at the podium in April. Do you expect Decker to shine right off of the bat or will he need some time to develop, as rookie left tackles often do?
Continue reading about the Lions..
Justin Rogers: The Lions aren't messing around, plugging the rookie in as the starting left tackle on Day 1. While they could still flip him to the right side if he struggles in the preseason, the expectation, at this point, is he'll stick on the blindside.
Naturally, there will be struggles. It's a big jump in competition and he'll face some of the best athletes in the world rushing from that side, but it probably won't be a massive drop-off from Riley Reiff. And with Reiff moving to the right side, solidifying the weakest link on Detroit's line, the unit, on the whole, should be improved.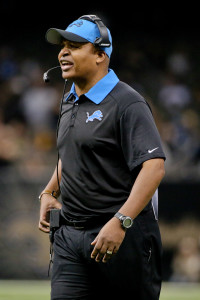 Zach Links: Were you surprised by the Lions' decision to keep Jim Caldwell as head coach? What does he have to do this year in order to continue in that role in 2017?
Justin Rogers: Not really. In two seasons, Caldwell has gone 18-14 with a playoff appearance. Obviously last season's start was embarrassing, but the way they fought to the end and responded to mid-season coaching staff changes, speaks to the roster's unwillingness to quit on their coach.
It's a low-risk proposition for general manager Bob Quinn. You stick with the guy the players like and respect and see if they can maintain the momentum from the end of last season, and if it doesn't work, you install your guy.
Even though Quinn said it won't strictly on making the playoffs playoffs, I do anticipate a postseason berth is the only way Caldwell can guarantee his return in 2017.
Zach Links: The Lions have Ziggy Ansah under team control through 2017 after exercising his fifth-year option. Do you expect the two sides to start discussing an extension soon?
Justin Rogers: Maybe next offseason, but there's no rush. The team has other key contributors from that 2013 draft class, namely Theo Riddick, Devin Taylor, Larry Warford and Sam Martin to get done first. Plus, Stafford is also up for an extension in short order.
They can wait on Ansah, and the franchise tag, while never ideal, is always in your back pocket if his agent is playing hardball.
When Ansah does sign a long-term deal, it's going to be massive.
Zach Links: How do you see this season playing out for the Lions? Will they make the playoffs after their sub-.500 showing last year?
Justin Rogers: For me, it hinges on two things. First, how well does the young offensive line gel? If it's quickly, and Stafford gets better protection and there are some more consistent holes opened in the run game, the offense can be pretty good.
On defense, everyone wants to know if DeAndre Levy is healthy and back to form. He's currently on the non-football injury list after missing nearly all of the 2015 campaign with a hip injury. Take him away and the team's overall talent at linebacker is average, at best. With him, you have a Pro Bowl-caliber playmaker behind an under-the-radar front four.
With Levy healthy, 9-10 wins is realistic, especially considering the favorable schedule. Without him, seven seems more likely.
Photos courtesy of USA Today Sports Images.
Follow @PFRumors