A few months after his 11-year, two-time Super Bowl-winning tenure with the Giants concluded last winter, Tom Coughlin revealed in May that he was aiming to land a head coaching job in 2017. That could still be the case, as the current senior advisor to the NFL's football department didn't rule out a return to the sidelines Friday.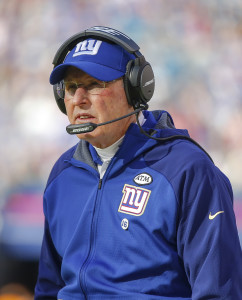 "Well, we'll see about that," said Coughlin (via Howie Kussoy of the New York Post). "One day at a time. I hope I can make an impact in the job that I'm in. That's why I'm in that position."
Coughlin was a head coach in 20 of 21 seasons between 1995 – his first year with the Jaguars – and 2015. Despite his age (70), a pair of head coach-needy teams showed interest in the potential Hall of Famer during the offseason. Coughlin interviewed with both the 49ers and Eagles regarding their vacancies, and he nearly ended up in Philadelphia. Late in the Eagles' search, however, Coughlin withdrew his name from consideration, paving the way for the hiring of Doug Pederson. Coughlin reportedly could have landed the job had he not had a change of heart.
While Coughlin passed on the Eagles, one factor that led him to take his current position is that it's somewhat similar to his past role, he explained Friday.
"I have really enjoyed the work that I've done, as far as going in the command room and being there throughout all the Sunday games. That part of it's been exciting because it's the closest thing for me to the sidelines, which is what I was looking for," he said.

Before the league hired him in July, Coughlin met with Bills brass in March or April about joining the organization as a consultant. When details of that meeting leaked Oct. 1, Coughlin's agent, Sandy Montag, told ESPN's Chris Mortensen that Coughlin "is fully engaged in his job with the NFL." Montag also said that there hadn't been any early season calls from teams looking to gauge Coughlin's interest in becoming a head coach again. If Coughlin doesn't return to the sidelines, he'll end up with 170 wins – tied with Mike Shanahan for 12th all-time – against 150 losses in the regular season, a 12-7 playoff record in nine appearances, and a pair of titles.
Photo courtesy of USA Today Sports Images.
Follow @PFRumors