High price tag on Richardson. The Jets reportedly spoke with both the Cowboys and Broncos about the possibility of dealing pass rusher Sheldon Richardson before the trade deadline, but Gang Green was aiming to recoup expensive compensation. The cost for Richardson was apparently a first-round pick, and neither Dallas nor Denver was willing to acquiesce. Subsequent reports have indicated that Richardson, as well as fellow defensive lineman Muhammad Wilkerson, have been repeatedly late for meetings and walkthroughs. The Jets control Richardson through the 2017 season thanks to his fifth-year option.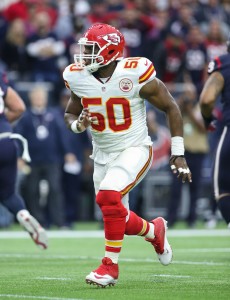 Stars returning to the field. Both the Chiefs and the Patriots will get key players back on the field in the near future, as the clubs have activated linebacker Justin Houston and running back Dion Lewis from the PUP list, respectively. Though he's returned to the 53-man roster, Houston didn't play today against the Panthers (though he did not suffer a setback). It's unclear whether Lewis will be active tonight when New England faces Seattle, but if he is, he'll add another dimension to an offense that's already among the league's best.
No. 1 pick could become No. 1 QB. Although one report has indicated that Rams rookie Jared Goff won't start for Los Angeles until the team is officially eliminated from playoff contention, Adam Schefter of ESPN.com today reported that Goff could become the club's starting quarterback as soon as next week. The Rams are currently locked in a defensive struggle with the Jets, and starter Case Keenum hasn't led Los Angeles on a touchdown-scoring drive yet today. If he takes the reigns next week, Goff would see his first NFL action against the Dolphins at home.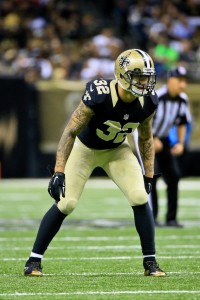 Suspensions hit contenders. Cowboys pass rusher Randy Gregory failed yet another drug test last week, and is now facing a possible one-year ban. Gregory was supposed to return later this season after serving two concurrent bans, but that now seems unlikely. Meanwhile, Saints safety Kenny Vaccaro is facing a four-game suspension for using Adderall, though Vaccaro has vowed to fight the discipline. New Orleans and Vaccaro are now awaiting the results of a second sample.
Chargers likely in San Diego through next year. Though an initiave to fund a new stadium in San Diego failed on election day, the Chargers are still probably staying in San Diego through the 2017 season, as the club will delay a decision to move to Los Angeles until 2018. Owner Dean Spanos confirmed as much, saying he'll put the issue of relocating his team on the backburner until next year.
Photo courtesy of USA Today Sports Images.
Follow @PFRumors