The Dolphins are in need of an emergency center after Mike Pouncey's hip trouble flared up again, and to make room for that replacement the team cut Chris Culliver, Armando Salguero of the Miami Herald reports.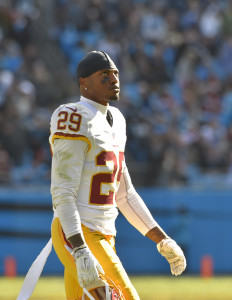 Signed late in free agency despite coming off an ACL tear, Culliver began the season on the PUP list and did not return to form in the way the Dolphins hoped, Salguero notes. Miami promoted rookie UDFA center Jake Brendel from its practice squad. Pouncey is doubtful to play in Week 11 against the Rams.
Culliver's endured a difficult stretch over the past year, with a 2015 suspension negating the guaranteed money in his Redskins-constructed contract and leading to a premature release from Washington. The separation was largely tied to the cornerback tearing his ACL last November, and it appears the sixth-year corner wasn't sufficiently recovered from that setback to make an impact in Miami.
The Dolphins activated the 28-year-old corner two weeks ago but did not use him in a game, with Culliver's surgically repaired knee not allowing him to go all out in practice, either, per Salguero. Initially part of the plan upon signing, Culliver's PUP list trip did not generate the kind of recovery Fins coaches expected, and the past two weeks since his activation didn't reveal a corner capable of contributing to a suddenly resurgent team on Sundays.
Culliver told reporters he planned to play against the Chargers last week, but Salguero reports Dolphins coaches had no intention of deploying him.
A full-time starter in 2014-15 with the 49ers and Redskins, Culliver will now enter into an uncertain phase in his career. Although he will venture onto the waiver wire due to late-season rules pushing cut players there at this juncture of the calendar, another team taking a chance on him now if he's unable to practice at full speed seems unlikely.
Signed to a one-year Dolphins deal worth $3.75MM — $300K fully guaranteed — Culliver saw a four-year, $32MM Redskins accord fail to pan out. He played in just six games for Washington in 2015. Should he sign elsewhere if he clears waivers, Culliver will likely have to do so on a one-year deal to re-establish his value.
Photo courtesy of USA Today Sports Images.
Follow @PFRumors