Raiders linebacker Aldon Smith applied for reinstatement on October 3, and as ESPN's Adam Schefter writes, NFL commissioner Roger Goodell has 60 days to render a decision on reinstatement under the terms of the collective bargaining agreement. That 60-day period ends on Friday, December 2.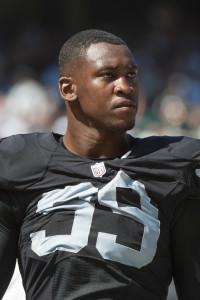 Smith was eligible to be reinstated on November 17, which marked the end of the one-year ban he received for violating the league's substance abuse policy when he was arrested in August 2015 on drunken driving, hit and run, and vandalism charges. That was the fifth time Smith had been arrested since he entered the league as the seventh overall pick of the 2011 draft. The 49ers, who drafted Smith and who reaped the benefits of his fearsome pass rush ability for several seasons, had simply had enough at that point, and they cut Smith shortly after the arrest.
He was subsequently scooped up by the Raiders, and he posted 3.5 sacks for Oakland in nine games during the 2015 season. Despite his most recent suspension–he also served a nine-game ban in 2013 for violating the league's personal conduct and substance abuse policies–Oakland handed Smith a two-year, $11.5MM deal this spring.
Smith checked himself into a rehabilitation facility in Carbondale, Colorado in July, not long after a suspicious video post appeared on his Periscope account. That video featured an unidentified man that purportedly sounded like Smith and an unidentified woman talking about a hand-rolled cigarette. Smith has denied it was him in the video, but he entered rehab just the same.
He spent 120 days in the Carbondale facility, and although he also spent time in rehab in 2013, Schefter's sources have said that Smith's latest rehab stint had a "profound effect" on the Missouri product. The Raiders are optimistic that Smith will be reinstated and allowed to finish out the season, which would be a tremendous boon for the club as it battles to hold onto first place in the AFC West and competes for a first-round bye. Smith has accrued 47.5 sacks in 59 career games, and although he will not be expected to return to form right away, that kind of production does not grow on trees, and it shows why the 49ers and Raiders have exhibited considerable patience with Smith's troubles.
Goodell's decision could be taking awhile because the Periscope video compelled the league to investigate whether Smith violated the protocols required of a suspended player seeking reinstatement to the league following a violation of the substance abuse policy.
Photo courtesy of USA Today Sports Images.
Follow @PFRumors