Defensive end Cameron Heyward announced that he is done for the season. The Steelers star has been dealing with a pectoral injury that will apparently require surgery.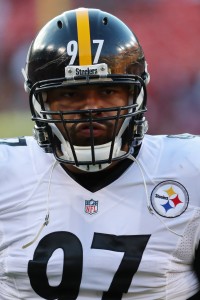 "I would like to thank everyone who has been in my corner this season," Heyward posted on Instagram. "It pains me to say that I will not get to continue playing this season. My role will change as I can not play, but it will not change the goals the team has set out. My support for this team will only grow and I look forward in watching this team grow and fight on. Hate being on the sideline, but there is a greater plan taking place. My patience will be tested but I look forward to 2017. My hand will remain in the pile no matter what!"
Heyward was already playing through a nagging hamstring injury but playing the hero through this chest injury was not an option for the 27-year-old. For the last six years, Heyward has been an absolute rock for the Steelers and he never missed a regular season game until this year. As a starter over the last three-and-a-half years, Heyward has tallied 22.5 sacks and been a constant nightmare for opposing quarterbacks. This year, his 3 sacks stand as a team high although he only played in seven of nine possible games.
With Heyward out, the Steelers will likely use Ricardo Mathews in his spot and they may also move tackle Javon Hargrave around on the line. It's unlikely that either player can match Heyward's production, however.
Photo courtesy of USA Today Sports Images.
Follow @PFRumors