Last week, Adrian Peterson said that he would not return to the Vikings if they were not in the playoff chase. After getting a W against the Jaguars on Sunday, Peterson is leaning towards taking the field. Peterson says that he to practice this week (link via John Shipley of the Pioneer Press).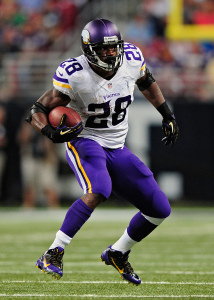 "I plan on practicing this week to really get my legs under me and get a good feel on where I'm at," he told Dash Radio. "So, this week is going to be big for me. My plan, and my vision, is to be back for the Green Bay game (on Dec. 24). That's what I'm envisioning. Of course, the perfect scenario would be we win out and I'm able to rest up for three weeks, and be ready for the playoffs. That's the perfect scenario. But I'll be out there this week practicing, and I'll go from there."
Peterson is attempting to come back from a major tear to his meniscus, which isn't an easy task. Of course, Peterson has defied the odds in the past and has shown that he can recover from injuries faster than your average human.
Now at 7-6, the Vikings have a slim chance beating out the Packers and toppling the Lions for the NFC North crown, but they still have a 19% overall chance of making the playoffs, according to Five Thirty Eight.
Photo courtesy of USA Today Sports Images.
Follow @PFRumors