This week, the Rams drew criticism from all over the football world when they gave extensions to coach Jeff Fisher and GM Les Snead, despite poor on-field results in recent years. Then, in discussing the new deals, Fisher raised eyebrows when he took an apparent shot at Snead.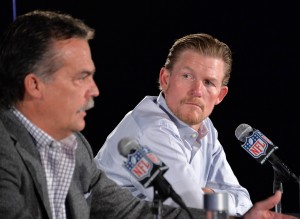 "I'm so busy here, I was honestly unaware [Snead] was extended. I'm being honest with you, we're just working here," Fisher said. "I look at this as being my responsibility, the win-loss record. We need to do a better job from a personnel standpoint. We've had some unfortunate things take place with some high picks in Stedman Bailey and Tre Mason and those kinds of things you don't anticipate. But we're moving forward."
Even though Fisher is believed to have more input in personnel decisions than most coaches, he seems to be blaming Snead for the team's poor draft record. This was Fisher's most direct and brutal public criticism of Snead to date, but the problems between the two "have been an open secret in league circles for some time," Albert Breer of The MMQB writes.
"It pissed me off because I knew it was meant as a shot," said one Rams source. "You see it under that umbrella—'We need to do a better job in personnel.' OK, but you want everyone to think that you have full control. You can't have it both ways, and it can't always be the talent. Look at the roster, 2012 to now. In '12, Jeff did a masterful job with what he was given. But we've gotten more talent, and we've gotten worse."
Breer hears from many that the relationship between Fisher and Snead has turned "toxic." Disagreements between coaches and executives are not uncommon, but it sounds like things have gotten especially bad between these two.
Photo courtesy of USA Today Sports Images.
Follow @PFRumors