The Jaguars announced that Doug Marrone will take over as head coach on an interim basis. Yesterday, the Jaguars canned Gus Bradley following a loss that knocked them down to 2-12.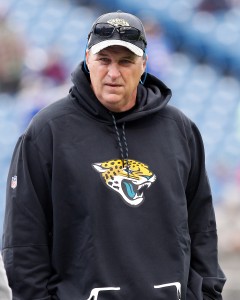 For the last two years, Marrone has been working under Bradley as the team's offensive line coach and assistant head coach. He now has an opening back into the head coaching realm, a position he has not held since his bizarre departure from the Bills a few years ago.
After guiding the Bills to a 9-7 mark in 2014, Marrone opted out of his contract. Marrone's agreement with the Bills allowed him to receive his full $4MM salary for 2015 even after leaving, so that likely played a role in his decision. Marrone expected to land another head coaching gig elsewhere that offseason, but the Falcons, Bears, Jets, and 49ers all passed after interviewing him. In January 2015, Marrone agreed to sign on with Jacksonville.
The Jaguars face the Titans on Saturday and finish the year against the Colts on Jan. 1. The Jags currently have the third-worst record in the NFL, putting them behind only the Browns and 49ers in this year's draft order.
Photo courtesy of USA Today Sports Images.
Follow @PFRumors