As the Raiders play their biggest game in more than 13 years, their future remains uncertain. Both Las Vegas and now Oakland have made efforts to secure a stadium for the venue-seeking franchise, but the latter's last-ditch attempt may not be a reliable commitment.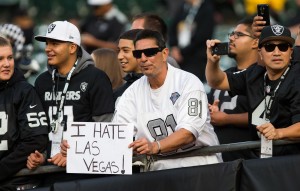 Multiple owners, according to Jason Cole of Bleacher Report (Twitter link), believe Oakland does not have a strong desire to keep the Raiders and are "playing political games" in this effort that involves the Ronnie Lott group contributing a sizable amount of the stadium costs for this Bay Area site. This venture, which does not feature Mark Davis' blessing, calls for $600MM from the Lott-fronted Fortress Investment Group, $300MM from Davis, $200MM from the league and $200MM in public money. It's obviously not as far along as Las Vegas' effort, which already secured the $750MM in public money and approval from Nevada Gov. Brian Sandoval.
While most NFL owners' stances are not yet known on Vegas, it's been widely reported the league prefers Oakland as the Raiders' home, due largely to the disparity between the Bay Area and Vegas markets. However, the league has twice approached the city of Oakland about buying or leasing the Oakland Coliseum and acting as a developer for the Raiders — per Cole, on Twitter — but the city has not corresponded with the NFL on this specific inquiry. Cole notes the NFL being heavily involved in this process would make a Raiders stadium project in Oakland much easier (Twitter link), but the city and county have not responded to the league's request to know what it would cost to get involved in the process, per Cole (via Twitter).
Roger Goodell's preference for Oakland hasn't been much of a secret in league circles either, but the latest coming out of this saga now points to neither place being a good option in the minds of the owners. A relocation vote remains up in the air, but this Oakland venture still has unanswered questions as well, creating a similar uneasy feeling Vegas has for the parties who will likely end up voting on the matter, Cole tweets.
Meanwhile, Sheldon Adelson's potential issues with this Vegas project in which he's slated to be heavily involved may be dissipating, with the Raiders and Adelson expected to strike a deal soon, per Cole (on Twitter). In October, a snag between Adelson and the Raiders emerged despite the Vegas project being approved by the Southern Nevada Tourism and Infrastructure Committee, the state legislature and the governor. The franchise and the casino mogul coming together would put more pressure on Oakland to come up with a comparable solution.
Of course, with Davis not being on board with his current city's latest effort only further complicates this matter for owners as a relocation vote nears.
Follow @PFRumors