As one of the top talents in this year's draft class, Leonard Fournette is taking no chances. The LSU running back announced today that he will skip his team's bowl game in order to rest his injured ankle.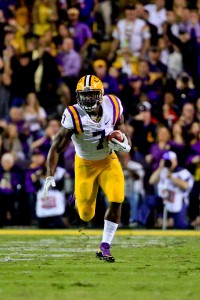 "This is one of the hardest decisions I've ever had to make, not playing in the bowl, but it's best for me and my future," Fournette said, "It was hard telling the guys. I love them dearly. You grow so close together through this. I'll forever thank them and support them."
Fournette estimated that his ankle is at about "85-90%," which implies that it won't be an issue when the workout circuit begins. Barring something unforeseen, Fournette appears to be a shoe-in for the first round and a likely Top 10 pick.
Despite the ankle holding him back this year, Fournette has still managed to run for 843 yards and eight touchdowns. Last year, Fournette was largely healthy and ran for 1,953 rushing yards, good for an average of 162.8 yards per game. NFL teams are already licking their chops about what a healthy Fournette is capable of. Two high-level talent evaluators recently said that Fournette is even better than Todd Gurley, the No. 10 overall pick in the 2015 draft.
Photo courtesy of USA Today Sports Images.
Follow @PFRumors