8:39pm: The 60-day decision for Roger Goodell to make a decision on Smith has passed, since he applied for reinstatement Oct. 3, but a decision is expected soon, Mike Florio of Pro Football Talk reports. And despite not having played in a game since last November, the former All-Pro pass-rusher would be ready to play immediately, a source informs Florio. The 10-2 Raiders travel to face the 9-3 Chiefs on Thursday night, so a possible window for reinstatement could come in that 10-day break if Goodell deems Smith fit to return to work.
3:12pm: The Raiders are not expecting edge rusher Aldon Smith to return to the field this season, according to Ian Rapoport of NFL.com. The NFL was supposed to have made a decision on Smith's reinstatement by December 2, but Oakland has not heard back from the league as of yet. As such, the Raiders are "not counting" on Smith playing in 2016, and would consider any production from him to be a "bonus."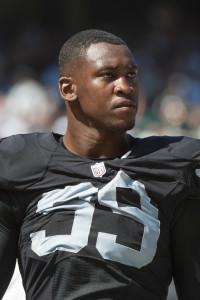 [RELATED: Latest On Raiders' Relocation Efforts]
Smith was suspended for a one calendar year in November 2015, but still agreed to a two-year, $11.5MM contract with the Raiders this spring. The deal contains no guaranteed money, and is heavily incentives through gameday active bonuses and performance raises, none of which Smith is earning while on suspension. He won't earn any of the contract, in fact, unless he can get back on the field at some point.
Smith, 27, checked into a rehab facility this summer following a social media incident during which he may have been shown smoking marijuana. According to Rapoport, that rehab stay was extended by 60 days after Smith met with counselors and doctors. Raiders general manager Reggie McKenzie, meanwhile, expressed his support for Smith earlier this year.
"Aldon is doing well," McKenzie said. "That situation is going to be totally up to the league because he's been in the program and they've monitored him. It's up to Goodell to say yah, nay or when. And he could say no to everything … that part is out of our hands. The league will take everything into consideration and Aldon will have to meet with [Roger] Goodell at some point."
A meeting between Smith and Goodell has yet to take place, and per Rapoport, it's unclear if it ever will.
Photo courtesy of USA Today Sports Images.
Follow @PFRumors