In advance of March 9, the start of free agency in the NFL, Pro Football Rumors will detail each team's three most glaring roster issues. We'll continue this year's series with the Arizona Cardinals, who finished with a 7-8-1 record despite being viewed as Super Bowl contenders when the season began.
Pending free agents:
Top 10 Cap Hits for 2017:
Other:
Three Needs:
1) Add a cornerback to play opposite Patrick Peterson: On the whole, the Cardinals' defense was extremely effective in 2016. The unit — led by second-year coordinator James Bettcher — finished first in sacks, second in both DVOA and yards, third in adjusted sack rate, and fourth in takeaways. The one true weakness on the defensive side of the ball, however, was at the cornerback spot opposite Patrick Peterson, where Arizona ranked 27th in DVOA against opposing No. 2 receivers. As such, finding a reliable second cornerback should be atop the Cardinals' list of priorities this offseason.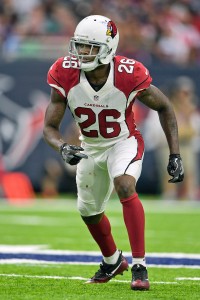 Arizona thought it had an option to play second fiddle to Peterson when it selected Brandon Williams in the third round of last year's draft. Williams, who converted from running back to cornerback in the summer of 2015, was immediately inserted into the Cardinals' starting lineup in Week 1 against the Patriots and was immediately — and, perhaps, predictably — torched. Williams played 100% of Arizona's defensive snaps in the season opener (71 plays), but only played 169 snaps the rest of the season, mostly at the tail end of the campaign after the Cards had been eliminated from postseason contention. The 24-year-old Williams clearly has room to grow and should be allowed the time do so, but it will be difficult for Arizona to count on him as a starting defensive back in 2017.
Following Williams' public flagellation against New England, trade acquisition Marcus Cooper moved into the starting lineup and stayed there, playing more than three-quarters of the Cards' snaps on the season. Cooper managed four interceptions but didn't grade well according to Pro Football Focus, which ranked Cooper as the No. 108 cornerback among 120 qualifiers. Now a free agent, Cooper would be better deployed as a depth option if re-signed, joining Justin Bethel — whose short-lived stint in the starting lineup was deemed a "failure in progress" by head coach Bruce Arians — Williams, and 2016 rookie Harlan Miller in that capacity.
Luckily for the Cardinals, both the free agent market and the upcoming draft are full of intriguing cornerback options. When the new league year begins in early March, it's possible that A.J. Bouye, Trumaine Johnson, Stephon Gilmore, and Dre Kirkpatrick could all hit free agency (although, one or more of those defensive backs could be tied up via the franchise tag). That quartet will be searching for top-of-the-market deals, however, and given that Arizona has pressing contract issues in the form of internal free agents Chandler Jones, Calais Campbell, and Kevin Minter, the club will probably stay away from elite level options this spring.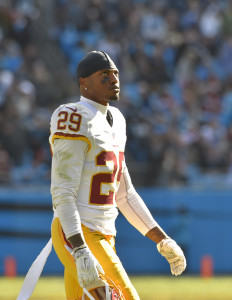 Instead, the Cardinals could look at second-tier cornerbacks, and perhaps follow the model they used in 2014 when agreeing to a cheap one-year deal with veteran defensive back Antonio Cromartie, who rebounded off a few poor seasons to post a solid year in the desert. Chris Culliver could be a candidate for such a deal this offseason, as the 28-year-old is back on the free agent market after spending time on the Dolphins' roster last year. Given that he visited with the Cards last summer before signing with Miami, Culliver might intrigue the club once again as a bounce-back player. Other corners who may interest Arizona could include Morris Claiborne, Nolan Carroll, Logan Ryan, and old friend Jerraud Powers.
If the Cardinals don't find what they're looking for during the free agent period, the draft will offer the team its next opportunity to find a No. 2 corner. Daniel Jeremiah of NFL.com tweeted this week that the 2017 draft offers the "deepest/most talented group of CBs" in years, meaning that Arizona should be able to locate either an elite talent near the top of the draft, or a depth piece in the mid rounds. Marshon Lattimore (Ohio State), Teez Tabor (Florida), Marlon Humphrey (Alabama), Quincy Wilson (Florida), and Tre'Davious White (LSU) comprise the top five available corners in the estimation of ESPN.com's Mel Kiper Jr. (Insider subscription required), who places the first three among his top 25 overall prospects.
2) Acquire a true No. 1 receiver: Veteran pass-catcher Larry Fitzgerald has seemingly flirted with retirement during each of the past few offseasons, and this year is no different, as Fitzgerald is reportedly considering hanging up his cleats despite signing an extension last August. If the 33-year-old Fitzgerald does decide to call it a career, the Cardinals wide receiver depth chart would be topped by the likes of John Brown, JJ Nelson, a recovering Jaron Brown, and special-teamer Brittan Golden (if you'll recall, Arizona waived WR Michael Floyd at the tail end of the season, but he would have been a free agent anyway). Do those receivers represent enough weaponry for quarterback Carson Palmer to operate a Bruce Arians offense that relies on the intermediate-to-deep passing game?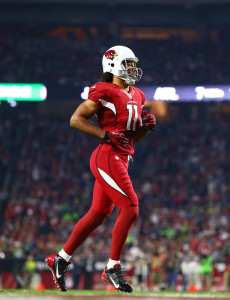 The answer is probably no, and even if Fitzgerald returns for the 2017 campaign, the Cards should still aim to add another receiver to the roster. Fitzgerald has essentially become a glorified tight end in recent years, an excellent blocker who runs routes over the middle of the field. John Brown and Nelson, meanwhile, are both under six feet tall and 180 pounds, and their respective small statures may have played a role in nagging injuries that limited each of them throughout the season. Floyd, at 6-foot-3, 220 pounds, was the closest thing Arizona had to a prototypically sized No. 1 pass-catcher in the past few seasons, but even he never produced a true breakout season during four-plus seasons with the team.
Ironically, Floyd is exactly the type of receiver the Cardinals should be targeting in free agency, but a reunion between the two clubs is not going to happen after Floyd was unceremoniously dumped following a DUI. Outside of Floyd, there are only two receivers available on the open market that offer No. 1-type potential: the Bears' Alshon Jeffery and the Browns' Terrelle Pryor. Personally, I have my doubts that Pryor is fully ready to become the primary option in a high-powered offense, but I would also expect him to get higher bids than Arizona would be comfortable matching.
Jeffery, meanwhile, is the premier pass-catcher available during the upcoming free agent period, and ranked third on the most recent edition of PFR's Free Agent Power Rankings. Jeffery doesn't turn 27 years old until next month, and given that he's been a dominant force when healthy, he'd make for an excellent addition to the Cardinals' offense. Still, that could be said for a multitude of offenses around the NFL, meaning Jeffery's price tag could get quite high. Chicago, too, has the option of franchising Jeffery for the second consecutive season — albeit at a cost north of $17.5MM — so he's not a guarantee to hit the open market.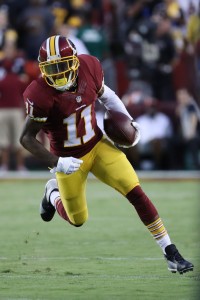 One other option that might intrigue the Cardinals is Redskins free agent DeSean Jackson, who is set to become a free agent after earning $8MM annually during three seasons in the nation's capital. Jackson, 30, is listed at 5-foot-10, 178 pounds, so he's certainly not the big-bodied receiver that I lobbied for above. However, he does possess one talent which would surely draw Arians' eye: he can get deep. In 2016, Jackson led the league in yards per reception for the third time in his career, averaging 17.9 yards per catch. That's a skill that would pay dividends in Arizona's deep passing offense, and Jackson should be available for less than what he earned with Washington.
If the Cardinals strike out during free agency, they'll be able to target wide receivers through the draft. They could use the 13th overall selection to bring in one of several pass-catchers who project to go in the first round. Mike Williams — not to be confused with the two former pro receivers of the same name — is set to become the latest Clemson WR to be chosen on Day 1 of the draft, following in the footsteps of DeAndre Hopkins and Sammy Watkins. Dane Brugler and Rob Rang of CBSSports.com list Williams as the No. 1 receiver available in 2017, noting that he appears as though he was "constructed with an NFL-starter kit." USC's JuJu Smith-Schuster and Western Michigan's Corey Davis are among the other first-round options that could make sense for Arizona.
3) Start thinking about Carson Palmer's replacement: In 2015, at the age of 36, Carson Palmer posted best season of his career, leading the league in a variety of metrics including Total Quarterback Rating and net yards per pass attempt while placing himself squarely in the MVP conversation. Those results didn't hold in 2016, however, as Palmer's Total QBR fell from 82.15 to 52.8, his touchdown percentage dropped from 6.5 to 4.4, and his net yards per attempt went from 8.41 to 6.03. To be fair, Palmer's 2016 numbers weren't terrible, and were largely in line with his career statistics prior to that magical 2015 campaign.
But Palmer's 2015 season now looks like an outlier, and given that he'll turn 38 years old during the 2017 campaign, the Cardinals need to begin their search for a long-term replacement at quarterback. Extended along with Larry Fitzgerald last summer, Palmer is now locked up through the 2018 season, but Arizona could easily get out of the contract if the rapidity of Palmer's downward spiral increases. Additionally, rumors that backup Drew Stanton could take over once Palmer retires don't make much sense, given that Stanton is only signed through 2017 and is already 32 years old himself.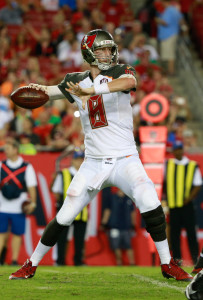 Free agency typically isn't the place for a club to find a developmental quarterback, and the 2017 crop of available players is no different. The only possible option I could see the Cardinals pursuing is Buccaneers backup Mike Glennon, a big-armed QB who could fit in Bruce Arians' offense. However, there are numerous impediments to Glennon landing in the desert. After years as a No. 2, Glennon likely wants to compete for a starting job immediately, something he wouldn't do in Arizona. Additionally, Adam Schefter of ESPN.com recently pegged Glennon's value at $13-15MM annually, a price the Cards won't pay. Glennon's market would have to crater, and he'd have to accept being a backup for at least another year, before a match between he and Arizona makes financial sense.
As such, the draft looks like the most realistic avenue through which the Cardinals can locate a long-term answer at quarterback. Despite a disappointing season in 2016, however, Arizona is still in win-now mode, and given the other immediate needs on the roster, the club is unlikely to expend an early pick on a signal-caller. Given that, top-tier options such as Mitch Trubisky, Deshaun Watson, DeShone Kizer, Brad Kaaya, and Patrick Mahomes — all of whom should go off the board in the first two rounds — seem like unpalatable options.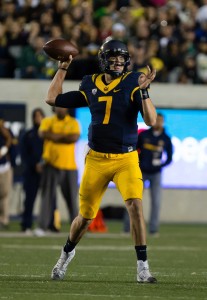 Unfortunately, mid-round candidates are not aplenty, as Todd McShay of ESPN.com recently wrote that the 2017 quarterback class is "as bad…as [he] can remember." The one QB who could seemingly be a fit for the Cardinals is Cal's Davis Webb, whom McShay reports has "good size and a big arm." ESPN's scouting report says Tull "rarely misses on passes between the hashes" and possesses a "high release point and gets the ball out quickly," but is "not an elite athlete" and has "question[able] ability to sidestep interior pressure." Remind you of anyone? To me, that description sounds like a young Carson Palmer.
Photo courtesy of USA Today Sports Images.
Follow @PFRumors