In advance of March 9, the start of free agency in the NFL, Pro Football Rumors will detail each team's three most glaring roster issues. We'll continue this year's series with the Denver Broncos, who finished 9-7 in 2016 and failed to make the playoffs for the first time since 2010.
For the second time in three years, the Broncos need a new coach, with unusual circumstances creating this vacancy. Gary Kubiak's retirement came suddenly after the defending Super Bowl champions played a rare inconsequential Week 17 game. But even though the two-year Denver HC would have certainly returned for a third season if he felt he was healthy enough to do so, the team has several key areas of need for the first time in a while. The Broncos for years featured a top-tier quarterback and a quality supporting cast, and over the past three seasons have formed the nucleus of one of the better defenses in modern NFL history. Denver's defense still functioned at an elite level in 2016, ranking No. 1 in DVOA, but it couldn't compensate for an offense with glaring deficiencies. No matter which coach the Broncos hire, offense will be the primary concentration this offseason.
Depth Chart (via Roster Resource)
Pending Free Agents:
Top 10 Cap Hits For 2017:
Current Projected Cap Room (via OverTheCap): $38,545,915
Other:
Must exercise or decline Bradley Roby's fifth-year option for 2018
Three needs:
1.) Address the lines: After the Broncos decided to part with some of the best offensive linemen in franchise history, they replaced the aging contributors with some lesser-known commodities and mid-level UFAs. For the most part, the gamble backfired. With the exception of a breakout season from center Matt Paradis, the Broncos' O-line struggled throughout the season. It marked the second straight year of und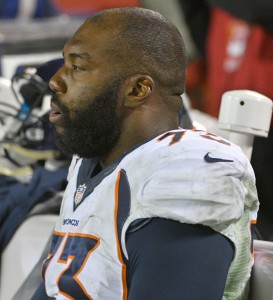 erwhelming blocking, and the team could be looking at another overhaul.
While the 2015 season saw injuries force suboptimal tackles into action, the latest edition of the line featured the starting edge blockers not delivering for the most part. Replacing the traded Ryan Clady, Russell Okung played in 16 regular-season games for the first time but didn't stand out particularly at left tackle. And right tackle Donald Stephenson continued the underwhelming play that got him benched in Kansas City. Denver shelved its newly acquired right tackle only to be forced to return him to the lineup due to Ty Sambrailo's poor performance.
Although he fared slightly better at right guard than at right tackle, Michael Schofield received one of the worst run-blocking grades from Pro Football Focus. Fellow second-year contributor Max Garcia, moving into the starting lineup at left guard following the team's decisions to not retain Louis Vasquez or Evan Mathis, delivered a middling season. At least one guard seems likely to stay to bring some semblance of continuity to a line that's seen anything but the past two years. It deployed new starters at four of the five positions in each of the past two slates.
Despite being unable to generate consistent offense during their Super Bowl charge, the Broncos ranked 17th in rushing in 2015. This season, they plummeted to 27th, putting the onus on Trevor Siemian to move the ball for the most part down the stretch. C.J. Anderson's injury affected this to some degree, but the Broncos were often overwhelmed in pass protection as well, giving up 40 sacks this season after absorbing 39 in '15. Siemian also missed five halves of football due to injury. Paradis is the only lock to return. A Stephenson cut will cost the Broncos $2MM in dead money while generating $3MM in cap savings. The team must decide whether or not to exercise the four-year, $48MM part of Okung's two-pronged contract on the final day of the 2016 league year. Bringing the 29-year-old blocker back at that price seems unlikely, but finding a superior UFA options might be a task. At right tackle, players like Sebastian Vollmer and Riley Reiff could be available. The guard market, though, looks plentiful.
T.J. Lang, Larry Warford, Ronald Leary and Kevin Zeitler all are scheduled to be UFAs. As of now, it's unknown if the Broncos are going back to a power scheme or staying with Kubiak's zone-blocking preference, making potential targets tougher to identify. David DeCastro and Kyle Long reset the non-Kelechi Osemele guard market this year, receiving $10MM-AAV deals. As the cap climbs toward $170MM, the latest crop of top UFA interior blockers figures to be in line to shoot for eight-figure-per-year deals. Should the Broncos move on from Okung and Stephenson, they won't have a veteran contract up front and would be in position to make a bid for one of these UFAs to play team with one of their incumbents, likely Garcia.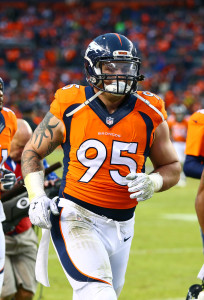 Denver coaxed Derek Wolfe into signing a team-friendly deal but missed Malik Jackson this season. After Vance Walker's ACL tear, the team could not recreate the departed UFA's impact. Initially, the defending Super Bowl champions planned to use a rotation of Walker, Jared Crick and second-round pick Adam Gotsis. That pretty much became Crick at right defensive end, with Gotsis not factoring in much, and this was the most noticeable difference between the Super Bowl unit and its successor. The Broncos dropped from third to 28th against the run. Crick remains under contract, but the team will likely look to at least supplement him at right end if not shoot for an upgrade. A nose tackle vacancy exists now as well after the Broncos did not pick up Sylvester Williams' fifth-year option.
High-end nose solutions could exist in Dontari Poe and Brandon Williams, but with greater needs looming on their offensive line, the Broncos may not want to spend big here. At end, the team could look to bring back the soon-to-be 30-year-old Walker on a short-term deal. Should Calais Campbell want to join a star-studded defense with a need at right defensive end, that would be an interesting option on a medium-length accord. Of course, the longtime Cardinals stalwart won't be cheap, and the Broncos already have most of their payroll allocated to defense.
Nevertheless, there will be plenty of new faces manning the lines for the 2017 Broncos.
2.) Make a decision at quarterback: Trevor Siemian gave the Broncos more than what could have been expected from a seventh-round pick who had never thrown an NFL pass before 2016. Kubiak preferred him to Paxton Lynch in the short term, cementing this notion by keeping the first-rounder on the sideline in a meaningless Week 17 game that could have been used for developmental purposes. We heard last month the team planned to go into 2017 with Siemian in command, but that all could change now that Kubiak is gone. The Broncos will have a new offensive staff coming in, potentially altering the respective statuses of the incumbent passers.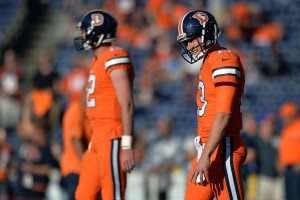 After a solid cameo against the Buccaneers for a half in Week 4, Lynch struggled against the Falcons and Jaguars in his spot starts. If John Elway deems his quarterback of the future a longer-term project, a higher-profile bridge solution could make sense. A trade for a player like Tony Romo would not be out of character for the GM, but the Cowboys quarterback would have to renegotiate his contract ($24.7MM '17 cap number) in all likelihood and will be 37 next season. Part of the reason the Broncos could dole out extensions to Darian Stewart, Emmanuel Sanders and Brandon Marshall this year came as a result of no longer having a franchise-QB salary on their payroll. Putting that kind of money back into the quarterback position would tighten the budget elsewhere.
As the Broncos showed last offseason with Colin Kaepernick, they won't be forced into a deal at an unfriendly price. But going into another season with unqualified quarterback could potentially waste an additional year of Denver's loaded defense. While it would be somewhat impractical to go after a franchise-type passer via trade while rostering a first-round pick needing development, the state of the Broncos' defense could make that a legitimate conversation.
3.) Locate an auxiliary pass-catcher: While Siemian (3,401 yards, 18 TDs, 10 INTs, 59 percent completion rate) showed more than most thought he would, the Broncos did not possess a balanced offense. And Denver's lack of a ground game only served as part of the issue. Owen Daniels' AFC championship game heroics notwithstanding, the Broncos have been without a reliable receiving tight end since Julius Thomas departed and have not found a third receiver since injuries stalled Wes Welker. For the fifth straight season, the Broncos saw two receivers eclipse 1,000 yards. But no other receiver or tight end surpassed 240, helping defenses key on Demaryius Thomas and Emmanuel Sanders in a Broncos offense that wasn't as nuanced as their versions under Adam Gase.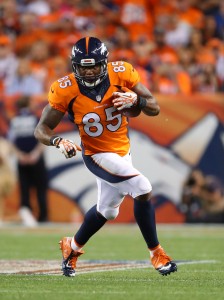 Thomas and Sanders are locked up through 2019. Bennie Fowler, Jordan Taylor and disappointing former second-round pick Cody Latimer are under contract for 2017, as are tight ends Virgil Green and A.J. Derby. But the Broncos will likely search for a third viable pass-catcher. What happens with the offensive line and at quarterback loom as higher priorities, but this is an area Denver could address with a high draft pick or mid-level free agency dollars.
Denver may be more inclined to give the Derby/Green/Jeff Heuerman troika another chance due to the undetermined ceilings of Derby and Heuerman. As far as WR2/3 types go in free agency, players like Kendall Wright, Robert Woods, Terrance Williams and Markus Wheaton figure to be available. The team, though, is unlikely to spend much here due to both Thomas and Sanders making eight figures per year. No team pays more money for its top two wideouts, so an early-round draft pick from the new staff makes more sense.
The Broncos have not seen a drafted wideout produce much for them since a previous regime selected Thomas and Eric Decker in 2010. As college receivers come in more prepared to contribute immediately, it's something the franchise could look at — especially if the new offensive system centers around three-wideout sets.
Photo courtesy of USA Today Sports Images.
Follow @PFRumors