Now that the regular season is over, we're chatting with beat writers from around the league to gain insight on each team's offseason and how those moves will impact the season ahead.
This week, we caught up with Alden Gonzalez of ESPN.com to discuss the Rams. You can follow Alden on Twitter @alden_gonzalez and check out his stories here.
Zach Links: After a wide-ranging search, the Rams hired the youngest coach in NFL history. Do you think the 31-year-old Sean McVay will prove to be a smart hire? 
Alden Gonzalez: I think he's going to make their offense better – it can't be any worse – and I think the players are going to like him. I think they're going to feed off his energy. The question is how quickly McVay can adapt to all the responsibility that comes with being an NFL head coach, from managing a game to handling a locker room to orchestrating practices. On top of all that, McVay will call the plays on offense. But he could not have made a better hire than the 69-year-old Wade Phillips as his defensive coordinator. McVay basically only has to worry about one side of the ball.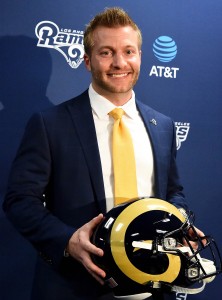 Young coaches have been very hit and miss throughout NFL history. John Madden, Don Shula, Mike Tomlin and Jon Gruden succeeded. Lane Kiffin, Raheem Morris, David Shula and Josh McDaniels did not. It's a pretty remarkable leap of faith for what is perhaps the most important coaching hire in Rams history. But I give them credit for trying to hit a home run, and I'm trying not to get caught up on the date of McVay's birth certificate. If he were five years older and had the exact same resume, I don't think anybody would be making a big deal about it. He sure doesn't act 31.
Zach Links: Before the start of the 2016 season, you told us that Jared Goff "needs to be more decisive, he needs to take care of the football and he needs to do a better job of picking up blitzes." What have you seen from him in those areas? How do you feel about him heading into 2017?
Alden Gonzalez: Clearly he didn't do any of that. Goff put up a 22.2 Total QBR that was by far the worst among those who made at least seven starts last season. He made poor decisions, missed easy throws and didn't display very good presence in the pocket. But he also faced a ton of pressure, threw to an underwhelming group of receivers and ran an offensive scheme that was, for all intents and purposes, systematically broken.
So, I don't think it's totally fair to judge Goff just yet. I do like his arm. He's more mobile than I expected, and many have raved about how mentally tough he is. Occasionally he also made impressive throws downfield. But he has a lot to prove and has a longer road ahead of him at this point than the Rams might have hoped. McVay's offense is very quarterback friendly, so now is when we'll start to see how good Goff can be.
Zach Links: Despite the coaching changes, the Rams opted to retain GM Les Snead. Would you say that he is on the hot seat? What needs to happen in 2017 for him to remain in that position?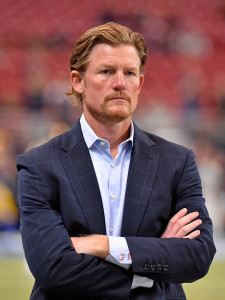 Alden Gonzalez: I think he is. To stay, he needs to take advantage of the $40 million or so in salary cap space at his disposal and the Rams need to start seeing more out of their draft picks. The Rams drafted seven offensive linemen from 2014 to '15, and none of them have really panned out. And now there are varying degrees of questions surrounding their top pick from each of the last five years – Goff, running back Todd Gurley, left tackle Greg Robinson and receiver Tavon Austin. Jeff Fisher wore the brunt of the blame for the Rams' shortcomings, but Snead's job wasn't secured until McVay was announced as head coach. And even then, it's not as if he received a ringing endorsement.
Zach Links: Rams COO Kevin Demoff has said the Rams are not in a rebuilding phase this offseason. Do you agree with that assessment? Does this roster require heavy lifting or just some tweaking?
Alden Gonzalez: I agree in this sense: The defense is solid, though only if they can re-sign Trumaine Johnson and replenish some depth in the secondary, and the special teams is a real asset. It all comes down to how quickly McVay can turn that offense around. But it's been so terrible that it's enough to make the Rams seem like they're worlds away from contention. It's one thing to make it work on a Redskins team with Kirk Cousins at quarterback and a collection of dynamic pass-catchers; it's a whole other thing to make it work here. I don't think the Rams will do much heavy lifting with their roster; I think they'll try to supplement their young core. But a lot has to be figured out.
Zach Links: Do you expect Johnson to be back with the Rams next season? How about Kenny Britt? 
Alden Gonzalez: Johnson is by far their most important free agent and I have to think the Rams will do whatever it takes to keep him. They lost their top cornerback, Janoris Jenkins, and a talented free safety, Rodney McLeod, last year, and cannot absorb similar losses this year; not with an injury plagued E.J. Gaines and a handful of undrafted free agents as the alternative options at cornerback. As for Britt – I think the Rams will move on. There will be other free-agent priorities at receiver.
Photo courtesy of USA Today Sports Images.
Follow @PFRumors