This is a bit of a surprise, but the Bills will be keeping Tyrod Taylor after all. The team announced that the quarterback will remain in Buffalo on a restructured deal. The new deal will cover five year, and it will become a "year-to-year agreement" following the first two years, per Vic Carrucci of the Buffalo News. Taylor's cap charge will decrease from $16MM to just under $10MM in 2017, according to Carrucci.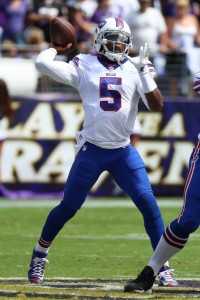 This offseason, the Bills held an option on Taylor worth $27.5MM option, due March 11th. That number was unpalatable for Buffalo management and Taylor's reps were holding firm, telling the organization that it was an "all or nothing" proposition if they wanted to keep him off the open market. Ultimately, Taylor caved a bit in order to stay put.
Based on recent word out of Buffalo, it seems that top decision makers like GM Doug Whaley, senior VP of football administration Jim Overdorf, and team president Russ Brandon were against bringing Taylor back. However, new head coach Sean McDermott advocated for Taylor's return, citing a lack of quality options in free agency.
"I've gotten a chance to know Tyrod and study him over the past several weeks and he is both a great person and competitor," McDermott said today (via Carucci on Twitter). "Doug (Whaley) and I are confident this was best move for the Bills at this time."
After spending the first four seasons of his career in Baltimore, the former ACC Player of the Year signed a three-year, $3.35MM deal with the Bills in 2015. Taylor ended up earning the starting gig in Buffalo, and he went on to make the Pro Bowl that season.
The third year of that contract was voided since Taylor ended up playing more than 50-percent of the team's snaps in 2015. As a result, the Bills extended the quarterback for six years and $92MM. The 27-year-old ultimately completed 61.7-percent of his passes for 3,023 yards, 17 touchdowns, and six interceptions in 2016. He also added another 580 yards and six touchdowns on the ground.
Of course, those numbers were compiled in "only" 15 games. Taylor was inactive for the team's season finale as the Bills looked to slide out of his 2017 guaranteed salary.
The Jets, 49ers, Browns, and Cardinals were among the team's reportedly eying the Taylor situation.
Photo courtesy of USA Today Sports Images.
Follow @PFRumors