With the No. 3 overall pick in the draft, the 49ers have selected Stanford defensive lineman Solomon Thomas. Thomas was regarded by most as the best defensive end available after Myles Garrett.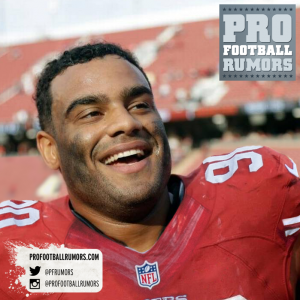 Thomas enters the NFL after two strong collegiate seasons. In 2016, Thomas had 61 total tackles – including 14 tackles for a loss – and 8.5 sacks. He's a three-technique player with the ability to play on the inside when asked, though most evaluators would like to see him beef up in order to hold his ground on the interior. Depending on who you ask, Thomas is either labeled as versatile or as a "tweener". Either way, no one denies that he is a high-level talent.
With the Niners, he projects to start at defensive end with 2015 first round pick Arik Armstead on the other side. The Niners will have free agent pickup Earl Mitchell and 2016 All-Rookie selection DeForest Bucker on the inside.
Moments ago, the Niners traded down from No. 2 to acquire Chicago's No. 3 overall selection plus more. The 49ers also received picks No. 67 and No. 111 this year plus a 2018 a third-round pick next year. Ultimately, they got a king's ransom to move back just one spot and land one of this year's very best talents.
Photo courtesy of USA Today Sports Images.
Follow @PFRumors