Every year, we see high-end NFL Draft prospects slide as the draft approaches. As talented as he is, we have to wonder if Thursday's report of Reuben Foster's failed drug test from the combine will affect his stock.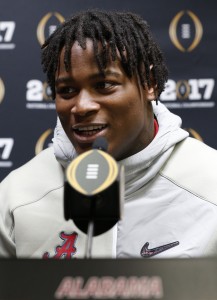 From a talent perspective, there's reason to believe he could go within the top 10. Our first mock draft had Foster going No. 8 overall to the 49ers in a projected draft day trade with the Panthers. ESPN.com's Mel Kiper says he would give the Titans an "A" grade if they were to select him No. 5 overall. The Alabama star is also Todd McShay of ESPN.com's ninth-ranked prospect. The Niners and Titans aren't the only potential landing spots this high in the draft. The Bengals could consider Foster at No. 9 overall since newly-signed inside linebacker Kevin Minter is only under contract for one season. There's also the possibility of teams trading up to nab Foster and clubs like the Saints, Cardinals, Colts, and Redskins could be among those with interest.
On the other hand, there's all of the red flags to consider. Foster had shoulder surgery in February and some teams could be wary of how that will hold up in the long term. His argument with a hospital worker at the combine also didn't do him any favors and portrayed him as something of a loose cannon. The failed drug test is now the latest piece of bad publicity to emerge, though the linebacker is insistent that he did not purposely dilute his sample. Instead, he says that he over-hydrated in order to combat a stomach bug and also keep his weight up for when it came time to step on the scale.
All things considered, do you see Foster going in the top 10? Cast your vote below.
Follow @PFRumors