The 2017 NFL draft is less than a month away, and while the first overall pick may be nearly set in stone, the rest of the first round is as muddled as its ever been. A lot can and will happen between now and April 27th, and there are still plenty of teams near the top that could go in a number of different directions on draft day.
Pro Football Rumors' first mock draft of 2017 is below. To be clear, this is our projection of what will happen – not necessarily the choices we would make – based on reports and information gathered from beat and national writers, our general assessment of this year's crop of prospects, and, of course, team needs. Let's dive in: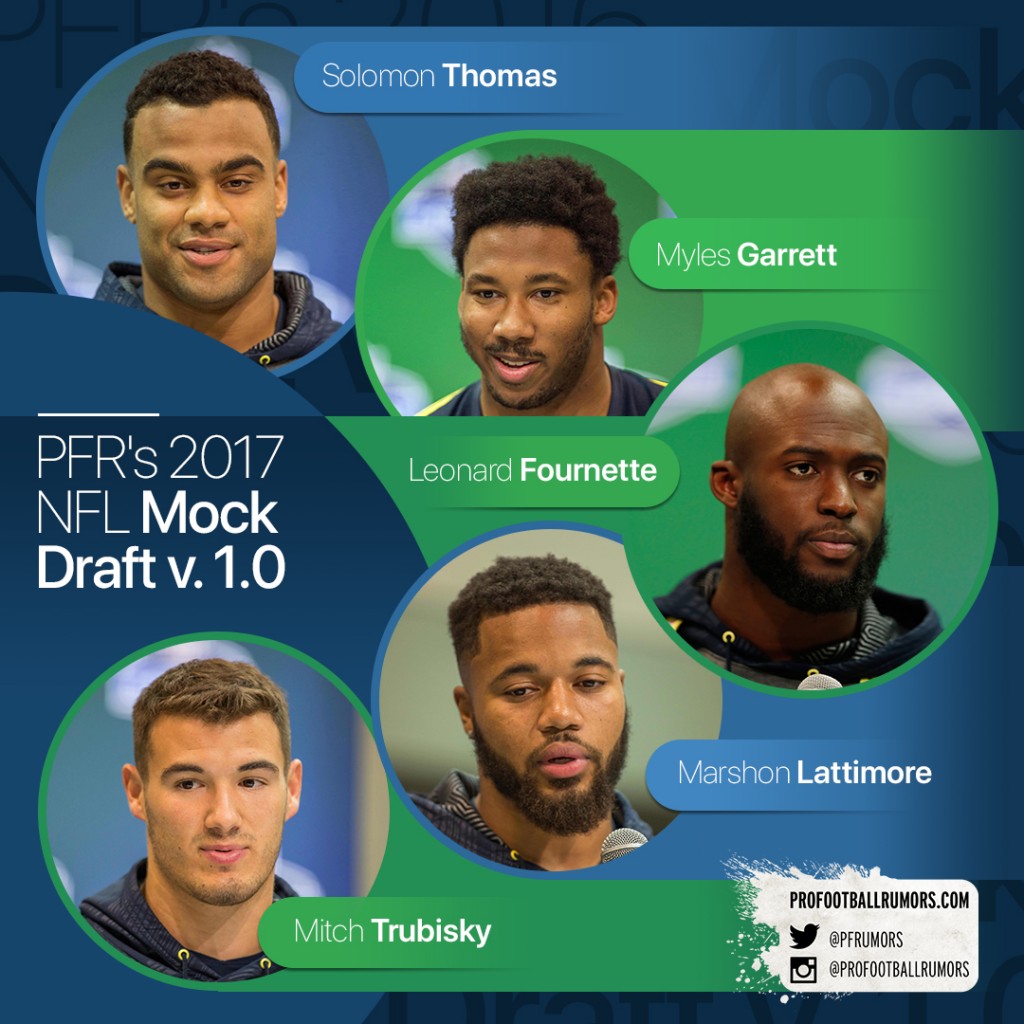 1. Cleveland Browns – Myles Garrett, LB, Texas A&M
The easiest prediction of the first round, Garrett was considered the favorite to be selected first overall for much of the collegiate season. Nothing Garrett has done since the 2016 campaign concluded has changed that outlook, and the Browns reportedly have an "astronomical grade" on the Aggie edge rusher. At the scouting combine, Garrett weighed in at 272 pounds, ran the 40-yard dash in 4.64 seconds, and posted 33 bench press reps. Cleveland was "blown away" by the numbers, and it will pick Garrett knowing he can single-handedly alter their front seven.
2. Carolina Panthers (projected trade with San Francisco) – Solomon Thomas, DL, Stanford
Rumor has it the Panthers are interested in acquiring the No. 2 pick from the 49ers, and I've projected that trade will indeed occur (last week, I examined what sort of package Carolina may need to sacrifice in order to move up). While Leonard Fournette could also garner consideration, the Panthers will take Thomas, another signal that Carolina general manager Dave Gettleman values the defensive line above all else. Veteran defensive ends Charles Johnson and Julius Peppers are only signed through 2017, and Thomas would give the Panthers long-term security on the edge. He can slide inside, as well, protecting Carolina against free agent defections by Star Lotulelei and/or Kawann Short.
3. Chicago Bears – Marshon Lattimore, CB, Ohio State
While the Bears have a number of needs on both sides of the ball, they could stand to add another cornerback, and in Lattimore they'll secure the best CB in the draft. Chicago did add Prince Amukamara and Marcus Cooper in free agency, but Amukamara signed a one-year deal and Cooper has done nothing to prove he's a starting NFL defensive back. Former first-round pick Kyle Fuller's time with the Bears may be coming to an end, and Lattimore would give Chicago shutdown corner potential from day one. Chicago hosted Lattimore on a predraft visit on Monday.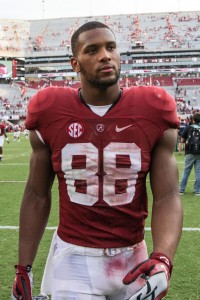 4. Jacksonville Jaguars – O.J. Howard, TE, Alabama
Defense shouldn't be a problem in Jacksonville this season, as the team has invested heavy resources — both dollars and draft capital — on the defensive side of the ball over the past two years. The Jaguars' offense, however, ranked just 27th in DVOA in 2016, and while much of the struggle can be attributed to Blake Bortles and a poor front five, Jacksonville isn't going to replace Bortles immediately, and there are no offensive linemen worthy of the No. 4 pick. Instead, the Jags will select one of the safer players in the draft, pinpointing Howard to replace free agent whiff Julius Thomas, who was traded to Miami last month.
5. Tennessee Titans (from Los Angeles Rams) – Jonathan Allen, DL, Alabama
The Titans could still use help at both wide receiver and cornerback, but with another pick in Round 1 to address other needs, general manager Jon Robinson goes with the best player available and selects Allen. At least one AFC personnel director believes Allen's shoulder issues could lead to a draft-day tumble, but Allen would give Tennessee a truly dominant defensive line. He'd team with lineman Jurrell Casey and Sylvester Williams and edge rushers Brian Orakpo and Derrick Morgan on one of the league's more underrated front sevens.
6. New York Jets – Malik Hooker, S, Ohio State
Gang Green isn't in a great position at No. 6. Lattimore and Howard may have been the club's best options, but they're now off the board, and it's difficult to see the Jets selecting another linebacker or defensive lineman given their first-round investments over the past several years. Under center, New York seems to want to give 2016 second-rounder Christian Hackenberg a chance to play, and the team's visits with this year's top quarterback prospects are largely viewed as smokescreens. Safety probably isn't a priority for the Jets, but the the team simply needs talent, and Hooker is the best player left.
7. Los Angeles Chargers – Jamal Adams, S, LSU
Hooker is a better fit for new defensive coordinator Gus Bradley's scheme, but Adams will work as well. While he's not the center fielder that Hooker is, Adams offers the type of versatility the Chargers covet. Los Angeles has yet to replace Eric Weddle, who left after the 2015 season, and while it re-signed Jahleel Addae last month, Adams would serve as an improvement over Dwight Lowery. The Bolts could begin eyeing a long-term replacement for Philip Rivers this year, but they won't use the seventh pick to find their franchise quarterback.
8. San Francisco 49ers (projected trade with Carolina) – Reuben Foster, LB, Alabama
Even after signing 13 external free agents, the 49ers still have holes all over their roster. Foster would be in consideration for San Francisco even if it holds on to the No. 2 selection, but in this scenario, the club has traded down to acquire more assets while still getting the player it originally targeted. Foster has some negatives — a February shoulder surgery, a dust-up with a hospital worker at the combine — but he's unquestionably one of the more talented players in the 2017 class. An inside 'backer by trade, Foster would likely slide into the weak side in the Bay Area given the presence of NaVorro Bowman.
9. Cincinnati Bengals – Derek Barnett, DE, Tennessee
If the Bengals have a "type," it's productive players from the SEC. During Marvin Lewis' 14-year run as head coach, Cincinnati has selected a first-round SEC prospect half the time. Barnett fits that mold, as he topped Reggie White's Tennessee sack record of 33 in only three years. Doubters, however, worry Barnett's physical traits don't match his production. But the Bengals need to upgrade on defensive end Michael Johnson, who hasn't posted an above-average season since 2013. Wide receiver could be another option here, as could a trade back, especially if quarterback-needy clubs want to jump ahead of Buffalo, New Orleans, and Cleveland.
10. Buffalo Bills – Corey Davis, WR, Western Michigan
Corey Brown. Andre Holmes. Dezmin Lewis. Brandon Tate. Jeremy Butler. Those are the names on the Bills' wide receiver depth chart behind Sammy Watkins. It's the worst group of supplementary pass-catchers in the NFL, and while Buffalo's offense is heavily run-focused, Tyrod Taylor still needs someone to throw to besides Watkins. Davis comes from a small school, but he's been extremely productive against lesser production, topping 1,400 receiving yards in each of the last three seasons. He'd immediately become the Bills' No. 2 receiver.
11. New Orleans Saints – Gareon Conley, CB, Ohio State
The Saints are still pursuing Patriots restricted free agent cornerback Malcolm Butler, and if they're able to work out a trade with New England, New Orleans will probably use this pick on a pass-rusher. Until that happens, however, corner will be the pick, as Saints general manager Mickey Loomis recently called defensive backs "must" additions. New Orleans will have its pick of the cornerback litter at No. 11, but Conley — whom Lance Zierlein of NFL.com favorably compares to Aqib Talib — is the best of the remaining bunch.
12. Cleveland Browns (from Philadelphia) – Mitch Trubisky, QB, North Carolina
Unless they're able to reverse the Patriots' apparent decision not to trade Jimmy Garoppolo, the Browns need to find a quarterback in the 2017 draft. At one point, Cleveland was reportedly "strongly considering" Trubisky with the No. 1 overall pick, but if the club is lucky, it will hold tight until No. 12 and still land the North Carolina signal-caller. Having only started one year at Chapel Hill, Trubisky doesn't offer the lengthy collegiate résumé that teams might prefer, but he has the potential to become a long-term starter in the NFL.
13. Arizona Cardinals – Marlon Humphrey, CB, Alabama
Finding a cornerback to play opposite Patrick Peterson was arguably the Cardinals' No. 1 need heading into the offseason, but the club hasn't added any talent in the defensive backfield thus far. In fact, they've actually lost talent, and though Marcus Cooper wasn't a great option, he was preferable to Justin Bethel or Brandon Williams. Humphrey gives Arizona a cornerback that can play immediately, and at least one NFC scout ranks Humphrey as the single best corner in the 2017 class.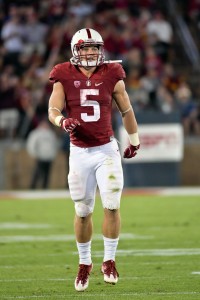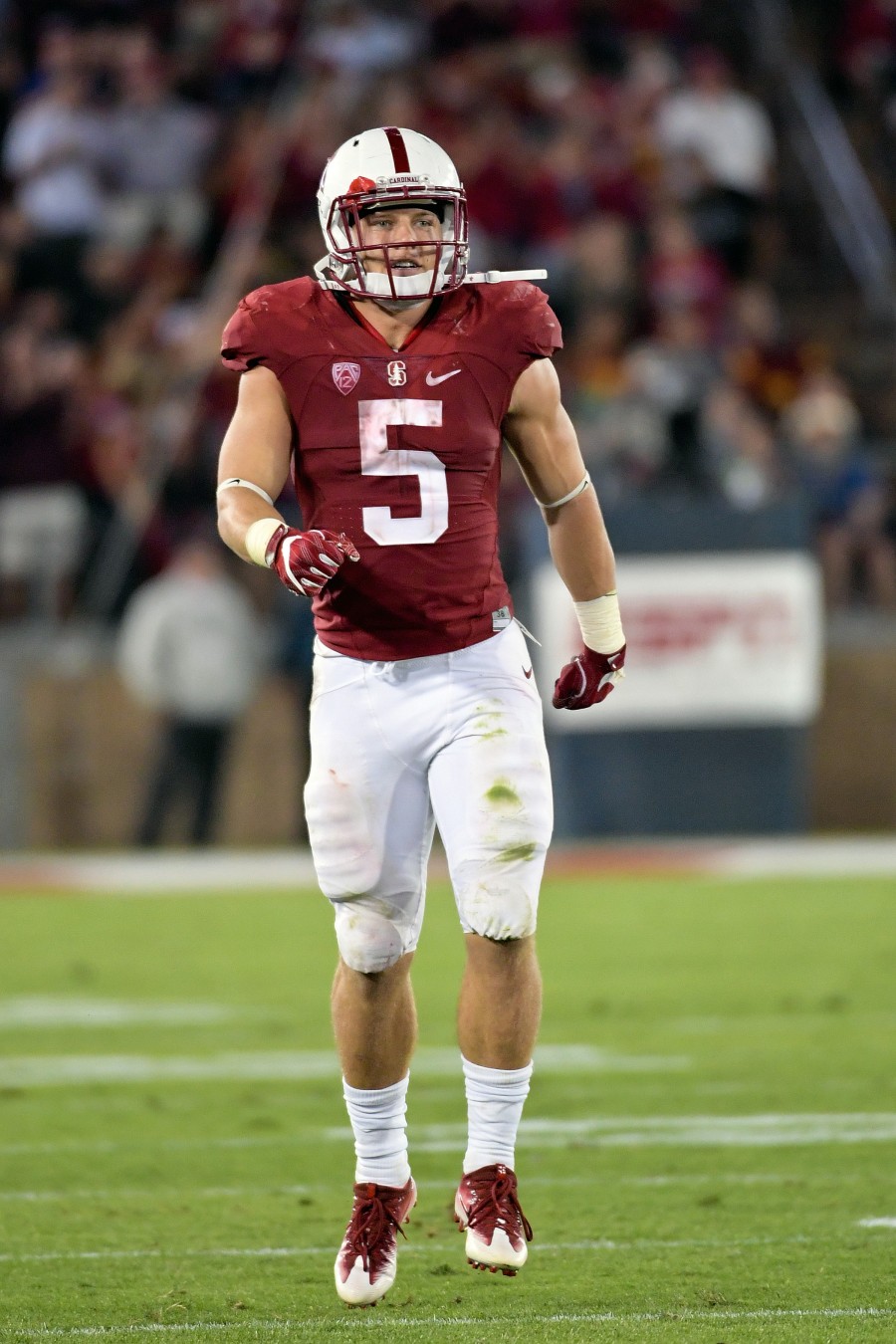 14. Philadelphia Eagles (from Minnesota) – Christian McCaffrey, RB, Stanford
The Eagles addressed a hole at wide receiver during free agency by inking Alshon Jeffery and Torrey Smith, but Philadelphia still needs help at running back. Darren Sproles isn't a foundational back, Wendell Smallwood can't yet be trusted with the No. 1 job, and Ryan Mathews is still a release candidate (Philadelphia would pick up $4MM in cap space by cutting the injury-prone Mathews). While McCaffrey is viewed a gadget player/passing down back in some circles, I think he can become an every-down player in today's NFL, and he'd be a perfect fit in the Eagles' offense next to Carson Wentz.
15. Indianapolis Colts – Haason Reddick, LB, Temple
New Colts general manager Chris Ballard spent the past four years in Kansas City's personnel department, but the Chiefs' recent top picks — which include an offensive tackle, an edge rusher, a cornerback, and a defensive tackle — don't offer any clue as to what position Ballard might highly value. But Indianapolis can't go wrong by adding to its defense, which ranked 29th in DVOA last season. Every level of the defense needs reinforcements, but the Colts go with Reddick, an impressive athlete — with a well-rounded spider chart on MockDraftable.com — who can play either inside or outside linebacker.
16. Baltimore Ravens – Leonard Fournette, RB, LSU
The Ravens ranked 28th in rushing yards and 21st in yards per attempt in 2016, and the team's inability to get the run game started ultimately led to the firing of offensive coordinator Marc Trestman. Terrance West averaged only four yards per carry on 193 touches, and while Baltimore signed Danny Woodhead last month, sophomore back Kenneth Dixon is suspended four games to begin the 2017 campaign. Enter Fournette, a mammoth 240-pounder who still managed a 4.51 40-yard dash. The Ravens "love" Fournette, as Jeff Zriebec of the Baltimore Sun recently reported, and the LSU back is likely the only RB Baltimore would select in the first round.
17. Washington Redskins – Forrest Lamp, OL, Western Kentucky
Lamp has been generating a ton of buzz in recent weeks, and many NFL insiders reportedly believe the Western Kentucky product will be selected somewhere in the 20s. We've got Lamp going even higher, as Washington looks to replace Shawn Lauvao, the weak link on an excellent offensive line. The Redskins clearly value the guard position, as they selected Brandon Scherff fifth overall in 2015. It's unclear how the dismissal of general manager Scot McCloughan will affect Washington's draft preparations, but the club won't go wrong with Lamp, who's been compared to Cowboys lineman Zack Martin.
18. Tennessee Titans – Mike Williams, WR, Clemson
After selecting the best player available at No. 5 (Jonathan Allen), the Titans can draft for need at pick No. 18. Wide receiver and cornerback stand out as glaring areas of potential focus for Tennessee, and because the club already added Logan Ryan in free agency, we've given them Williams with their second first-round pick. At present, the Titans' wide receiver corps is headlined by Rishard Matthews, Tajae Sharpe, Harry Douglas, and Eric Weems — not exactly world-beaters. Williams, whom one scouting director called the "best player on the field" in the Clemson-Alabama Championship Game, would slot in as Tennessee's No. 1 pass-catcher.
19. Tampa Bay Buccaneers – David Njoku, TE, Miami
The Buccaneers have already found a complement to Mike Evans this offseason by signing DeSean Jackson to a three-year deal, and now Tampa Bay will add yet another element to its rapidly improving offense by drafting Njoku. One of the youngest players in the 2017 draft, Njoku doesn't turn 21 years old until July, so he still has room to develop. Njoku is a dynamic athlete who will team with fellow tight end Cameron Brate in the passing game, and the former Hurricane is also a willing and able blocker in the run game.
20. Denver Broncos – Garett Bolles, T, Utah
While Njoku's age is a positive mark for his stock, Bolles is one of the older players in this year's class — he'll turn 25 in May. That shouldn't matter to the Broncos, who can immediately plug Bolles in at left tackle. Denver's offensive line was among the league's worst last season, and has now lost Russell Okung to free agency. If the season started today, either Menelik Watson or Donald Stephenson would likely line up at left tackle. If Trevor Siemian or Paxton Lynch is going to succeed, they'll need to have solid protection, and Bolles represents a large improvement on the blindside.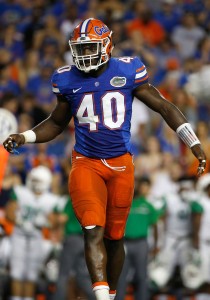 21. Detroit Lions – Jarrad Davis, LB, Florida
The Patriots weren't afraid to draft off-ball linebackers early while Bob Quinn worked in New England, as the club made Dont'a Hightower, Jamie Collins, and Jerod Mayo Day 1 or 2 picks in recent years. Quinn will continue that trend in Detroit, where the linebacker depth chart is almost entirely barren. The Lions are reportedly intent on adding more 'backers this offseason, and Davis would give the team a leader in the middle of a defense that needs assistance.
22. Miami Dolphins – Taco Charlton, DE, Michigan
Heading into the offseason, the Dolphins were expected to buttress their defensive end rotation, and the club did in fact do some work on that front, as Andre Branch was re-signed and William Hayes was acquired from the Rams. But given that Miami ranked 31st in adjusted sack rate last season, the club needs to add more on the edge. Enter Charlton, who registered 10 sacks and 13.5 tackles for loss in Ann Arbor in 2016. Given the presence of Cameron Wake, Branch, and Hayes, Charlton — who is expected to meet with the Dolphins — won't be expected to contribute right away.
23. New York Giants – Cam Robinson, T, Alabama
Despite drafting Ereck Flowers ninth overall just two years ago, the Giants have made no promises that Flowers is their left tackle of the future. New York didn't add any tackles during the free agent period, however, so if the club wants to upgrade its line, it will have to do so during the draft. Robinson is one of the more divisive prospects of 2017, as some observers, such as FanRag's Kyle Crabbs, believe Robinson is the best left tackle in this year's class, while others, like Mike Mayock of the NFL Network, list Robinson as a guard. The one thing Robinson would give Big Blue is options, as he could theoretically take over at either tackle spot or right guard.
24. Kansas City Chiefs (projected trade with Oakland) – Deshaun Watson, QB, Clemson
Trade alert! Now that Tony Romo is no longer on the table, the Texans may be looking to draft their quarterback of the future, but the Chiefs will make a three-spot jump, trading with a division rival in order to move ahead of Houston and select Watson. While rumors have persisted involving Kansas City acquiring a signal-caller to displace Alex Smith (with options such as Romo and Jimmy Garoppolo having been tossed out), Chiefs management has been adamant that Smith is the club's quarterback…for 2017. That doesn't mean the club won't target a long-term alternative such as Watson, who might be able to lead KC to postseason success.
25. Houston Texans – Ryan Ramczyk, T, Wisconsin
With both Trubisky and Watson off the board, the Texans won't force a quarterback, and instead opt to augment their damaged offensive line. Derek Newton is unlikely to play in 2017 after tearing patellar tendons in both legs, and his replacement — Chris Clark — graded as one the NFL's worst tackles last year, per Pro Football Focus. As such, Ramczyk would constitute major improvement at right tackle, and may add to the long line of successful Wisconsin offensive lineman (Joe Thomas, Travis Frederick, Kevin Zeitler, Ricky Wagner).
26. Seattle Seahawks – Charles Harris, DE, Missouri
The Seahawks papered over their offensive line concerns in free agency, and given that the draft's top four lineman are no longer available, Seattle will look to fortify its defensive line with the addition of Harris. To be sure, the Seahawks boast two of the league's most talented and versatile ends in Michael Bennett and Cliff Avril, but neither are spring chickens (both are now 31 years old). Cornerback could also be in consideration, but Seattle head coach Pete Carroll is more likely to find a developmental defensive back in the mid rounds.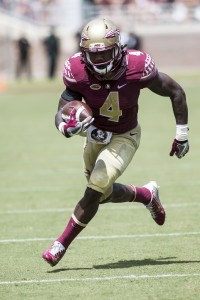 27. Oakland Raiders (projected trade with Kansas City) – Dalvin Cook, RB, Florida State
While Cook is ranked as the top available running back by a number of draftniks, his combine numbers worry me. As Zach Whitman of 3SigmaAthlete.com notes (Twitter link), no running back who tested at less than the 10th percentile in SPARQ score — as Cook did — was selected in the first round from 1999-2016. It's difficult to imagine betting on a physically limited back such as Cook, but the results are there on tape. The Raiders can take the risk, especially if they bring in Cook to play behind an un-retired Marshawn Lynch.
28. Dallas Cowboys – Quincy Wilson, CB, Florida
Cornerback stands out as a pressing need for the Cowboys following the first month of free agency. Dallas lost both Brandon Carr and Morris Claiborne, and now field a depth chart led by Orlando Scandrick, Anthony Brown, and Nolan Carroll. Given that relative lack of talent and depth, Wilson would probably start right away, and he's well-equipped to do so. He's a better player than his Florida teammate Teez Tabor, and his size (6'1″, 210 pounds) will entice clubs with vacancies in the back end.
29. Green Bay Packers – John Ross, WR, Washington
Jordy Nelson will be 32 years old when the 2017 campaign begins. Randall Cobb struggled last season, managing only 610 receiving yards, and Davante Adams is a free agent next spring. The Packers have made contributors out of no-name pass-catchers before (Geronimo Allison says hello), but I'd like to see Aaron Rodgers work with a burner like Ross. A speed demon, Ross memorably set a combine record with a 4.21-second 40-yard dash last month. He'd give Green Bay another dimension to an already productive offense.
30. Pittsburgh Steelers – T.J. Watt, LB, Wisconsin
The Steelers have struck out on first-round edge rushers in recent years, as neither Jarvis Jones nor Bud Dupree (at least, thus far) developed into a top-notch force. 38-year-old James Harrison is still Pittsburgh's best pass rusher, so the club clearly needs to infuse some youth at outside linebacker. Watt will represent the Steelers' next first-round swing, and he'd been on the Day 1 radar even if he wasn't the brother of the NFL's best defender. He's third among edge players in SPARQ score, and put up 11.5 sacks during his final year at Wisconsin.
31. Atlanta Falcons – Takkarist McKinley, DE, UCLA
The Falcons' pass rush, which ranked dead last in DVOA in 2015, improved to 24th last season thanks largely to a step forward by Vic Beasley, but Atlanta still needs to add another body on the edge. While they signed Dontari Poe to clog the middle of the line, the Falcons' pass-rushers aside from Beasley aren't that impressive. Adrian Clayborn, Brooks Reed, Jack Crawford, Derrick Shelby, and Courtney Upshaw are all average to below-average, while McKinley has the opportunity to be more than that. He'd probably go earlier were it not for a shoulder injury that threatens to knock him out for the early part of the regular season.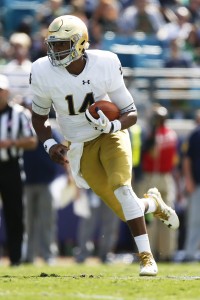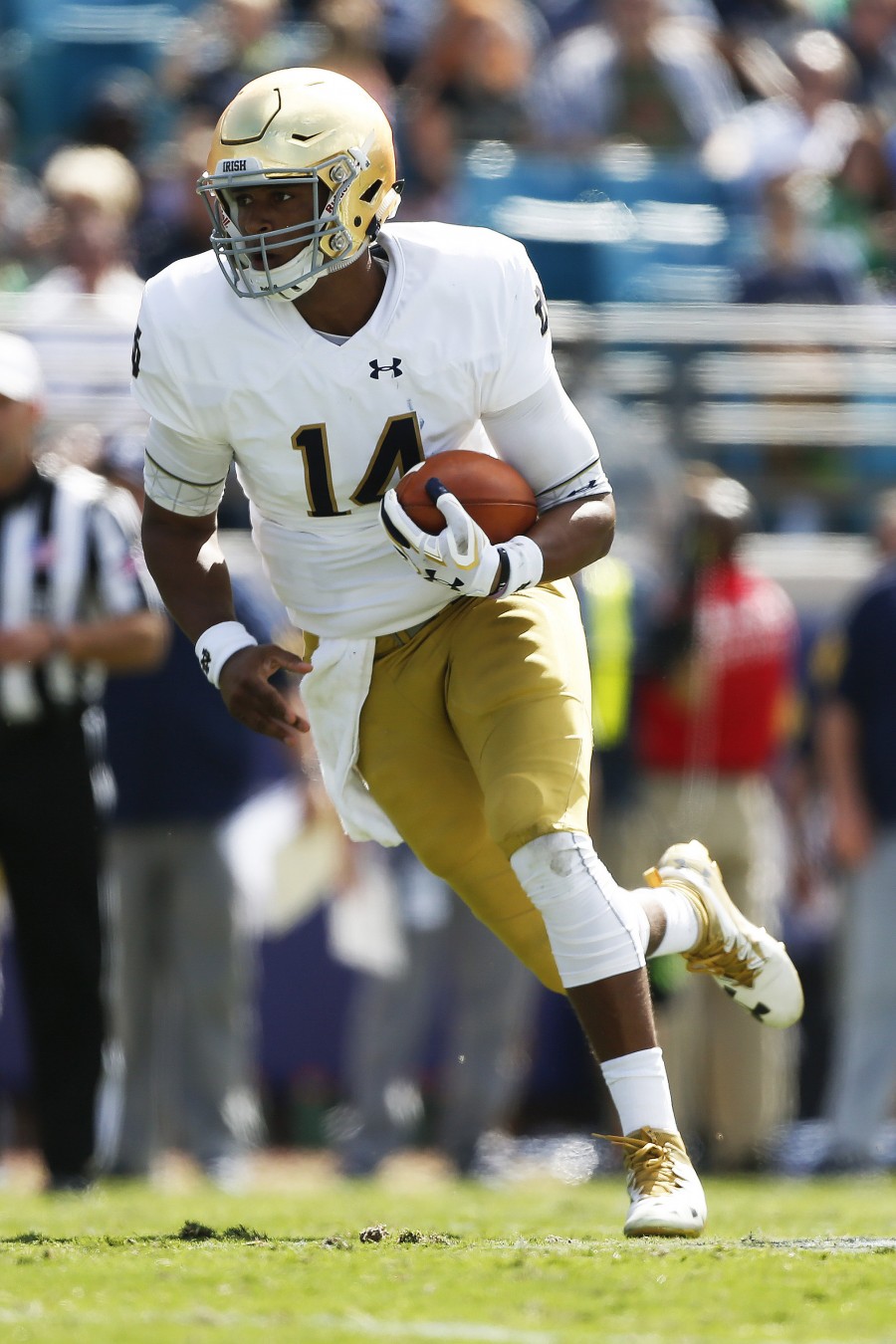 32. New Orleans Saints (from New England) – DeShone Kizer, QB, Notre Dame
Drew Brees is now 38 years old and entering the final year of his contract, and the Saints haven't shown any urgency in signing him to an extension. Head coach Sean Payton said in February that his club is always in the "quarterback business," and it's now time to find Brees' successor. Kizer, who tossed 26 touchdowns against nine interceptions in 2016, can be the next man up. As quarterback guru Cian Fahey explained yesterday in a series of GIFs, Kizer displays exceptional movement within the pocket and doesn't wilt in the face of pressure. Personally, Kizer is my favorite quarterback of the 2017 class.
Neither the Rams, Vikings, nor Patriots have a first-round pick as the result of trades, but we'll take a look at a few second- and third-round options for those clubs in order to ensure Los Angeles, Minnesota, and New England aren't completely left out of this exercise.
37. Los Angeles Rams – Chris Godwin, WR, Penn State
The Rams handed Robert Woods a $34MM contract on the first day of free agency, but the former Bill won't fix Los Angeles' problems at wide receiver. Jared Goff still needs more weapons if he is to have any chance at improvement in his sophomore campaign, and Godwin would add another element to the Rams offense. In his Reception Perception series, Matt Harmon calls Godwin the most underrated wideout in this year's draft, noting the Penn State product's ability to handle contested catches and run a full route tree.
48. Minnesota Vikings – Pat Elflein, C, Ohio State
While Minnesota spent vast sums of money on the tackle position last month, bringing in both Riley Reiff and Mike Remmers, the club's interior offensive line hasn't yet been addressed. Incumbent center Joe Berger's contract expires after 2017, so the Vikings could afford to bring in a long-term option at the pivot. Elflein is an absolute mauler in the middle who destroys opposing defenders in the run game (evidence: this GIF), and Rob Rang of CBSSports.com compares him to another Ohio Stater, former Jets center Nick Mangold.
72. New England Patriots – Sidney Jones, CB, Washington
Malcolm Butler seems likely to be in a different uniform soon, whether that be through trade in the coming weeks or via free agency in 2018. As such, Stephon Gilmore will need a running mate at corner, and the Patriots can afford to redshirt Jones, who suffered an Achilles injury at Washington's Pro Day. Jones, who was arguably the No. 1 corner in the draft prior to going down, thinks he'll be able to play in 2017, but he wouldn't be rushed into doing so in New England.
Photos courtesy of Pro Football Rumors on Instagram and USA Today Sports Images.
Follow @PFRumors