In 2016, the Bengals missed the postseason for the first time in the Andy Dalton/A.J. Green era, posting a 6-9-1 record after earning playoff berths each season from 2011-15. Now, Cincinnati could be gunning for one more trip to the postseason under Marvin Lewis, who is entering the 2017 campaign as a lame duck head coach. Armed with a top-10 draft pick for the first time since 2011, the Bengals had offseason work to do on both sides of the ball.
Notable signings:
Although the Bengals have drafted two more first-round cornerbacks since selecting Dre Kirkpatrick with the 17th overall pick in 2012, their lack of options in the secondary meant Cincinnati still needed to open up their checkbook to retain the Alabama product. Darqueze Dennard has barely played since entering the league in 2014, while William Jackson III missed his entire rookie campaign after tearing a pectoral. With a legal issue hanging over veteran Adam Jones, the Bengals couldn't afford to let Kirkpatrick — the team's most reliable option at corner — leave via free agency.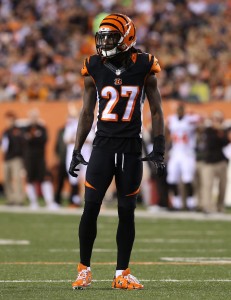 It's easy to call the Kirkpatrick contract an overpay, as he's never resembled a true No. 1 corner during his five-year NFL tenure. In 2016, Pro Football Focus graded Kirkpatrick as just the 52nd-best corner among 111 qualifiers, while he's provided the 20th-most approximate value (Pro Football Reference's catch-all metric) among cornerbacks since becoming a full-time starter in 2015. Despite that spotty record, Kirkpatrick's new $10.5MM annual average ranks 11th among corners.
However, as with most Bengals contracts, the deal is more team-friendly than it initially appears. Kirkpatrick received only $12MM in full guarantees, which ranks 25th among cornerbacks, while his guarantee per year ($2.4MM) is only 24th among non-rookie corner accords. Conceivably, Cincinnati could remove itself from Kirkpatrick's contract as soon as next spring — before he's due a $3.25MM roster bonus — if he tanks during the 2017 campaign, and the dead money that would accelerate onto the Bengals' cap following a release in either 2018 or 2019 isn't ominous. Those scenarios are unlikely, of course, as most Cincinnati extendees play out their pacts.
While Kirkpatrick represented the majority of the Bengals' free agent outlay, the club also made a value signing on defense with the addition of former Cardinals linebacker Kevin Minter. Only 26 years old, Minter played on at least 85% of Arizona's defensive snaps in each of the past two seasons, and figures to slot in next to Vontaze Burfict in Cincinnati's starting lineup. The Bengals made a smart contractual decision with Minter, using a $1.1MM workout bonus — which doesn't count against the compensatory average per year formula — in order to lower his overall contract value. As Nick Korte of Over the Cap explained earlier this year (Twitter links), that strategy could end up bumping the Bengals' projected seventh-round compensatory selection to a sixth-rounder, a marginal (but important) win.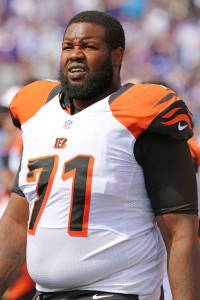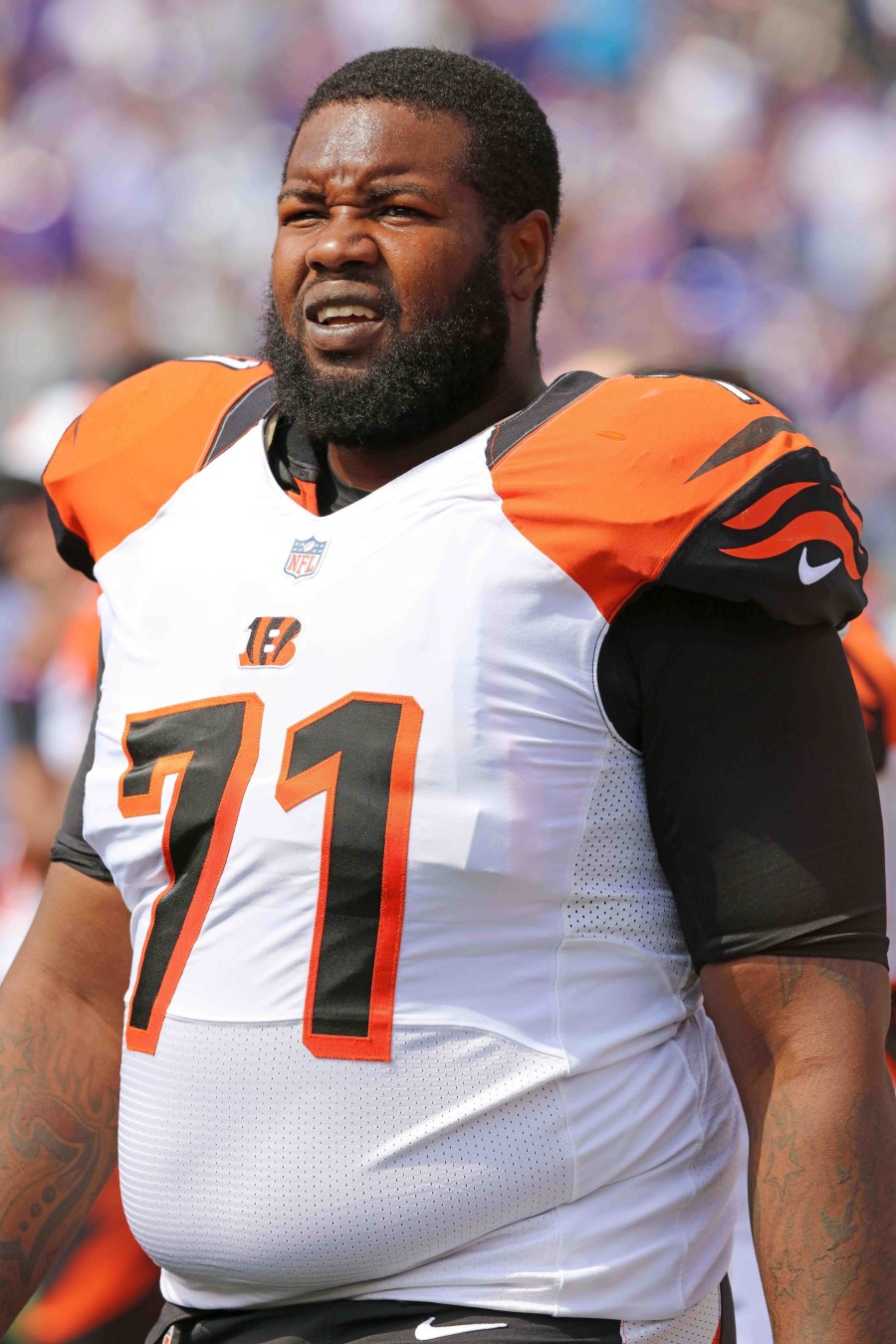 On the other side of the ball, Andre Smith is back in a Bengals uniform after a brief one-season layover in Minnesota. Smith, whom Cincinnati originally drafted sixth overall in 2009, won't be lining up at his usual right tackle position, however, as the Bengals signed him to play guard. We'll discuss Cincinnati's offensive line issues a bit later, but the decision to bring in Smith is a risky one on two fronts. First, he's never played guard in his NFL career, and second, he only managed to appear in four games in 2016 before going down with injury. The Bengals don't have much high-quality interior depth, so relying on Smith as a starter at an all-new position seems perilous.
Elsewhere on offense, Cincinnati continued to opt for familiarity, re-signing wide receiver Brandon LaFell, running back Cedric Peerman, and offensive tackle Eric Winston to play reserve roles. LaFell, notably, led Bengals pass-catchers in snaps a season ago, but despite the fact that he'll earn $5MM in 2017, his playtime percentage will almost certainly decrease. First-round rookie John Ross figures to start opposite A.J. Green with Tyler Boyd in the slot, meaning LaFell will be a well-paid fourth receiver at best.
Notable losses:
Andrew Whitworth and Kevin Zeitler's fates were seemingly sealed in 2015, when the Bengals used their first two draft picks on offensive lineman Cedric Ogbuehi and Jake Fisher. Cincinnati's perspective on Whitworth and Zeitler's free agency is clear: the club invested in linemen two years prior, and didn't have any intention of spending exorbitant sums on a 35-year-old (Whitworth) or a guard (Zeitler). Still, given that the Bengals still have nearly $19MM in available cap space, it's difficult to argue that Cincinnati shouldn't have made more of an effort to retain at least one of its two best front five players.
Zeitler's allowed defection is easier to understand, as the Bengals simply couldn't compete financially with the division-rival Browns, who boasted enough cap room to make Zeitler the NFL's highest-paid guard. Zeitler landed $12MM annually from Cleveland, a figure which makes him the top-earning right guard by $2MM. He also scored $23MM in full guarantees, $4MM more than runner-up T.J. Lang. Cincinnati should never have been expected to spend that much money on an interior player — fellow guard Clint Boling is earning just $5.2MM annually — so letting Zeitler go was defensible.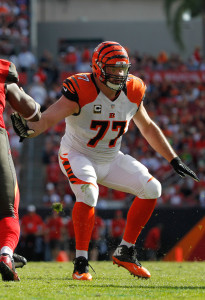 On the other hand, the Bengals should have put on the full-court press to retain Whitworth, who graded as Pro Football Focus' No. 2 offensive tackle and hasn't shown any signs of decline even as he enters his 12th NFL season. Whitworth inked a three-year, $33.75MM pact with the Rams that contains $15MM guaranteed, but the deal isn't all that it seems. The accord is effectively a two-year, $23MM contract, a more than manageable total for a top-flight left tackle. Re-signing Whitworth would have stabilized Cincinnati's offensive line for a few more seasons, but the club will instead turn to Ogbuehi, who has never looked capable on an NFL field.
On defense, the Bengals parted ways with a couple of veterans who'd been with the team for a combined 19 seasons: defensive lineman Domata Peko and linebacker Rey Maualuga. Peko, 32, hasn't been effective a number of years (PFF's No. 106 DT in 2016), but he did reap a two-year contract from the Broncos. He'll be replaced in Cincinnati by a combination of second-year player Andrew Billings and veteran Pat Sims. Maualuga, meanwhile, had seen his snap percentage dwindle in recent seasons (just 30% a season ago) and was released with one year left on his contract. He's yet to find a new NFL home.
Rex Burkhead looked like the Bengals' best running back at various points last season, especially during a Week 17 performance that saw him rush for 119 yards and two touchdowns on 27 carries. Among running backs with fewer than 99 rushes, Burkhead ranked first in both DYAR and DVOA, both of which are Football Outsiders efficiency metrics. He also played on nearly half of Cincinnati's special teams snaps. Earning only $3.25MM on a one-year deal with New England, Burkhead's absence will be felt.
Trades:
Acquired DE Chris Smith from the Jaguars in exchange for a 2018 seventh-round pick.
Acquired a 2017 second-round pick (No. 48; RB Joe Mixon) and a 2017 fourth-round pick (No. 128; WR Josh Malone) from the Vikings in exchange for a 2017 second-round pick (No. 41; RB Dalvin Cook).
Acquired a 2017 sixth-round pick (No. 207; S Brandon Wilson) from the Titans in exchange for 2017 sixth-round pick (No. 217; OL Corey Levin) and a 2017 seventh-round pick (No. 227; LB Josh Carraway).
The Bengals had been eyeing defensive end Chris Smith for more than a year before acquiring him from the Jaguars, but he's no lock to make the club's roster. Cincinnati added two edge rushers in Jordan Willis and Carl Lawson during the draft, while Will Clarke and Wallace Gilberry will also compete for backup snaps at end. Smith hasn't played much special teams during his three-year career, so his roster prospects could be limited despite the Bengals having forked over a draft pick for him. Cincinnati is currently projected to pick up a 2018 seventh-round compensatory pick, which would help alleviate the loss of the draft selection it gave up for Smith.
Given that Cincinnati was heavily linked to Joe Mixon prior to the draft, the team did well to pick up extra value before selecting the controversial Oklahoma running back later in the second round. By moving down only seven spots, the Bengals acquired 123 cents on the dollar from the Vikings, according to Chase Stuart of Football Perspective's draft pick value calculator. Cincinnati's second draft-day trade wasn't as fruitful, as the club gave up 173 cents on the dollar to move up for defensive back Brandon Wilson.
Draft picks:
As I noted on 700 WLW's Sunday Morning Sports Talk (77:00 minute mark) last weekend, the Bengals seem to be addressing their offensive line limitations by adding speed at the skill positions. Both John Ross and Joe Mixon figure to contribute immediately, and it would be a surprise if both weren't full-time starters midway through the season. Ross, specifically, should be able to help Cincinnati's woeful front five, as safeties will have to play deep instead of near the line, alleviating the pressure on quarterback Andy Dalton. Josh Malone, meanwhile, is at least fifth on the Bengals' wideout depth chart, and will start his NFL career on special teams duty.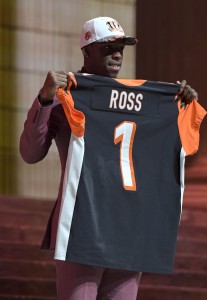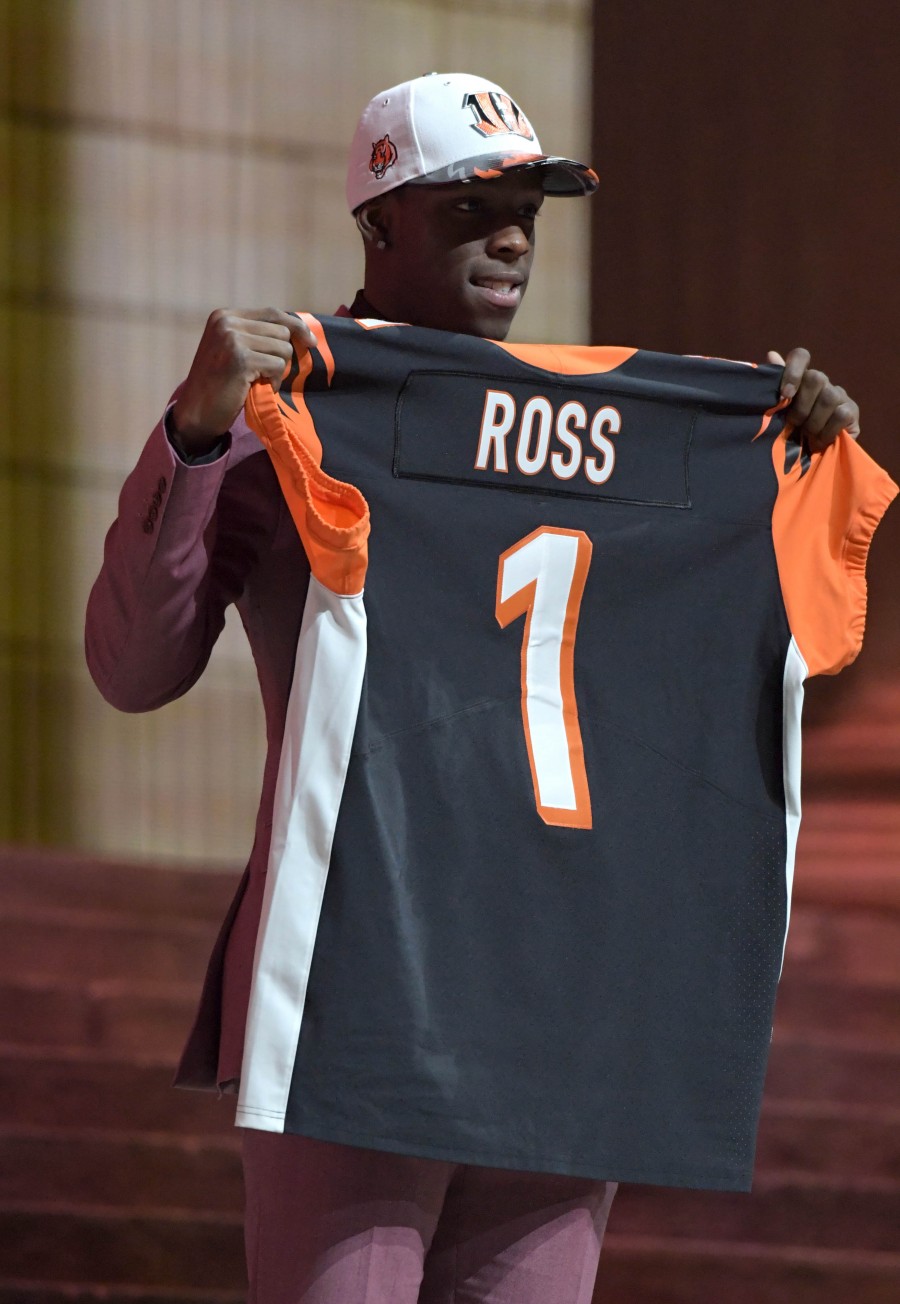 Finding edge rushing help was arguably Cincinnati's No. 1 need heading into the offseason, and while the club didn't do much in free agency to aid in that realm, the Bengals found two draft values in Jordan Willis and Carl Lawson, both of whom were viewed as potential Day 1 picks but fell until the third day of the draft. Lawson, in particular, has been working as an outside linebacker in Cincinnati's 4-3 scheme, but he and Willis will likely see most of their action as sub package defensive ends, getting after opposing quarterbacks on passing downs.
Jake Elliott was surprisingly the first kicker off the board in the 2017 draft (most analysts rated Arizona State's Zane Gonzalez as the top kicker), and given that the Bengals thought enough of him to invest a fifth-round pick, he's overwhelmingly likely to act as the team's kicker come Week 1. For now, he'll compete in a nominal camp battle with veteran Randy Bullock and second-year kicker Jonathan Brown. Elliott converted 80.8% of his field goal attempts in 2016, but Lance Zierlein of NFL.com noted Elliott's trouble with kickoff hang times.
Extensions and restructures:
Other:
Of the 32 first-round selections in the 2014 draft, only one choice — Philadelphia's Marcus Smith — has provided fewer points of approximate value than Darqueze Dennard's four. Even when not limited by injuries, Dennard simply hasn't been able to crack the Bengals' starting lineup. In 2016, he played on only a third of the club's defensive snaps. Ticketed for nickelback duties next season, Dennard will get the opportunity to prove he's worth an ~$8.5MM salary in 2018. That figure is guaranteed for injury only, so Cincinnati can still escape the deal if Dennard doesn't play well.
Top 10 cap charges for 2017:
The Bengals posted another typical Cincinnati offseason: a long-term commitment to at least one internal free agent, limited spending on external free agents, and a draft class that was lauded by most analysts. Whether the club's moves will keep the Bengals in contention for another year is an open question, but Cincinnati should have a fighting chance even in a strong AFC North.
Information from Over the Cap and Roster Resource was used in the creation of this post. Photos courtesy of USA Today Sports Images.
Follow @PFRumors