Both Ravens head coach John Harbaugh and GM Ozzie Newsome support the idea of signing quarterback Colin Kaepernick, sources tell Dianna Marie Russini of ESPN.com (on Twitter). Russini hears they have met resistance from owner Steve Bisciotti, but Newsome issued a statement on Wednesday to try and counter those claims: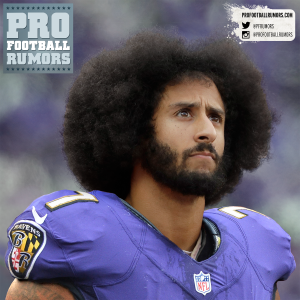 "We are going through a process, and we have not made a decision. Steve Bisciotti has not told us we cannot sign Colin Kaepernick, nor has he blocked the move. Whoever is making those claims is wrong," the unusual statement read.
Recently, Bisciotti and team president Dick Cass publicly acknowledged their trepidation in signing Kaepernick, with Bisciotti adding that he wasn't sure the QB would help the team "win games." The team's coach and GM apparently feel that Kaepernick can be a difference maker.
Recently, some of the team's locker room leaders also voiced their support for adding Kaepernick.
"Hell yeah, if he's going to help us win," linebacker Terrell Suggs said. "We have no issues. Not in the locker room. Hell yeah, we want him."
The Ravens are taking a hard look at their backup quarterback situation as Joe Flacco deals with a back injury and Ryan Mallett struggles in practice. There is some good news on that front, however. A source with knowledge of the situation tells Mike Florio of PFT that he is feeling better, with the "arrow [pointing] up."
Photo via Pro Football Rumors on Instagram.
Follow @PFRumors