Cowboys running back Ezekiel Elliott is withdrawing his appeal, agents Rocky Arceneaux and Frank Salzano tell Ian Rapoport of NFL.com (Twitter link). The NFLPA also announced that it has withdrawn its lawsuit against the league. Elliott will serve his full six-game suspension. He will miss the next five games and return in Week 16 against the Seahawks.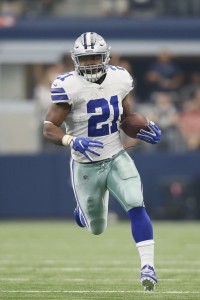 "In consultation with the NFLPA and his lawyers, and after careful deliberation and review of the recent Second Circuit decisions, Mr. Elliott has decided to forego any further appeals and will serve the remaining suspension," the statement reads. "This decision arises from a practical assessment of the current legal landscape. Mr. Elliott's desire for closure in this matter is in his best interest, as well as the best interests of his teammates, family, and friends.
This decision is in no way an admission of any wrongdoing, and Mr. Elliott is pleased that the legal fight mounted by he and his team resulted in disclosing many hidden truths regarding this matter as well as publicly exposing the NFL's mismanagement of its disciplinary process. Mr. Elliott will maximize this time away from the game and come back even stronger both on and off the field. He intends to release a final personal statement in the upcoming weeks and until then we have no further comment."
Elliott will release a statement at some point that will explain his decision further, Rapoport tweets. Meanwhile, the NFLPA may still continue the battle in court.
On Nov. 9, the Second Circuit ruled to reinstate Elliott's ban, sidelining him for Dallas' game against the Falcons. Initially, an expedited appeal in front of the Second Circuit court was scheduled for December 1st. Instead, Elliott is accepting the suspension, which most likely would have had to have been served at some point. By taking the hit now, Elliott can ensure that he will be eligible for this year's playoffs, assuming the Cowboys get there.
The running back will miss games against the Eagles, Chargers, Redskins, Giants, and Raiders before returning.
Photo courtesy of USA Today Sports Images.
Follow @PFRumors