That didn't take long. The Browns have reached an agreement to make John Dorsey their next general manager, Chris Mortensen and Adam Schefter of ESPN.com report (on Twitter).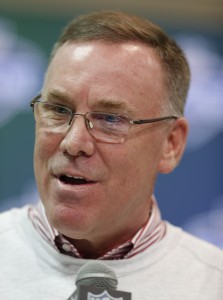 This move comes hours after the team fired executive VP and de facto GM Sashi Brown. The Browns announced the move.
Jimmy Haslam had already spoken with several executives to get a read on this search, and it's clear that was done while Brown was in his final weeks as the team's top decision-maker. Jason La Canfora of CBS Sports tweets this process unfolded over the past "several weeks." He adds Hue Jackson was consulted.
Nate Ulrich of Ohio.com reports (on Twitter) Dorsey will receive a four-year contract. The Akron-based Browns insider reports the team interviewed two candidates formally and spoke with "two or three more." Interestingly, Ulrich adds Dorsey will report to ownership along with Jackson and Paul DePodesta — the team's chief strategy officer who was a key part of the Brown-era front office. So, a blending of philosophies will occur in Cleveland in an interesting arrangement.
Dorsey, though, will have final say over the 53-man roster, Mary Kay Cabot of cleveland.com reports (on Twitter).
Morsensen tweets a handful of candidates were considered for the job; they just weren't affiliated with teams presently. This made for an interesting search, all while Brown was still working as their top executive. Haslam will speak at a press conference Friday.
"We are thrilled to have John Dorsey lead our football operations," Dee and Jimmy Haslam said. "John has been immersed in the NFL for 26 years, won two Super Bowls, built sustainable winning football teams and is highly respected for his football acumen. We know we have a critical and very positive opportunity ahead of us to profoundly impact the foundation of this football team."
The Browns did not have to adhere to the usual waiting period to conduct interviews with GM candidates. Since the Chiefs fired Dorsey in June, he was free to interview with any team. Dorsey served as Kansas City's GM before being abruptly canned. Prior to that, the former linebacker spent many years working with the Packers. He was once thought to be a possible Ted Thompson successor, but he will instead work on one of the most unique rebuilding projects in NFL history.
"Football is what I know, it is what I love, it is what I have worked my whole career at, and I thrive on every element that goes into building a winning football team," Dorsey said. "I have spent a majority of my football life with two franchises that also have storied history, and I think I have a feel for the mentality of the fans in Cleveland and what it would mean to recreate the success this franchise once had. I also have quickly realized how passionate Jimmy and Dee are about bringing a winning team to the city and would have not taken the job if I didn't think the right ownership was in place.
"I am eager to work with Hue, his staff, and our personnel department and help bring us the success these fans so deserve."
Dorsey will take on a much bigger challenge than he did in coming to the Chiefs in 2013. Although the Chiefs were 2-14 in 2012, they had a not-that-distant history of being a competitive franchise. The Browns are an incredible 1-27 since their new regime took over in 2016 and have not made the playoffs since 2002. They have not had a winning season since 2007.
Jackson said earlier today he did not want full personnel control, believing it was too much for a head coach to handle. He'll now work with Dorsey, who has experience working alongside — and not necessarily above — a head coach. Dorsey and Andy Reid worked in tandem to rapidly rebuild the Chiefs, who rebounded from that 2-14 2012 campaign to make the 2013 playoffs at 11-5 and qualify for three AFC brackets in four years.
The Browns' new leadership structure will have a bounty of draft picks to work with thanks to Brown's unorthodox methods. Cleveland has five first- or second-round picks in the upcoming draft. The Texans' second-half struggles could have the Browns armed with two top-10 choices.
Cleveland's scorched-earth rebuilding effort also has the team equipped with a staggering $108MM in cap space, so it will be interesting to see how Dorsey and Co. proceed.
Photo courtesy of USA Today Sports Images.
Follow @PFRumors