THURSDAY: Haslam denied paying Jackson to lose games, saying during an appearance on Knox News the current Grambling State HC has lobbed salvos at the Browns to cover up his poor performance as a head coach. While Jackson was saddled with terrible rosters in 2016 and '17, Haslam pointed to the 2018 season — when the Browns finished 5-3 after starting 2-5-1 before Jackson's ouster — as evidence Jackson deserves more of the responsibility than he has accepted for the failures of that period. The former Cleveland coach's claims center on the 2016 and '17 slates, though Haslam said "unequivocally, Hue Jackson was never paid to lose games."
WEDNESDAY: Former Browns head coach Hue Jackson plans to speak with Brian Flores' attorneys about the latter's class-action lawsuit against the NFL, Charles Robinson of Yahoo.com reports. While Flores named the Dolphins, Giants and Broncos in his suit, the Browns would come to the forefront if Jackson signs on as a plaintiff.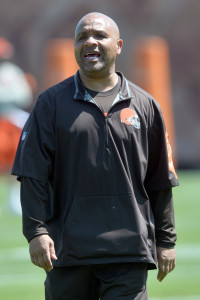 The former Cleveland HC has expressed a willingness to reveal proof Browns owner Jimmy Haslam incentivized tanking during the 2016 and '17 seasons, Robinson adds. The executive director of the Hue Jackson Foundation, Kimberly Diemert, accused the Browns of paying bonus money to Jackson, current GM Andrew Berry, current chief strategy officer Paul DePodesta and former executive VP Sashi Brown to tank during those seasons (Twitter link).
Jackson has replied to several tweets on this matter as well. In a tweet Tuesday night, Jackson said, "I stand with Brian Flores. I can back up every word I'm saying." While the Browns were attempting a radical rebuild during those seasons, ones that pitted Jackson against a new-age front office, the team strongly denied Diemert's allegation. Jackson is currently the head coach at Grambling State, which hired him in December.
"The recent comments by Hue Jackson and his representatives relating to his tenure as our head coach are completely fabricated," a Browns spokesperson said, via Robinson. "Any accusation that any member of our organization was incentivized to deliberately lose games is categorically false."
In a separate Twitter reply, Jackson made another claim the Browns were incentivizing losses, saying, "Trust me it was a good number" when asked about the Dolphins' alleged $100K payments to Flores. The Browns, who hired John Dorsey as GM late in 2017, fired Jackson midway through the 2018 season. Jackson went 3-36-1 in Cleveland. This tenure included the league's second 0-16 season in 2017.
"We were paid for it. You're going to see it as losing, but the way the team was built there was no chance to win at a high level," Jackson said when asked about being incentivized to tank during a SportsCenter appearance on Wednesday (via ESPN.com's Jake Trotter, on Twitter). "My record that year [2016] was 1-15. There was a four-year plan that was crafted, and I have documentation that any coach would cringe if he saw it, because it talked things that had nothing to do with winning. Aggregate rankings, being the youngest team, having so many draft picks — none of those things lead to winning.
"I didn't understand what the plan was. I asked for clarity because it did not talk about winning and losing until Year 3 and 4. That told you right there that something wasn't correct, but I still couldn't understand it until [seeing] the team that I had. And once being in the midst of it and finding out the team that I had and understanding that, 'Wait a minute. At the end of the year there's money coming in?' Like I said, I didn't understand it, here's this money and percentages based on what you did, that didn't make any sense to me.
"I remember very candidly saying to Jimmy, 'I'm not interested in this bonus money,' because I've never known that to be a bonus. I was interested in taking whatever money that was and putting it toward getting more players on our football team, because I didn't think we were very talented at all."
Fielding a team bad enough to go 1-31 in a two-year stretch and offering payments to a coach and execs for losses are obviously two different things. The latter accusations levied against the Dolphins and Browns being proven would certainly double as one of the biggest scandals in NFL history. Having not been an NFL coach since 2018, Jackson also has less to lose than Flores, who interviewed for four HC jobs during this year's cycle. Attorneys for Flores anticipate other coaches joining the since-fired Dolphins HC's litigation, Robinson adds.