The Jets have released wide receiver Jeremy Kerley. The veteran was slated to return from suspension this week.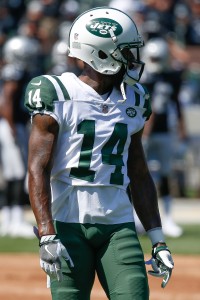 Kerley was handed a four-game ban for performance-enhancing drugs in early November. At the time, Kerley denied intentionally ingesting anything banned by the league's collective bargaining agreement:
"I was shocked by a positive test for Turinabol, as I have never knowingly taken any banned substances. I am 5'9″ tall and 180 pounds, and I have never used steroids in my life. I'm a good athlete but anyone can look at my body composition and tell that I'm not a steroid user. While I did not have enough time prior to the deadline to resolve this case, I fully intend to investigate this matter until I am able to figure out what caused the positive test, because I know that I have done nothing wrong. When I find out what substance was tainted, I will pursue all remedies at that time because this is not right. I have and will always been a clean player, and I look forward to returning to the Jets to play against the Saints next month."
Kerley had just 22 catches for 217 yards and one touchdown for the Jets this year. Last year, he enjoyed a bounce-back year with 64 catches for 667 yards and three touchdowns for the Niners.
If Kerley clears waivers, he may have the opportunity to hook on with a playoff team.
Kerley has spent six of his seven NFL seasons with the Jets.
Follow @PFRumors