On Wednesday, we got some conflicting word on Roger Goodell's future plans. First, the league's spokesperson told reporters that Goodell viewed his new extension, which ends in 2024, as his last contract. Then, hours later, Goodell himself said that he hasn't "made any determinations" about when he'll retire as commissioner. Which way will Goodell go? Perhaps neither.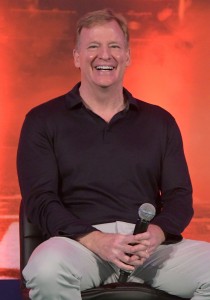 Goodell has told owners that he will step away after he guides the league through the upcoming CBA and TV negotiations, two people familiar with the league's inner workings tell Mark Maske of the Washington Post. It's possible that he'll retire before the conclusion of his new deal, those sources say.
In 2024, Goodell will be 65 and he'll have served nearly 18 years as commissioner. With tons of money in the bank, it would make sense for Goodell to either retire at that point or get a head start by relinquishing the throne sooner.
"I think there is a limit to how many years you should serve in this position," Goodell said. "That's a determination that's made obviously with the ownership and also by yourself and your family. That's something that we've done and I'm prepared and ready to go."
Goodell's successor, Paul Tagliabue, retired just before his 66th birthday and served as the NFL's commissioner for 17 years.
Photo courtesy of USA Today Sports Images.
Follow @PFRumors