Allen Robinson is one of the top receivers in this year's class of free agent wideouts, and while Robinson and the Jaguars have not engaged in contract talks, Jacksonville is reportedly open to hitting him with the franchise tag to keep him around for 2018.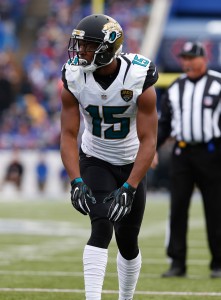 Robinson presents an interesting case. He was fantastic in 2015, posting 80 catches for 1,400 yards and a whopping 14 touchdowns en route to his first Pro Bowl nod. However, much of that production came when the Jags were trailing big and were forced to throw the football, often against soft coverages. He regressed in 2016, as he put up just 883 yards and six scores, and his 2017 campaign was wiped out by a torn ACL.
So what you have is an intriguing player in the prime of his career with tantalizing physical tools who is two years removed from his best season and who is coming off a major injury. He also struggled against press coverage in 2016, which certainly doesn't help.
Nonetheless, he is the most gifted receiver on the Jags' roster, and there would be at least a few teams willing to gamble on his upside if he hits the open market. Jacksonville knows that, and it also knows that it needs to surround Blake Bortles — who just signed an extension keeping him with the Jags through 2020 — with as much talent as possible. That explains why the Jags would be willing to pony up the $16MM franchise tender for a player with Robinson's promising but questionable track record.
Fellow Jags wideout Marqise Lee is also set to hit free agency, and while he has been a solid contributor over the last several years, he is not nearly as talented as Robinson, and he, too, struggles against press coverage. So if the Jags are to let either player walk, it would likely be Lee. The other wideouts on the roster include the solid but unspectacular Allen Hurns, the unproven Dede Westbrook, and 2017 UDFA Keelan Cole.
There are plenty of intriguing wideouts in this year's draft, but most of them are Day 2 types and may not be ready to contribute right away, and there are no other free agents that are not likely to be tagged who can match Robinson's upside. The guess here is that Robinson plays out the 2018 season under the tag and that Jacksonville picks up a wideout in the second or third round to groom behind him.