The Jets are moving up. The team has acquired the third-overall pick from the Colts (via Indy's Twitter). In exchange, the Jets have sent Indy their first-rounder (No. 6) a pair of upcoming seconds (No. 37 and No. 49), and a 2019 second-round pick.
NFL.com's Ian Rapoport reports (via Twitter) that the Jets "explored all options," including the possibility of adding the top-overall pick from the Browns. Meanwhile, the Colts heard offers from several teams, but they ultimately felt good about the package they received from the Jets.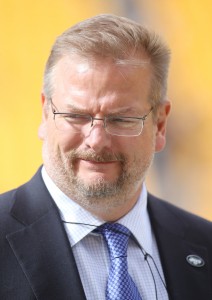 The general consensus seems to be that the Jets will ultimately use their new pick to take a quarterback. By acquiring the selection, the organization is assuring that they can take one of the top prospects in the draft, a list that includes Sam Darnold, Josh Allen, Josh Rosen, and Baker Mayfield. Of course, choosing a quarterback with the third pick will only complicate the Jets' quarterback plans heading into 2018.
Assuming they take a quarterback in the draft, the team will clearly be leaning on the youngster to lead the organization in the future. However, for at least next season, the Jets would likely turn to veteran Josh McCown for the starting gig. After re-signing McCown earlier this week, the organization reportedly told the signal-caller that he'll be their starter next season. The Jets also added Teddy Bridgewater, and they're rostering Bryce Petty, Christian Hackenberg, and Joel Stave. At least two of those latter three quarterbacks will be let go prior to the season.
In recent years, we've seen several teams trade into a top-three selection in the draft. Last season, the Bears moved up to No. 2 and sent San Francisco No. 3, No. 67, and No. 111. In 2017, the Titans traded the No. 1 pick (along with No. 113 and No. 177) to the Rams for No. 15, No. 43, No. 45, and No. 76 (along with a first- and third-rounder in 2017). That same year, the Browns traded No. 2 (and a conditional fifth-rounder) to Philly for No. 8, No. 77, No. 100, a 2017 first-rounder, and a 2018 second-rounder.
What does this all mean? Well, it seems like both teams could justify the haul they gave up/received. According to ProFootballTalk.com's "Draft Trade Chart," Indy received solid value for the No. 3 pick. That selection was given a value of 2,200, and their new 2018 selections equal out to a 2,540 value (that also doesn't account for the 2019 second-rounder). From that perspective, you could argue that the Colts won the trade. However, when you consider the trades from previous seasons, the Jets did an admirable job of not including an additional first-rounder in the package.
Photo courtesy of USA Today Sports Images.
Follow @PFRumors