Quarterbacks are dominating this year's draft discussion even more than the NFL's marquee position's prospects usually do. With the possibility of four signal-callers going in the top five, it opens the door for a wide variety of scenarios.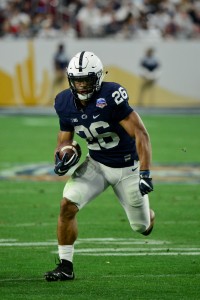 But with this many passers projected to go high, teams that either do not need a quarterback (this would include the Browns at No. 4, if they keep their pick) — or franchises on the fence about selecting one in the top five (see: Giants, Broncos) — could find themselves in position to land an impact talent that may not have been available to them in another year.
There doesn't seem to be a consensus about the top non-QB in this draft, either. Players like Saquon Barkley, Bradley Chubb and Quenton Nelson are high on draft boards. Denzel Ward may be as well, with Roquan Smith having visited teams holding top-10 picks. So, who goes first?
Chubb and Barkley have made the most noise here, with the latest coming out of the Big Apple aligning the Giants with the Penn State running back. Viewed as a superior talent when compared to recent No. 4 overall choices Ezekiel Elliott and Leonard Fournette, Barkley has been connected to the Giants at No. 2 and the Browns at No. 4. Although the Browns are not expected to bypass a quarterback at No. 1, Barkley's name is the one mentioned as a possibility for Cleveland at No. 1 that isn't a QB. And there may or may not be an issue with a Barkley-to-Cleveland scenario.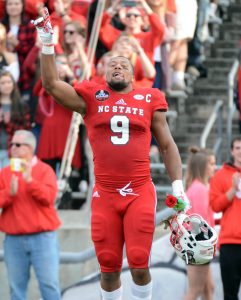 Viable running backs are obviously easier to obtain in later rounds than pass-rushing talent, and Chubb has visited the Giants and drawn praise from Hue Jackson as a possible No. 4 overall selection. James Bettcher doesn't see a problem fitting the N.C. State defensive end into his 3-4 scheme at outside linebacker, and edge rushers are much more valuable commodities than running backs.
Nelson is reportedly a top-three player on the Giants' board, and Dave Gettleman has not made it a secret he wants an offensive line metamorphosis to take place under his watch. Nelson's been tabbed a prospect on the Zack Martin tier. Should a quarterback rush occur ahead of them, the Broncos are also in need of a guard. Buzz about a Broncos/Nelson union has emerged, with Ward — the latest high-end cornerback Ohio State has developed — on that level as of late as well.
The Notre Dame-trained blocker being the first non-passer selected would be a massive change of direction. This century, only one team — the 2015 Redskins — took a guard in the top five. And Brandon Scherff was viewed as a tackle prospect at the time. Ward would also represent a major upset as the first position player taken as well, but former Buckeyes teammate Joey Bosa didn't receive a ton of buzz to go No. 3 to the Chargers two years ago. And this program has produced some high-caliber corners in recent years, as Bradley Roby and Marshon Lattimore have shown.
Who will even make this pick? The Giants have visited with each of the top quarterbacks and have been mentioned as Sam Darnold fans for a while, so it's not certain they'll be making this pick. If the Browns take Josh Allen at No. 1 and trade their No. 4 pick to the Bills, the Broncos could be thrust into this role at No. 5.
So, which one of these prospects will hear his name called first? Vote in PFR's latest poll and weigh in with your thoughts in the comments section!
Photo courtesy of USA Today Sports Images.
Follow @PFRumors