On this date two years ago, the Colts made Andrew Luck the highest-paid player in NFL history. Two years later, it's anyone's guess as to whether the deal will pay off.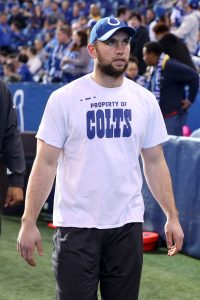 [RELATED: Latest On Andrew Luck]
The Colts inked Luck to a five-year extension worth a whopping $122MM, with $87MM in overall guarantees and $47MM fully guaranteed at signing. Without the deal, Luck would have been eligible for free agency following the '16 season. From there, the Colts could have retained Luck for an additional two seasons via the franchise tag at estimated values of $25MM and $35MM, but it would have put them in a difficult position down the road. Instead, both sides used Luck's expected franchise tags amounts as a framework for talks and hammered out a deal.
With the contract, Luck leapfrogged Joe Flacco, Aaron Rodgers, Russell Wilson, Ben Roethlisberger, Eli Manning, and Philip Rivers in average annual value. The deal made sense, but it did not come without risk. Luck was coming off of an injury-riddled, seven-game season in which he completed just 55.3% of his passes and logged 15 touchdowns against 12 interceptions.
Luck's shoulder was largely a non-issue in 2016 as he threw for 4,240 yards and 31 touchdowns with a career-high 63.5 completion percentage. After the season, he went under the knife to fix his shoulder, and that's where things started to get messy. First, Luck was held out of training camp and the preseason. Then, he was ruled out for week after week in the regular season. Finally, in November, the Colts were forced to place Luck on season-ending IR.
Luck finally was able to throw a regulation-sized football earlier this month, but questions remain about how effective Luck can be going forward. When healthy, Luck is one of the league's best QBs and he has three Pro Bowl nods to back that up. Still, no one knows if his shoulder can withstand the punishment of a full season. The Colts will be married to the former No. 1 overall pick for a while, regardless of how things turn out.
Already, Luck's $12MM base salary for 2018 and $6MM of his 2019 salary have become fully guaranteed. If the Colts want to push the eject button in 2019, it'll leave them with $12.8MM in dead money versus $14.725MM in cap savings. Their first chance to move on from Luck with an impactful effect on the cap will come in 2020, when they can save $22MM by cutting him with just $6.5MM in dead money remaining.
The Colts and Luck are hoping that it won't come to that. If Luck gets back to his old form this year, the mega deal he signed in 2016 will once again look worthwhile, and maybe even team-friendly.
Photo courtesy of USA Today Sports Images.
Follow @PFRumors