On this date in 2010, wide receiver Joe Horn officially called it a career. By signing a one-day deal with the Saints, Horn found the perfect way to ride into the sunset while also patching things up with the franchise that helped make him famous.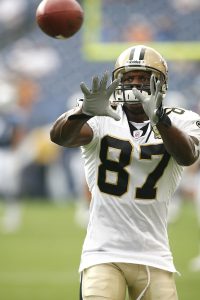 Horn entered the league with the Chiefs in 1996, but he made his name with the Saints starting in 2000. Horn seemingly came from out of the blue to notch 94 catches, 1,430 yards, and eight touchdowns in his first season with New Orleans, earning him his first of four career Pro Bowl selections. Through the highs (helping the franchise to its first playoff victory), lows (a five-year playoff drought), and the in-between (hiding a cell phone in the goal post), Horn was out in front as one of the Saints' premier players.
However, his Saints tenure ended on an awkward note in 2007 when he joined up with the rival Falcons. Things were a bit frosty between the outspoken wide receiver and the organization, but the two sides patched things up years later when he was inducted into the team's Hall of Fame.
"I appreciate the city that welcomed me, and I'm humbled by this day, " Horn said (via the Times-Picayune). "When I was embracing Coach [Sean] Payton and we immediately started reliving the good times, I felt very good leaving that golf course."
Horn tried hard to find success after his time with the Saints, but he was never able to replicate those results. At the age of 35, the Falcons used him as a bit player in 2007. He later auditioned for the Lions, Giants, and Titans, but did not find a deal in 2008 or 2009.
It only makes sense that the Saints and Horn put the ugliness behind them to focus on the positives. Although Marques Colston and Jimmy Graham pushed him down the list in many statistical categories, Horn is still third all-time in Saints history in touchdown receptions (50), receiving yards (7,622), and receptions (523).
Follow @PFRumors