If it wasn't previously clear, David Johnson's importance to the Cardinals was emphasized after he was lost to a season-ending injury back in September. The team's offense ultimately finished with 86.6 rushing yards per game, the third-worst mark in the league, and their 3.4 yards per carry was the second-lowest average in the NFL. However, while Johnson is undoubtedly a huge part of the Cardinals' offense, the front office may be hesitant to pay the former third-rounder top dollar.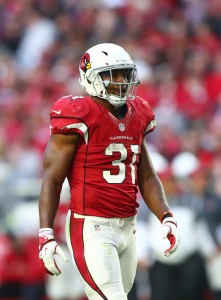 The 26-year-old is set to earn $1.8MM in the final year of his rookie contract in 2018. While previous contract negotiations had been described as productive, Johnson surprisingly sat out the team's mandatory minicamp last month. This may simply be an attempt by Johnson's camp to lock up a long-term deal as soon as possible. After all, the running back is coming off a campaign that saw him appear in only a single game, and another injury could cost him some big money. Either way, Johnson's June hold out was partly semantics; if the running back fails to report to the team by August 7th, it would delay his free agency by an entire year.
However, while negotiations may not necessarily be hostile, there's clearly a discrepancy between the team's offer and Johnson's asking price (if there wasn't, the two sides would have presumably come to an agreement by now). Joel Corry of CBSSports.com suggests that Johnson's camp may be waiting until there's clarity on Le'Veon Bell's deal with the Steelers. Previous reports indicated that Pittsburgh had offered a five-year, $60MM deal to their star running back, but Bell was seeking a contract that would equal the $17MM average annual value of teammate Antonio Brown's deal. If Bell gets his way (or if he does significantly better than the $60MM offer), Corry believes that "could be a game changer for Johnson."
As things stand right now, the Cardinals seem to be in the driver's seat thanks to the modest running back contracts that have recently been handed out. As Corry points out, the average salary of the five highest-paid running backs is south of $11MM per season. The agent also notes that Falcons running back Devonta Freeman's $8.25MM average salary is the current benchmark for the position. The Cardinals also have the ability to capitalize on the franchise tag, which would pay Johnson $11.9MM in 2019.
After finishing with 1,239 yards and 16 touchdowns during the 2016 season, Johnson proved that he was a foundational piece for the Cardinals. However, while both sides would presumably like to agree on a long-term contract, there's also incentive for both sides to wait. Therefore, we shouldn't be all that surprised if the organization and Johnson engage in a staring match for the foreseeable future.
Photo courtesy of USA Today Sports Images.
Follow @PFRumors