When David Tepper purchased the Panthers for over $2.2 billion earlier this year, he indicated that he was comfortable with the team's coaching and management situation and was not looking to make major changes. However, Jason La Canfora of CBS Sports writes that Tepper is growing increasingly uneasy with the status quo and has told those close to him that he may need to make those changes after all.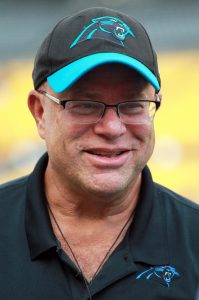 The Panthers got out to a hot start in 2018 but have lost three in a row and now find themselves on the fringes of the NFC playoff picture. Tepper is reportedly concerned about the dearth of modern analytics in the team's operations, and the team's regression on defense and a few questionable in-game decisions by head coach Ron Rivera have added to Tepper's worries.
Rivera has served as Carolina's head coach since 2011, and he has generally been quite successful, having compiled a 70-52-1 record and an NFC Championship. His job security has come into question a couple of times over the course of his tenure, but it was expected that Tepper, a former minority owner of the Steelers, would want to bring the Steeler Way to Carolina. In other words, he was expected to champion the ideals of continuity and stability, particularly with respect to someone like Rivera, who has established a mostly strong track record with the club.
GM Marty Hurney, who is in his second stint leading Carolina's front office, was hired as the interim GM in 2017 and had the interim label removed earlier this year. If Rivera's status is up in the air at this point, Hurney's probably is as well.
Of course, the Panthers are still more than capable of qualifying for the playoffs and making a deep run, which would probably make all of this a moot point. Jourdan Rodrigue of the Charlotte Observer tweets that Tepper has been consistently communicative with the team's front office and coaching staff about where they stand, though Rodrigue concedes that much will depend on how the Panthers perform down the stretch.
If Tepper does decide to part ways with Rivera, he may have his pick of the top head-coaching candidates. The roster already has plenty of talent, and Tepper himself is seen as bright, engaged, and progressive. The team's GM position would be similarly attractive for those reasons.
La Canfora says that Tepper's confidants have urged him to remain patient, but it sounds as if Rivera and Hurney could be on their way out if Carolina does not make the postseason.
Follow @PFRumors