The Buccaneers are focusing on hiring Bruce Arians as their new coach and there is strong mutual interest, Ian Rapoport of NFL.com (on Twitter) hears. Rapoport adds that negotiations between the two sides are likely to begin soon.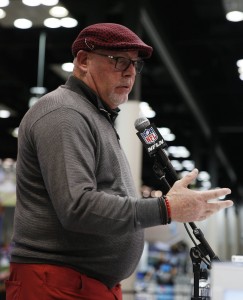 In recent days, talk of Arians coaching the Bucs has picked up serious steam. However, the club did ask Arians to take a physical as a part of their evaluation process, a step to ensure that the cancer survivor has the ability to take on the role and the stress that comes with it. Fortunately, it appears that Arians has the medical green light, which should allow him to accept the job if the two sides can reach agreement on terms.
In November, Arians indicated that the Browns were the "only" team that he would consider if he were to come out of retirement. But, so far, the Bucs have been the only team to engage him in talks. Arians' itch to get back on the sidelines has likely outweighed his preference to coach in Cleveland and the opportunity to get former No. 1 pick Jameis Winston on track probably holds appeal for him.
The 66-year-old was relatively successful during his tenure in Arizona, leading the Cardinals to 49-30-1 record and a pair of playoff appearances, including an appearance in the 2015 NFC Championship Game. Off the field, he has managed to overcome a number of challenging obstacles. He was diagnosed with prostate cancer in 2007, had cancerous cells removed from his nose in 2013, dealt with renal cell carcinoma in 2016, and had part of his kidney removed in 2017.
Arians retired from coaching in January of last year, saying that he "wasn't enjoying the game as much" as he had in the past.
Photo courtesy of USA Today Sports Images.
Follow @PFRumors