Rob Gronkowski's decision on playing a 10th season is expected to come as soon as this week. On the heels of his third Super Bowl ring, Gronk exited the Patriots' victory healthy after another injury-plagued season.
A report linked Gronkowski to having a better outlook on playing in 2019 if he was healthy at season's end and if Tom Brady was committed to another season. Both of these came to fruition, adding intrigue to this decision. In January, Gronk was leaning toward retiring. Is he now?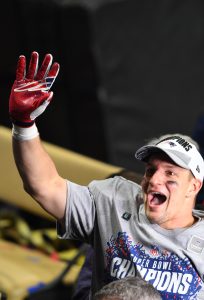 The best tight end of his generation and perhaps the most dominant tight end in NFL history, Gronk has yet to turn 30. But his body has betrayed him many times over. Ankle and back injuries limited him to 13 games this season, and he missed a game because of injury in 2017. Gronkowski missed major chunks of the 2012, '13 and '16 slates as well. He has not played a 16-game season since 2011, and it would be unreasonable to expect 16 Gronk games again.
While Gronk and Bill Belichick were understandably giddy after the Patriots' Super Bowl LIII conquest, the former has long been unhappy about his contract.
Agreed to in 2012, Gronk's deal paid him well below market value for a player with his gifts. At his best, no tight end was on the same level. Yet some out-earned him. Elite wide receivers were earning millions more than Gronk, who arguably impacted games more than any skill-position player for a while. This led to frequent acrimony, two incentive packages — one of which he attained — along with 2018 retirement talk and a general disenchantment toward the Patriot Way.
Will the Patriots want Gronk back? Although he has been underpaid, his contract jumps to a career-high $11.859MM cap figure in 2019. His 2018 numbers — 52.5 receiving yards per game, three touchdowns — were well south of almost anything he posted in his previous eight seasons. Considering Gronkowski's attitude about his deal in the past, it would be incredibly unlikely he would take a pay cut to stay with the Patriots. The Pats nearly traded him to the Lions last year, prompting a retirement threat.
With Gronk having slowed down, it is fair to wonder if the Patriots ($16.1MM in projected cap space, prior to an expected Brady extension) would want to carry his contract-year cap number on their payroll. That said, Gronkowski remains one of the league's best tight ends. He came through with big playoff catches en route to the franchise's latest championship. Brady's late-career renaissance can be closely tied to Gronkowski's incomparable presence, and although the four-time first-team All-Pro was out during the bulk of the Pats' 2016 title run, Martellus Bennett was there to help. The Patriots do not have a comparable alternative on their current roster.
So, will the future Hall of Fame tight end call it quits? Or were these productive playoff games a springboard to at least one more season? Vote in PFR's latest poll and weigh in with your thoughts in the comments section.
Photo courtesy of USA Today Sports Images.
Follow @PFRumors