We heard earlier this month that the Rams are eyeing a 2020 extension for quarterback Jared Goff, who is entering his fourth year in the league. Goff has thrived under the tutelage of head coach Sean McVay, who recently threw his full support behind his signal-caller, and it seems like only a matter of time before Goff lands a nine-figure contract.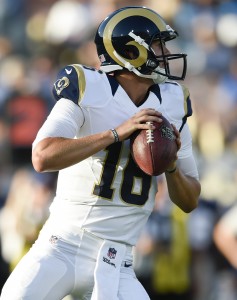 So, as Mike Florio of Pro Football Talk asks, why wait? Goff, a two-time Pro Bowler who led his team to the Super Bowl last season, is not going to get any less expensive, especially since his draft mate, Carson Wentz, just signed a four-year, $128MM pact despite suffering significant injuries in each of the past two seasons. Florio observes that Jameis Winston and Marcus Mariota are other young QBs eligible for a second contract that have not yet gotten one, but neither player has accomplished as much as Goff (plus, both of them are making over $20MM this year under their fifth-year options). Like Goff and Wentz, Dak Prescott was a 2016 draft choice, but at least he and the Cowboys are talking.
As Gary Klein of the Los Angeles Times writes, GM Les Snead and Goff's representation have been in touch, but they have only had preliminary discussions about a possible timeline for future talks. In other words, the two sides are talking about when they're going to talk. Snead said, "Nothing heavy. No heavy lifting."
Rams officials have indicated they could get a deal done with Goff prior to the 2019 campaign, but considering where the parties are in contract talks, the 2020 timeframe seems more plausible at this point. Like McVay, though, Snead said he is fully committed to Goff.
McVay himself could get an extension soon, and a report back in January suggested that could happen this offseason, but it sounds like those talks have not commenced. When asked whether the club was pursuing an extension for McVay, COO Kevin Demoff indicated he was focused on extending certain key players first.
Both Demoff and Snead declined to comment on Snead's contract situation, but if things continue on their current trajectory, the Snead-McVay-Goff trifecta could be in LA for the long haul.
Photo courtesy of USA Today Sports Images.
Follow @PFRumors