With little in the way of options at the tackle position, are the Redskins really in a position to release a former first-round pick who just celebrated his 25th birthday? The short answer is no, but it's still possible that Ereck Flowers could wind up out of work between now and September.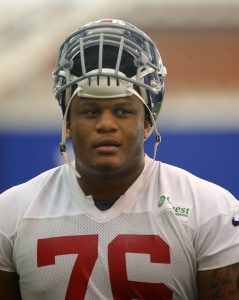 The film on Flowers is not inspiring – he failed to protect Eli Manning in New York despite being given three full seasons as the team's starter. When things fizzled with the Giants, Flowers reunited with Tom Coughlin in Jacksonville and didn't exactly set the world on fire in his seven games as the team's starting tackle.
With a need at guard, the Redskins inked Flowers to a one-year, $3.2MM deal to help shore up the interior. Later, their plans for Flowers were interrupted when Trent Williams pushed for a relocation, forcing Flowers to take reps at tackle in practice.
To recap: The Redskins are thin on the offensive line, Flowers is guaranteed $1.5MM for the year, and they may need someone other than Williams to hold down the most important spot on the front five. Still, Flowers hasn't inspired much confidence since leaving the University of Miami and the left guard spot that he was supposed to fill could be occupied by fourth-round rookie Wes Martin.
Flowers could turn things around in training camp and show the Redskins that he is deserving of a major role up front. Or, if Flowers continues his so-so spring play, he could wind up on the chopping block. If Flowers doesn't cut the mustard, the Redskins may release him to save $1.7MM and look to the trade market for veteran help.
Photo courtesy of USA Today Sports Images.
Follow @PFRumors