The Patriots have released Antonio Brown after just one game with the club. His release comes on the heels of a second round of allegations from his second accuser, who says that he sent her intimidating text messages.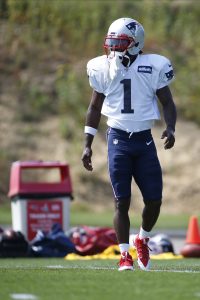 [RELATED – Accuser Says Brown Sent "Intimidating" Text Messages]
"The New England Patriots are releasing Antonio Brown. We appreciate the hard work of many people over the past 11 days, but we feel that it is best to move in a different direction at this time," the team said in a statement.
New England is set to pay him $5MM of his $9MM signing bonus on Monday. The entire signing bonus is guaranteed, meaning that the Patriots and Brown are likely scheduled to rumble over whether the wide receiver will collect on it.
Cash aside, it's unlikely that Brown will find another NFL home anytime soon. Then again, we've seen crazier things happen in the league.
While Brown faces civil suits from both of his accusers, he does not currently face any criminal charges. Recently, the Allegheny County District Attorney announced that he would not pursue charges against Brown for two 2017 events alleged by Brittney Taylor. It's still possible that criminal charges arise from his alleged 2018 dalliance with Taylor, or from his interactions with the second anonymous accuser, known simply to be an "artist."
Brown's total stay in New England lasted just eleven days. He was the 72nd player in NFL history to catch a touchdown pass from Tom Brady and that could go down as his only on-field moment of note for the Patriots.
Photo courtesy of USA Today Sports Images.
Follow @PFRumors