The Falcons have designated rookie guard Chris Lindstrom to return from injured reserve, per a club announcement. In related moves, they've also signed offensive tackle John Wetzel and formally activated punter Matt Bosher from injured reserve.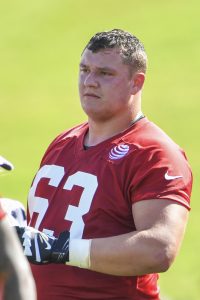 Lindstrom, 22, was selected by the Falcons with the No. 14 pick in the 2019 draft. He started at right guard in the season opener against the Vikings, but, unfortunately, he suffered a foot injury that landed him on injured reserve.
With his return to practice, the NFL's 21-day window for activation begins. If Lindstrom is not activated to the 53-man roster during that window, he will not be eligible to return this season.
Bosher, 32, landed on IR prior to Week 5 matchup with a groin injury. Then, in late November, they earmarked him for return. The veteran has averaged 45.7 yards per punt during his nine seasons with the Falcons and will resume his place in the lineup starting this week against the Panthers.
Photo courtesy of USA Today Sports Images.
Follow @PFRumors