After the other major American sports made historic changes to their schedules this week, the NFL will follow suit. The league canceled further pre-draft visits, per an announcement.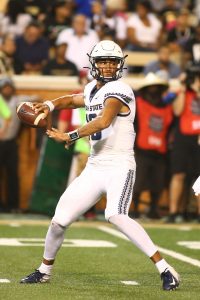 Teams are no longer permitted to host prospects at their facilities or on campus sites. This will halt teams from venturing to prospects' pro days leading up to the 2020 draft. That process had barely begun, with few reported visits and workouts having taken place. But teams now must make major adjustments.
Because of the COVID-19 pandemic, NFL teams were steadily taking coaches and scouts off the road. More than 20 did so by Friday afternoon. The Dolphins, however, hosted Ohio State running back J.K. Dobbins at their facility and brought in Utah State quarterback Jordan Love in for a last-minute visit well, Ian Rapoport of NFL.com reports (on Twitter). Just as the Dolphins moved up their Dobbins summit by a month, they moved up Love's visit.
These will be the last meetings of this sort leading up to this draft, as the NFL becomes the latest major sports league to make coronavirus-related changes.
Teams will still be permitted to speak with prospects, but they must do so via phone calls and video conferences. These calls cannot last more than an hour, and no team can contact a prospect more than three times in one week. Violations of this rule change will be subject to league discipline.
This will obviously transform the pre-draft process. As of now, the draft remains scheduled to start April 23 in Las Vegas. But the league is considering changes. Given that hundreds of thousands of fans have flocked to this event since it was moved out of Radio City Music Hall and into other NFL markets, such an environment taking place this year may be a non-starter. But no firm announcement has been made regarding the draft or a delay to the free agency window. However, the league is considering adjusting that part of its calendar as well.
Photo courtesy of USA Today Sports Images.
Follow @PFRumors