The Falcons are working feverishly to move up the board. They continue to be "the team to watch when it comes to moving up in the NFL Draft," Ian Rapoport of NFL.com tweets.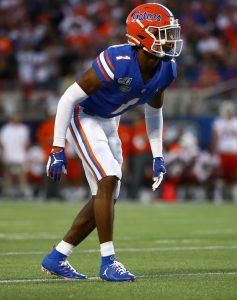 The Falcons currently hold the No. 16 overall pick, but they've been pressing to vault into the Top 10. They have multiple needs on the defensive side – including the pass rush and the interior defensive line – but their top priority is likely at cornerback. With that in mind, Rapoport echoes what we've been hearing for a while: Thomas Dimitroff is looking for a high-end cover man with eyes on Ohio State's Jeff Okudah and Florida's C.J. Henderson.
Most have projected Okudah to be the first cornerback off the board on Thursday, though not everyone agrees that he is the very best CB in this year's class. More and more executives seem to be pointing towards Henderson as the best at the position. Recently, Peter King of NBC Sports heard that 40% of NFL teams have Henderson slotted as the CB1, with Okudah somewhere below him.
If the Falcons want to guarantee that they'll get either player, they may have to move all the way up to No. 3 via trade with the Lions. Okudah has long been connected to Detroit, while Henderson has been flirting with the Top 10 boundary. But, as always, nothing is certain – anonymous sources love to run misdirection this time of year and there's zero guarantee that Henderson would be available for Atlanta at, say, No. 8.
For what it's worth, Falcons coach Dan Quinn has told reporters that he sees Kendall Sheffield as a potential CB1 (via D. Orlando Ledbetter of the Atlanta Journal-Constitution).
"In our league and division there are certainly some guys that you want to match up on if you need to," Quinn said. "He's definitely somebody with the speed and short-space quickness to do that. I definitely think he has a shot to do that, based on his speed and that I just think he's going to continue to grow. Yeah, we're very excited about him."
Follow @PFRumors