Yannick Ngakoue wants out of Jacksonville. He's made that crystal clear at this point, even taking his gripes to social media in a back-and-forth with co-owner Tony Khan. The Jaguars say they're keeping him – per the terms of his franchise tag – but they did entertain the idea of trading him prior to the draft. Today, the two sides are still locked in the same stalemate. Ngakoue wants out and management says he isn't going anywhere.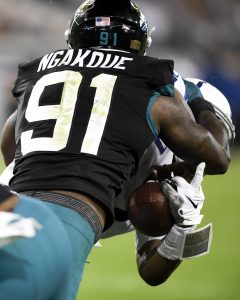 "I think his options are very limited at this point in time," GM Dave Caldwell said recently. "We'll welcome him back with open arms when he's ready to come back, and we look forward to it."
Caldwell also claimed that he did not receive any offers for the 25-year-old edge rusher, but we're guessing that it'd be more accurate to say that the Jaguars did not receive any offers to their liking. Ngakoue is a young talent at a premium position with a solid track record of production. He's posted at least eight sacks in each of his four pro seasons, including a career-high 12.5 sacks in 2017. There's no team that would say no to having Ngakoue on their roster, but every team is skittish about coughing up lots of draft capital and a top-of-the-market deal for him.
So, what's next? Ngakoue has no interest in signing a long-term deal with the Jaguars and he wants to get his ~$20MM-per-year payday somewhere else. He hasn't signed his $17.788MM tender and the Jaguars now find themselves in a tricky situation. Will they blink? If the right offer comes along, they probably will.
The Eagles were eyeing Ngakoue earlier this year and it stands to reason that they'd still like to have him. They've got the space to take on his tender amount, too, with ~$24MM free in 2020. Just one problem – the Eagles' books are a bit of a mess in 2021 and they'll need to roll over a good chunk of today's space to make the numbers crunch work. With that in mind, the Eagles are much more likely to sign Jadeveon Clowney on a one-year deal instead, though the veteran's current asking price is too rich for their blood. You can't rule out an aggressive win-now trade from Howie Roseman, but he'd have to convince Ngakoue to play out his tender in Philly.
The Browns, another reported Clowney suitor, could be better equipped to take on Ngakoue – they've got more cap room than anyone else in the league, plus flexibility in 2021. They have players of their own to take care of, too, but it's at least feasible. What doesn't seem feasible is a resolution between Ngakoue and the Jaguars. Despite everything Caldwell & Co. have been saying, we'd be surprised if Ngakoue played out the year in Jacksonville.
Photo courtesy of USA Today Sports Images.
Follow @PFRumors