The Falcons are open to all options with respect to their No. 4 overall pick, as ESPN's Jeremy Fowler reports (video link). The teams holding the first three picks in the draft — the Jaguars, Jets, and 49ers — are going to select quarterbacks, so the Falcons are the first club that could go with a non-QB or trade down. As such, there has been plenty of speculation about what Atlanta might do.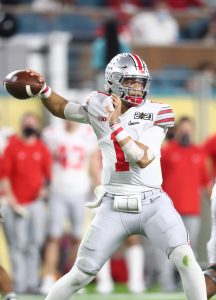 Our own Sam Robinson nicely recapped all of the reports regarding the No. 4 pick in a recent PFR poll (most of our readers presently think that the Falcons will keep their pick and select Florida TE Kyle Pitts, while a smaller but still significant contingent thinks Atlanta will trade down). Essentially, while new GM Terry Fontenot and new HC Arthur Smith were previously said to be split on what do to with the selection — Fontenot wanted to use it on a QB, while Smith wanted to use it on a player who would make more of an immediate impact — the club's top power brokers are now reportedly in lockstep.
But that could just mean that they are in agreement on the QB vs. non-QB issue. It doesn't necessarily mean that they have decided which prospect, quarterback or otherwise, they want to select — though some league sources believe the club is targeting Pitts — and if another team puts together an enticing trade package, a move down the board remains on the table.
In the meantime, the Falcons continue to do their due diligence on the quarterbacks that could be available. They will have reps at Trey Lance's Pro Day tomorrow, and they had eyes on Lance at his first showcase as well. They were also in attendance at both of Justin Fields' Pro Days, and if nothing else, the idea that they are seriously considering one of those two passers will only help their asking price in trade talks. As Fowler notes, Atlanta could certainly use some additional draft capital to shore up its defense.
Fowler confirms previous reports that the Broncos — whose hunt for a QB upgrade has been well-documented — could be looking to move up from No. 9 to No. 4, while Atlanta's division rivals, the Panthers, might be another team looking to trade down now that they have landed Sam Darnold.
Photo courtesy of USA Today Sports Images.
Follow @PFRumors