If you haven't been tracking Jaylen Waddle for the last three years, you could be forgiven. Early on in his career, Waddle was largely overshadowed by the likes of Jerry Jeudy and Henry Ruggs III – two eventual first-round picks. After they left Tuscaloosa, Waddle was primed to assert himself as Bama's top wide receiver in 2020.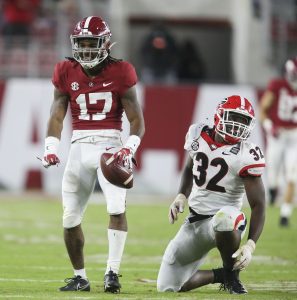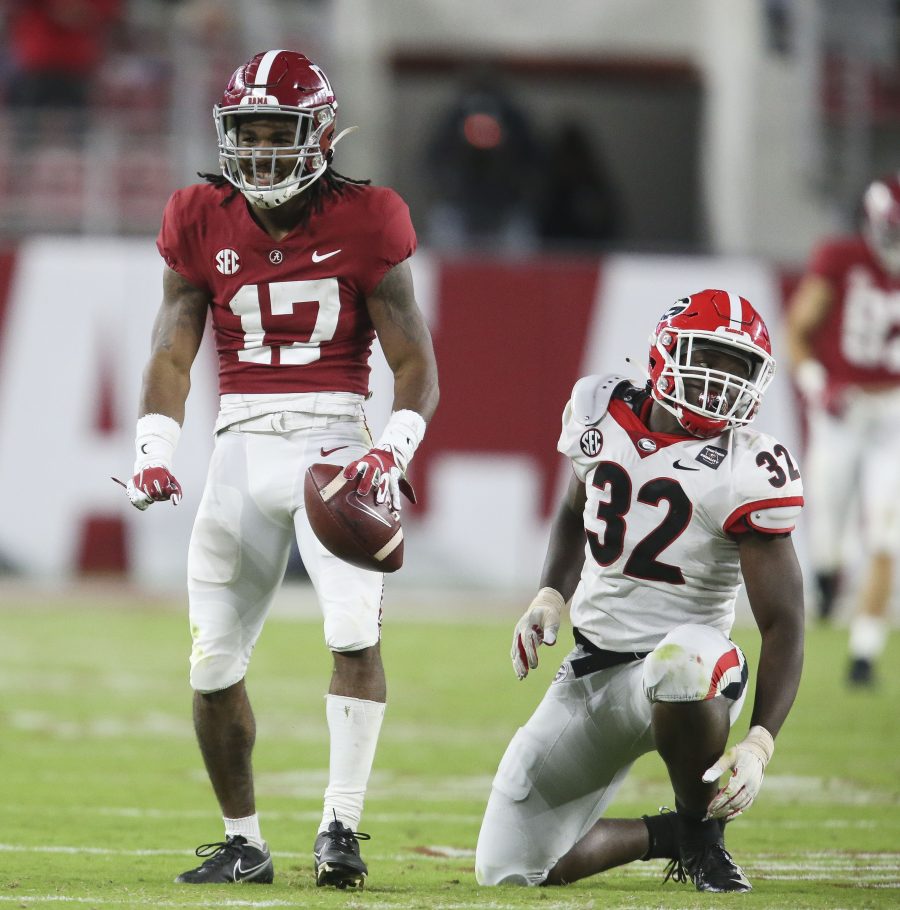 [RELATED: A Closer Look At LSU's Ja'Marr Chase]
In his first six games, Waddle went off for 28 catches and 591 yards — good for 21.2 yards per catch on average — plus four touchdowns. He also kept up his strong work in the return game, giving evaluators even more opportunities to gawk at his speed on film. Unfortunately, his final return of the regular season came against Tennessee, couching his season up until the National Championship game against Ohio State.
Despite the ill-timed injury, Waddle remains one of this year's most highly-coveted prospects. His injured ankle even kept him from running the 40-yard-dash for scouts this year — that hasn't slowed him down either. Waddle was clocked at 4.37 seconds before he even stepped foot on campus. And, depending on who you ask, he could even be a shade faster than Ruggs on the field. Ruggs, for reference, clocked a 4.27-second 40-time last year.
With explosiveness and sustained speed down the field, it would almost be too easy to compare Waddle to Chiefs star Tyreek Hill. Almost. Both players have the ability to wreck one-on-one coverage with their speed and, like Hill, Waddle can accelerate, stop on a dime, and throttle his way past the coverage. Former teammate Najee Harris – viewed by many as the best running back in the 2021 class — also sees the similarities.
"He's small but he's dynamic. He's explosive. Really really explosive," Harris told ESPN's Adam Schefter. "The closest thing to Tyreek Hill. You gotta see him in person. How he plays how he gets in and out of cuts. How he stops and goes 60 [mph] right away."
The knocks on Waddle are few and far in-between. Many of them were out of his control. Waddle never put together a full season like LSU's Ja'Marr Chase did in 2019 (1,780 receiving yards and 20 receiving touchdowns, both SEC records), but he was buried behind an All-Star cast in 2018 and 2019. Then, 2020's ankle injury effectively ended his year. His hands aren't quite as reliable as Chase's either. Still, Waddle has already crossed a lot of the "cons" off of his list – concerned chatter about his catching ability and upper body strength have turned into mere whispers. Blessed with serious wheels, route running, and tons of tools to make opponents miss, Waddle has cemented himself as this year's WR2 or WR3, depending on how you rate him vs. 'Bama teammate DeVonta Smith.
Chase ran away with the WR1 crown at his pro day when he posted a 4.38-second 40-yard dash, a number that even surprised the LSU star ("I was going for a low 4.4," Chase said.) If Chase's absolute ceiling is No. 4 overall after three QBs come off the board, then Waddle's should top out at the Bengals' No. 5 pick. After that, it's the Dolphins at No. 6 and the Lions at No. 7, two clubs that want/need a game-changing WR like Waddle. Even with lots of variables in play, it's hard to imagine Waddle waiting past the top ten.
Photo courtesy of USA Today Sports Images.
Follow @PFRumors