The past year and change reset the NFL's running back market. After the previous wave of big-ticket contracts produced shaky outcomes — in the cases of Le'Veon Bell, Todd Gurley and David Johnson — a few teams still prioritized their high-end backs and went ahead with extensions.
The 2017 draft class was responsible for most of these accords. Ezekiel Elliott and Derrick Henry are attached to high-value running back deals, but 2017 draftees Christian McCaffrey, Alvin Kamara, Dalvin Cook, Joe Mixon and Aaron Jones all signed for at least $12MM per year since March 2020. The 2018 draft class is now eligible for extensions, and another backfield mainstay is on track to join the 2017 contingent near the running back salary hierarchy.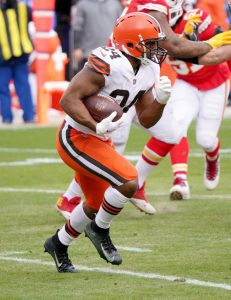 Nick Chubb has become the centerpiece of a run-oriented Browns offense that rode its two-pronged ground attack to the playoffs. After playing an essential role in snapping the Browns' postseason drought, Chubb joins Baker Mayfield, Denzel Ward and guard Wyatt Teller as extension candidates for a rising Cleveland team. With Mayfield and Ward signed through 2022, Chubb may be the team's top contract priority ahead of the 2021 season.
Negotiations have begun, and a deal being finalized before the start of the season — thus protecting Chubb from a value-changing injury in his contract year — is in play. The Georgia product has become the most reliable back from the 2018 class. While Saquon Barkley may have this group's highest ceiling, he is coming off ACL and MCL tears. Like Barkley in 2019, Chubb suffered a high ankle sprain. But he returned after four missed games to clear 1,000 yards (1,067) in just 12 contests. The 25-year-old back rushed for a career-high 12 touchdowns and joined Mayfield in leading the Browns to their first divisional-round game since 1994.
The two-time Pro Bowler has proven to be an elite ball carrier, but unlike the 2017 backs given extensions at or north of the $12MM-per-year mark, Chubb is not a major passing-game factor. He has yet to top 300 receiving yards in a season, with the Browns slotting Kareem Hunt as their preferred outlet option among these two. Hunt's presence complicates Cleveland's setup here — but only to a point. The Browns signed the embattled ex-Chief to an extension, but the two-year, $13.25MM pact represents midlevel money. Hunt is signed through 2022, but his $6.25MM cap number is both manageable and non-guaranteed. This seemingly keeps a Chubb extension realistic.
Chubb is the leader of Cleveland's historically talented backfield, outrushing Hunt 1,067-841 last season despite the latter receiving more carries (198-190) during the starter's injury-shortened season. Although Hunt is a Cleveland-area native, a scenario in which he moves on for a higher-paying RB1 gig elsewhere by 2023 may be likely — unless he is willing to accept a discount to stay a backup.
Henry's four-year, $50MM deal ($25.5MM guaranteed) profiles a likely Hunt starting point. The Titans also use a run-centric offense, and Henry does not factor into their passing attack much. Chubb (44 career catches at Georgia) has never played a major receiving role, which could keep him off the McCaffrey-Kamara tier (north of $15MM AAV). Then again, the salary cap is set to balloon to nearly $210MM in 2022, perhaps giving Chubb a ladder up to the CMC-Kamara level. Also working in Chubb's favor: his 680 career carries through three seasons ranks 56th all time and 22nd among backs whose careers started in the 21st century. He should have enough tread on his tires to be productive for the next few seasons.
While the Browns will certainly need to be careful here, the Rams and Jets' Gurley and Bell missteps are not exactly comparable. Gurley entered the NFL with a knee issue, while Bell had more than 1,200 carries at the time of his free agency pact. Elliott was at 1,003 touches through three years; Chubb exited Year 3 with 752. Hunt staying through 2022 would also stand to shield Chubb from a Bell- or Elliott-like workload.
Either way, it sounds like the Browns will become the rare team with two well-paid backs on their roster soon. A Chubb extension will help establish a Barkley floor as well, should the Giants standout return to full strength this season, while providing the Browns with their most stable long-term backfield situation in decades. Cleveland missed on Trent Richardson, though the franchise did collect a first-rounder for him, and let Isaiah Crowell walk after his rookie deal expired. Chubb certainly appears set for a different northeast Ohio path.
Follow @PFRumors