About a month ago, Seahawks head coach Pete Carroll seemed ready to envision a future for Seattle's running backs room that didn't include Chris Carson, hinting that the 27-year-old's career in the NFL could be coming to an end following a neck injury that sidelined him for the majority of the 2021 NFL season. Days later, Carson made it clear that he had no intentions of hanging up his cleats.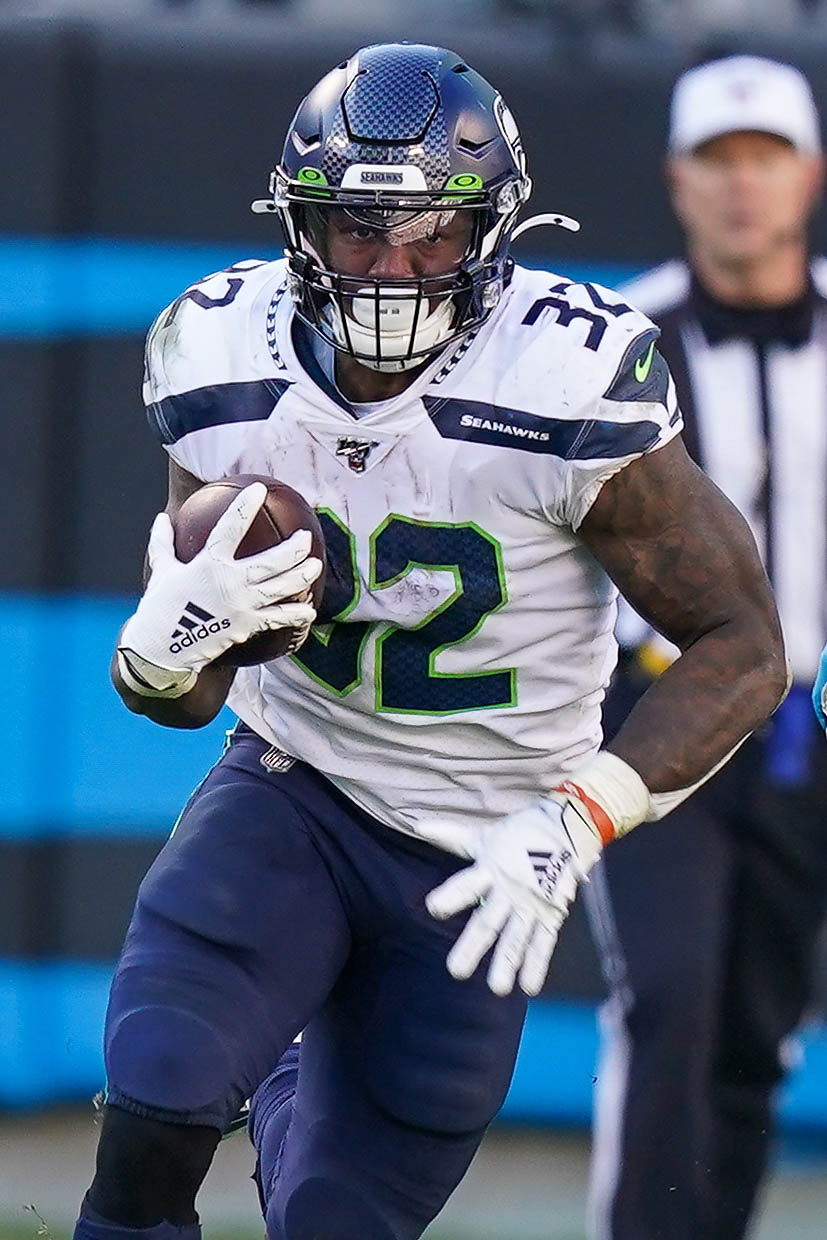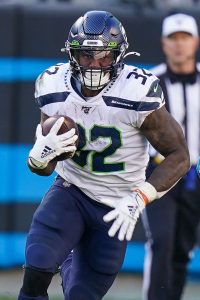 "Oh, we still going right now," Carson said, via Heavy.com's Jonathan Adams. "I see myself playing until I feel like stopping. My mindset is never to give up, so I'm staying positive like I said, and [will] continue to fight and get back onto the field."
After a broken ankle kept Carson from being a full-time starter in his rookie season, Carson bounced back, leading the team in rushing yards for the next three years. His consistency, paired with the injury history of backup running back Rashaad Penny, landed Carson a two-year deal to stay in Seattle during last year's offseason. Four weeks into the season, though, Carson suffered a neck injury that would require surgery, prematurely ending his season and leading to the comments mentioned above from Carroll and Carson.
While there doesn't seem to be any bad blood between the two parties, the moves Seattle has made recently make it seem as if Carroll has no intention of handing the ball off to Carson ever again. The most recent move was spending a second-round pick on Michigan State running back Kenneth Walker III. Walker was a bell-cow back for the Spartans last year carrying the ball 263 times for 1,636 yards and 18 rushing touchdowns. The next closest running back on the team had 70 rushing attempts for 278 yards. Walker's ability to carry an offense is extremely attractive to a team that wants to thrive on the ground but hasn't had the health to do so.
The former first-round pick, Penny, ended last season on fire rushing for 632 yards and six touchdowns over four of the last five games of the season. While Penny has certainly had his own issues staying healthy, he was drafted with the intention that he could eventually be the team's franchise running back. If Penny starts next season anywhere near how he ended 2021, a recovering Carson is going to have a tough time seeing the field.
Behind Penny and Walker, the Seahawks also roster two former Miami Hurricanes in Travis Homer and DeeJay Dallas. While neither has added much value to the running game over the past few years, both hold tremendous value on special teams that seems to solidify their roster status year in and year out. Other running backs on the roster are Darwin Thompson and Josh Johnson, who will likely end up on the practice squad or may be camp cuts.
With Penny, Walker, Homer, and Dallas all in line to make the 53-man roster, it starts to become difficult to justify a fifth roster spot for a running back who would only split carries with Penny and Walker. Combining that roster logjam with Carroll's sentiments about Carson's career potentially being over, it makes sense to start looking into the idea of offloading Carson's contract.
The team could work with Carson to look for an ideal trade destination in an effort to return some value from the departure. If not, though, the Seahawks still would stand to benefit in cap savings. Cutting Carson would only leave Seattle with $1MM in dead cap while creating $4.6MM in cap space. Carson's career may not be over, but there's a real possibility that his time in Seattle may soon come to an end.
Follow @PFRumors