Today marks the first official day at work for new Panthers head coach Frank Reich, the first domino to fall in the 2023 HC cycle. Much remains to be seen with respect to his staff, including coordinators on both sides of the ball.
On defense, it became clear that Reich's preference for his new DC was Vic Fangio. The 64-year-old agreed to terms yesterday on a deal with the Dolphins which will see him become the league's highest-paid coordinator, however, leaving Carolina to look elsewhere to fill the position. A pair of finalists remain in the running.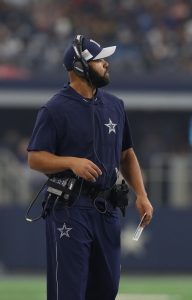 Those two are Saints co-defensive coordinator Kris Richard and Jets safeties coach Marquand Manuel. Those two are the only candidates other than Fangio to have interviewed for the position, so it comes as little surprise that they remain in the running. Joe Person of The Athletic notes that Carolina has "moved on" to Richard and Manuel as it pertains to the DC opening, with the latter seeming to be in the lead (subscription required).
Josina Anderson of CBS Sports also reports (via Twitter) that Manuel remains the subject of considerable interest from Carolina. The 43-year-old has two years of DC experience, dating back to his time with the Falcons in 2017 and 2018. That post came between tenures in Seattle and Philadelphia prior to his current one in New York. Neither he nor Richard, who has multiple stints as a defensive coordinator on his resume, have experience working with Reich, though they have ties to general manager Scott Fitterer dating back to their shared time with the Seahawks.
Anderson adds that the Panthers could have competition in the form of the Texans for Manuel's services. Houston is thought to be a potential destination for him in the (expected) event that 49ers DC DeMeco Ryans is hired as the team's new head coach. Especially if that were to happen, attention could shift once more towards a staffer who does have experience working alongside Reich.
Person names Colts DC Gus Bradley as someone who has been "mentioned" as a candidate to follow Reich to Carolina. As he notes, however, an interview request as not yet been submitted. Anderson tweets that Reich brought up the possibility of hiring the 56-year-old, something ownership was not in favor of. It was then that Fangio was pursued, to the point where the Panthers were willing to give him the league's largest coordinator contract (Twitter link).
With Reich expected to call plays on offense, the team's ultimate choice at the DC spot will go a long way in determining their success on that side of the ball. Steve Wilks, who guided Carolina to an impressive run at the end of the season filling in for Matt Rhule, remains on staff for now, but he is likely to head elsewhere with new faces coming in on the Panthers' sidelines.
Follow @PFRumors