Delivering an earlier-than-usual autopsy of the Packers' season, Brian Gutekunst addressed what has already become a third straight offseason of Aaron Rodgers-driven uncertainty.
The sixth-year Packers GM said Jordan Love is "definitely" ready to play, indicating (via The Athletic's Matt Schneidman, on Twitter) the three-year backup is "chomping at the bit" to become the team's starter. When asked which quarterback would give the Packers the best chance to win next season, Gutekunst deferred to Rodgers' four MVP honors.
[RELATED: Matt LaFleur Wants Rodgers Back In 2023]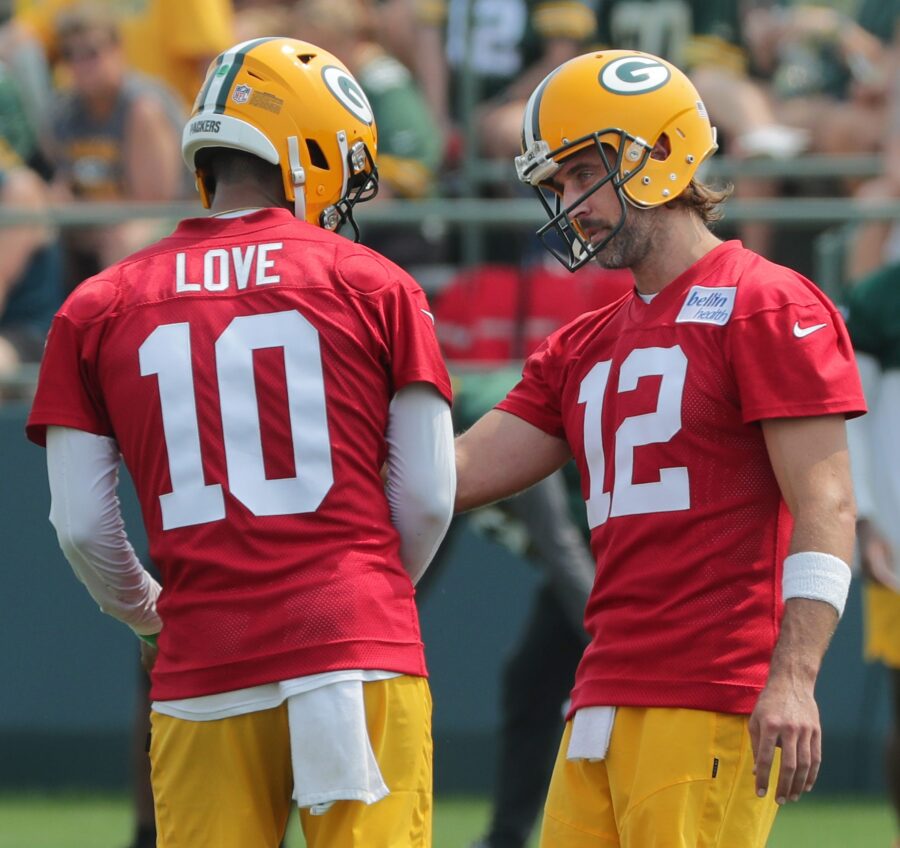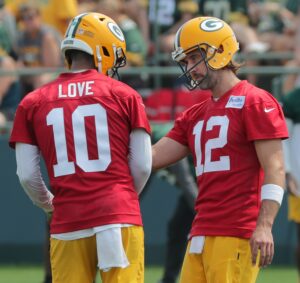 Once the object of Rodgers ire, Gutekunst earned his way back into the future Hall of Famer's good graces to close out a turbulent 2021. Rodgers ended up signing a three-year, $150.8MM extension in March 2022. That record-setting contract does give the Packers some flexibility, allowing a $58MM bonus to be paid at any point in 2023. That opens the door for a trade, and Rodgers said last week his Green Bay future may not be entirely up to him. Rodgers, 39, looks to also be considering retirement.
Gutekunst did not entertain the prospect of a Rodgers trade when asked about it Friday and said he can see a scenario in which Rodgers and Love are on the roster together for a fourth season, the Milwaukee Journal Sentinel's Tom Silverstein tweets. The Packers have received criticism for using a first-round pick on Love and sitting him for three seasons, effectively squandering the rookie-contract resource that has been so valuable to teams who have taken first-round QBs since the 2011 CBA reshaped rookie deals. The Packers must decide on Love's fully guaranteed fifth-year option in May.
Love is on Green Bay's payroll at $3.94MM for 2023; Rodgers would check in with a $31.62MM cap number. Unless the Packers trade Rodgers or he retires, the team could conceivably run back a Rodgers-Love depth chart for a fourth straight year. Given how far the team has pushed the Love apprenticeship, it would make sense to — NFL norms be damned — extend that into 2023. But the Packers' QB depth chart is not yet certain. Gutekunst said (via Silverstein, on Twitter) he wants both players back and that Rodgers will take his time and regularly communicate with the team.
Rodgers fell off the MVP perch this season, with the Packers' controversial strategy at wide receiver impacting the superstar QB's performance. Gutekunst said as much Friday, indicating (via Silverstein) the Davante Adams trade played a role in Rodgers' numbers dipping in 2022. Thumb and rib injuries plagued Rodgers this season as well, leading to Love making an intriguing cameo in Philadelphia. The Packers staying in the NFC wild-card race kept Love on the bench. QBR was particularly harsh on Rodgers, dropping him from first (in 2021) to 26th. Trade interest would undoubtedly come, were the Packers to consider it this time around. They resisted Broncos interest in 2021, and Rodgers decided to stay in Green Bay via the extension last year.
Regardless of Rodgers' status, Gutekunst said restructures are a near-certainty. Early projections have the Packers at $13MM over the 2023 cap, though the 2023 salary ceiling has not yet been finalized. Gutekunst expects both Aaron Jones and David Bakhtiari to return next season as well (Twitter links via Schenidman and ESPN.com's Rob Demovsky).
Jones' cap number balloons to $5.9MM to $20MM next season; a restructure would knock that down while adding to future cap figures. Bakhtiari's cap figure will spike from $13.4MM to $29.1MM. While the All-Pro left tackle returned to action this season, the knee trouble that shelved him in 2021 limited him to 11 games this season. Bakhtiari, who has missed 30 games since the 2020 season (counting playoff tilts), said recently he does not intend to retire.
Follow @PFRumors